Head to a San Diego Farmers Market to enjoy the fresh air, try local produce, and reduce your environmental footprint! According to the San Diego Farm Bureau, "Farmers' Markets provide venues for farmers to sell directly to consumers and support small farming operations" (sdfarmbureau.org). Because of our great weather, San Diego Farmer's Markets are open year-round!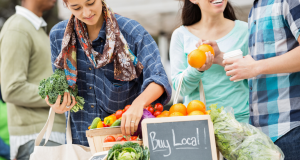 Attending a San Diego Farmers Market is a great way to expose your kids to new fruits and vegetables. Additionally, allowing picky eaters to choose a food to try is a great and low-pressure way to encourage them to try something new.

North County Farmers Markets – Coastal
Carlsbad: Wednesdays 2:30pm – 7pm (closes at 6 pm during the Fall and Winter)
The Carlsbad Village market has a variety of fresh flowers and baked goods in addition to produce.
2900 State Street Carlsbad, Ca 92008 – between Carlsbad Village Drive and Grand Ave.
Del Mar: Saturdays 1pm – 4pm
The second oldest market in the region! This market offers eggs, herbs, and baked goods, in addition to seasonal fruits and vegetables. The Del Mar market benefits local organizations. Free parking in the parking garage. Located in the lower outdoor parking lot.
1050 Camino Del Mar (Civic Center), Del Mar, CA 92014
Leucadia: Sundays 10am – 2pm
This Farmer's Market gives out Bicycle Bucks good for $1 off if you show up on your bike! Proceeds go to Paul Ecke School PTA and the Leucadia Main Street Association.
185 Union Street, Encinitas, CA. 92024
La Jolla: Sundays 9am – 1pm
The La Jolla Farmers Market hosts 150+ vendors and happens every Sunday rain or shine. Proceeds from this market benefit La Jolla Elementary School. The La Jolla market has been expanding since it opened in 1998. Now, in addition to farmers, there are vendors selling local eggs, honey, and grass-fed beef, plus an international food court.
7335 Girard Avenue La Jolla, CA 92037 at the corner of Girard Avenue and Center Street (La Jolla Elementary School parking lot)
Oceanside: Thursdays 9am – 1pm
This market is held in the heart of downtown Oceanside and offers a variety of produce, flowers, baked goods, salsas, and more.
500 Pier View Way and Coast Hwy Oceanside, Ca 92054
North County Farmers Markets – Inland
Fallbrook: Saturdays 9am – 1:30pm
Visit downtown Fallbrook for local produce, crafts, and more.
100 S Main Ave, Fallbrook, Ca 92028 – Between Hawthrone and Fig
San Marcos: Tuesdays 3pm – 7 pm (closes at 6 pm in fall and winter)
Along with produce, the San Marcos Farmers Market has a variety of food vendors, including artisan baked goods, honey, cheeses, salsas, and more.
251 N City Dr, San Marcos, CA 92078 (off Hwy 78 and Twin Oaks Valley Rd)
Vista: Saturdays 8am – 12pm rain or shine!
The Vista Market has been open for almost 40 years and is the longest-running market in San Diego County! In addition to local produce, this market offers crafts, artisan breads and pastries, ethnic foods, crafts, and more. The market takes place at the County Courthouse, and plenty of parking is available.
325 S. Melrose Drive just South of Highway 78.
Visiting a San Diego Farmers Market is a great way to spend time as a family while supporting local farmers!