A few years ago while walking the shoreline at Cardiff State Beach, I passed two young girls playing in the sand with rectangles drawn around them. I heard one girl say to the other, "OK, let's play yoga, I'll be the instructor first!" and they started going into poses. I remember first thinking "wow, that is so Encinitas," and then thinking how cool it was that kids now "play" yoga.
In 2013 the Encinitas Union School District was actually sued by two parents because yoga was being taught at a public school, and they felt it had religious ties. In April 2015, the lawsuit ended with the school district being able to continue teaching yoga.
I think yoga should be taught in all schools as part of P.E. I'm by no means a yoga teacher or even a die-hard yoga enthusiast, but I understand and have felt the benefits. I'd consider myself a perpetual beginner to yoga and one of the least flexible people you'll ever meet.
The first time I attended a yoga class, I hated it. Shavasana at the end of class—which is a time to lay down close your eyes and relax your body and mind—was torture. I counted the seconds till the class ended while everyone else seemed to relish in the relaxation. It took me years to ever go to another class. Dealing with a high level of stress, I decided to give yoga another try and found a studio that clicked with me.
I liked how it was more of a workout for my mind and spirit than a physical one. Suddenly I was the one craving Shavasana at the end of class! Who was this person?! I would enter the class high-strung and leave feeling light and bright. If it could do that for an adult, what would the benefits be for a child or teen?
Kids Who Do Yoga Have an Advantage
Turns out, the benefit of yoga for kids is huge! Skyler McKegney, who owns MyGym Carlsbad, offers a weekly yoga class just for kids ages two and a half to five years old. She decided to incorporate yoga into their offerings at MyGym Carlsbad because there weren't really any other kids yoga classes in the area. "It is a great way for them to wind down and relax. You should see them all laying still in Shavasana at the end of the class with a crystal on their foreheads. It's priceless," says McKegney.
Priceless for the parents too who get to have calmer kids!
According to yogajournal.com, "Children derive enormous benefits from yoga. Physically, it enhances their flexibility, strength, coordination, and body awareness. In addition, their concentration and sense of calmness and relaxation improve. Doing yoga, children exercise, play, connect more deeply with the inner self, and develop an intimate relationship with the natural world that surrounds them." Kids are often used to being shuttled from one activity to the next and life is go-go-go which can cause stress and anxiety in children. Yoga allows kids to pause and connect to their breath, even if they aren't aware they are doing it.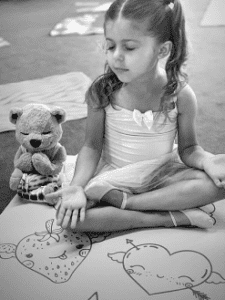 CNN reported about a school in a crime-ridden area of West Baltimore where kids were sent to a meditation room filled with purple floor pillows, yoga mats and the scents of essential oils instead of detention if they were acting out. The school said it did wonders for their learning environment and productivity. They had zero suspensions since the room's creation. The year before that, there were four suspensions.
It's never too young to start doing yoga with your kids whether they are newborns or teenagers. There are lots of great mommy and me yoga classes around San Diego and many of the public libraries offer free family yoga. Definitely check out MyGym Carlsbad's yoga classes; as soon as my daughter hits two and a half she'll be in those for sure! You can also find free yoga classes on YouTube or just go to the beach, draw a rectangle in the sand and play yoga together!