While the verdict is still out if the first day of fall will actually feel like it weather-wise, there are plenty of reasons to be excited. Stores are stocking their endcaps with delicious fall flavors (you're not burned out on pumpkin spice yet, are you?!). Fashionable layering items are adorning clothing racks. Autumn leaves and assorted harvest items are lining entryways. How will you be ringing in the fall season? Here are five fun ways to celebrate the first day of fall!
Stock Your Cookie Jar with a Fall Cookie Favorite
Cookie jars come in all shapes, sizes, and colors. How lucky I felt to score this squirrel-shaped jar from our local Buy Nothing group just days before fall hits! I then had the very important task of selecting the best cookie to start the season. At $2.49 a box, I scored these Pumpkin Flavored Joe-Joe's from Trader Joe's. There were plenty of fall cookie options at that store alone! If you're in the mood for baking, check out these fun fall cookie recipes!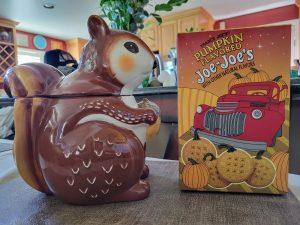 Incorporate Fall Vegetables into Your Next Dinner
Eating seasonal vegetables is a great way to maximize the freshness and flavor of your meals. The list of fall veggies is extensive. We love the squash varieties that are abundant this time of year – from soups to sautees, they can be incorporated into many dishes.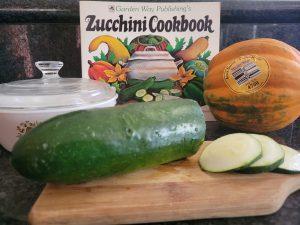 Design Your Own Fall Wreath
I love seeing front doors in the neighborhood decorated with seasonal wreaths. While we can easily find gorgeous ones for purchase, making one is pretty gratifying. Not only is it a great excuse to get some family time in, but the process of it is also pretty fun! We love checking Dollar Tree out for crafting supplies like those pictured below, though Michael's would be a good resource as well. Here is some inspiration on how to design a wreath on a budget!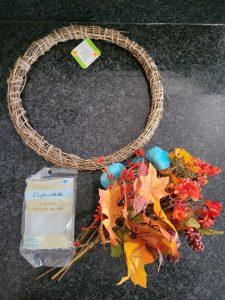 Read Books About Fall with Your Children
Reading is a wonderful way to bond with our children and increase their vocabulary. If your shelf at home isn't stocked with any books about fall, consider a trip to the local library to check one out! There are many books about the fall season that your child is sure to love. Find some great titles from this list.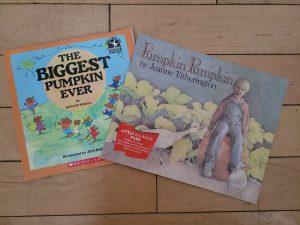 Take a Neighborhood Walk and Look for Signs of Fall
While fall in our neck of the woods may look different than it does to the north of us, signs are still around us. Get out with your child for a walk in the neighborhood or take a local hike. Bring a notebook to record observations. Better yet, print a scavenger hunt sheet like this one. Ask your child what they see that represents fall. Are there any leaves turning color? Do you see trees losing their leaves? Do neighbors have pumpkins or fall decor in their yards? Walking and talking is the perfect way to bond with your child – and soak in your surroundings.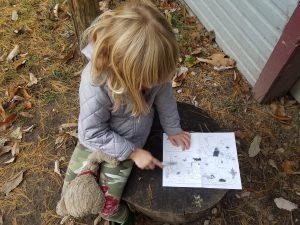 Looking for a fun weekend activity to kick off the season? Check out the San Diego Little Wonders Fall Festival this Saturday, September 24, 2022!