This post contains a few affiliate links. These links help maintain the cost of the blog expenses if you choose to purchase through them.
Looking for some super fun ways to dye Easter Eggs with your kiddos? Nothing against those store-bought egg dyeing kits, but we wanted something more engaging than dropping in a pellet and waiting for the magic. We wanted to make magic! So, Klara and I dove into the latest egg dyeing trends on Pinterest and chose three, and one that we made up ourselves.
We rated them for difficulty, resulting color and fun factor. Let's get started!
1. Marbled Eggs with Shaving Cream
Supplies: shaving cream, food dye, tray (glass preferably), stick, latex gloves (optional)
– Spray a layer of shaving cream in the bottom of your tray, no more than an inch deep
– Drop food coloring onto shaving cream in different color patterns, here's where you can experiment!
– Using a stick or skewer, create swirls in the cream and dye mix
– Gently roll your eggs through the colors with your gloves on to create a marble effect
– Remove and allow to dry 5-10 minutes, wipe clean and enjoy your art!
Difficulty: ++
Color: ++
Fun Factor: +++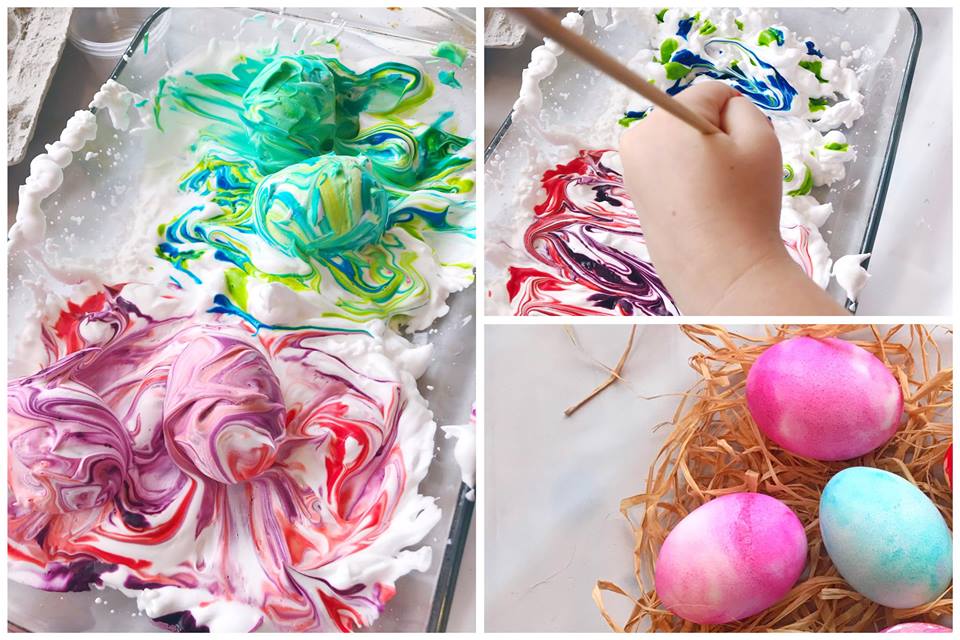 Klara and I agreed this was a very fun and beautiful way to dye eggs and would absolutely do this again. It's pretty easy, but we gave it ++ for difficulty because to create a really nice marble effect, you have to slow your roll! Don't roll too much or the colors mix. We also agreed we could have used MORE color. If you want more detailed instructions, we followed this tutorial. We also didn't like the artificial smell of the shaving cream and will be looking for more natural alternatives. Perhaps homemade whipping cream! YUM!
2. Drop Dye Eggs
Supplies: gel food coloring, water, pipettes or droppers, essential oils
– Mix a small amount of gel food coloring, water, and essential oils to desired consistency. A thicker mix will create larger, more pigmented drops; a thinner mix will create more of a watercolor look.
– Use pipettes do drop mixture on eggs
– Allow to dry 10-20 minutes then rinse clean and admire your art!
Difficulty: +++
Color: +++
Fun Factor: ++

Klara and I both thought this method created the richest color some really beautiful patterns, but it was a little tricky for small fingers. (BONUS! Great way to work on those fine motor skills!) We loved adding essential oils to our creations and breathing in the beautiful smells while we worked.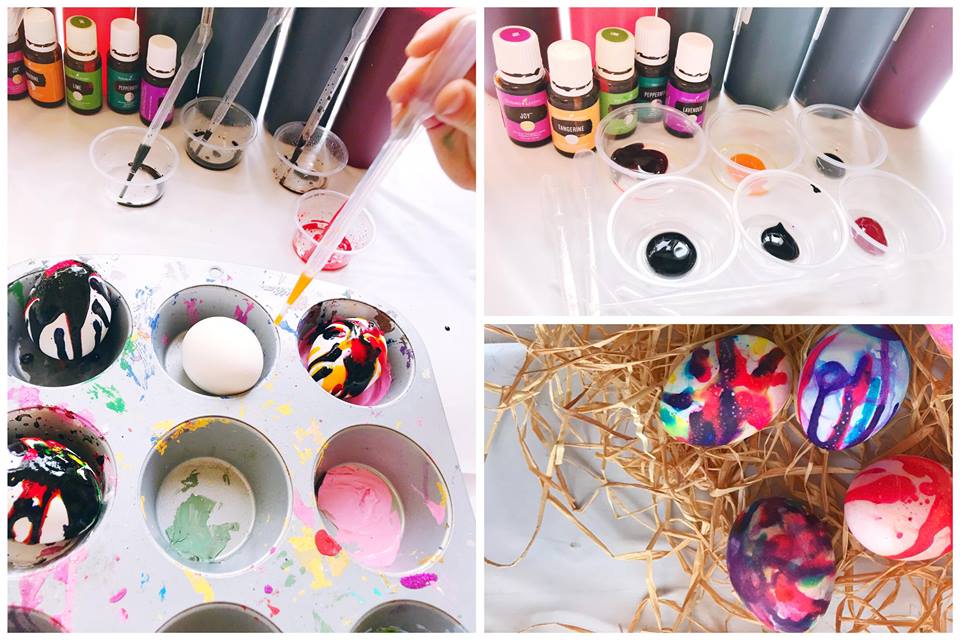 3. Volcano Eggs
Supplies: powdered tempura paint, food dye, baking soda, vinegar
– Scoop about an inch of baking soda into various containers
– Mix in about a tablespoon of powdered tempura paint and several drops of food dye
– Place eggs in the desired color
– Pour in vinegar and watch the explosions!
– Leave eggs in the mixture as long as you want for richer color
– Remove and allow to dry
Difficulty: +
Color: +
Fun Factor: ++++++++++
This was off the charts FUN! Klara couldn't stop talking about this one. Even after the explosion was over, she enjoyed scooping the paste onto the eggs. We actually did this method twice because with tempura paint alone, the color did not last for us. We added some food dye to our next batch. This method was a BIG hit!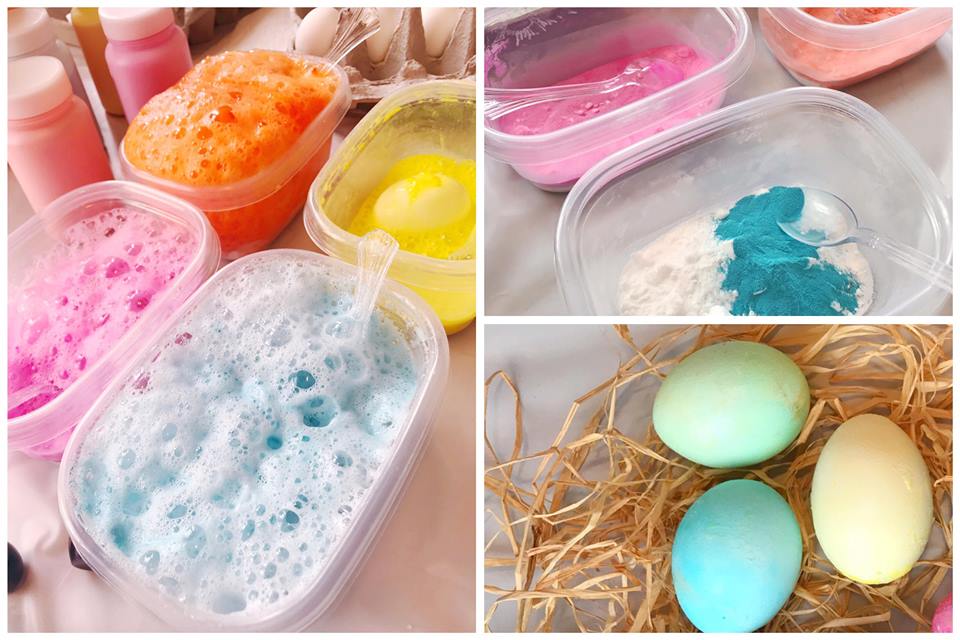 4. Tie-Dye Eggs
Supplies: paper towels, twist ties, food dye, spray bottle with water, latex gloves
– wrap your eggs in paper towels and twist tie the top
– drop food dye onto eggs in desired colors and pattern, it helps to space out the drops
– spray egg with water to saturate completely, but don't overdo it
– for mom: gently squeeze wet paper towel onto egg with gloved hands
– allow to dry completely and remove towel to see your awesomeness!
Difficulty: ++
Color: ++++++++++
Fun Factor: ++++
WOW! This created the best-looking eggs in my and Klara's opinion. Just beautiful! The process was super fun, too. We had to wait the longest for these to dry completely, but it was worth the wait. For more detailed instructions, we followed along with this tutorial.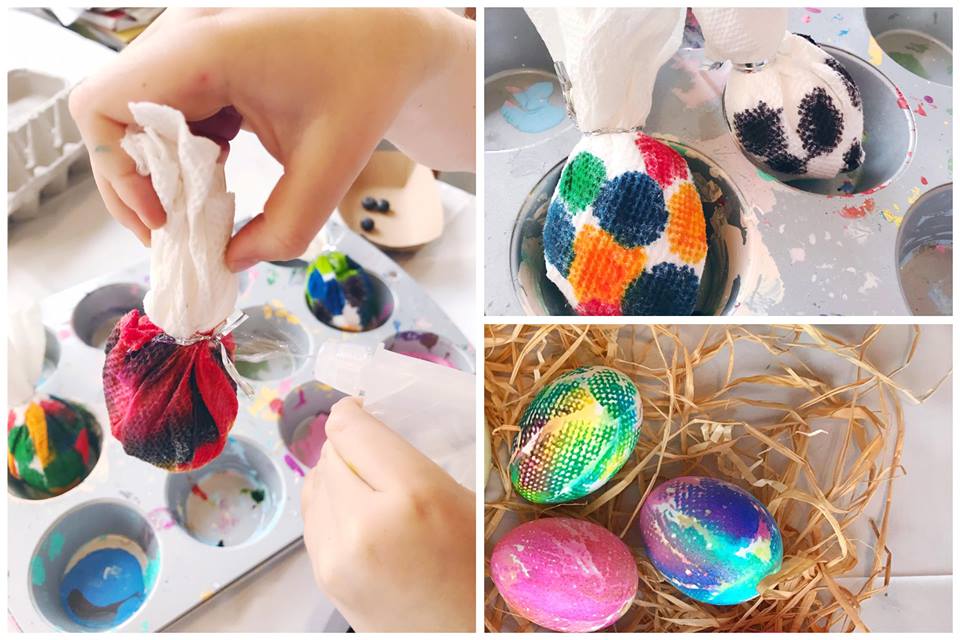 Klara and I both agreed for Easter, we are going to do more Tie-Dye and Volcano Eggs. We had a blast! I love to let kids make messes, but for easy cleanup, lay down a plastic tablecloth. Or, better yet, do it outside! Here are several more egg decorating ideas that are both kid-friendly and fun. Happy Easter!