When it comes to easy Halloween-themed snacks, the sugary treats come to my mind first. While it is true that Pinterest pages are adorned with many a chocolate-dipped spooky creature, there are some pretty cute savory appetizer ideas out there as well. This year, make a table spread that appeals to both healthy preferences and a kid's desire to satisfy their sweet tooth. Consider these picks for your upcoming Halloween festivities!
Vegetable Skeleton Platter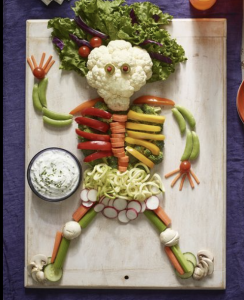 This Easy Halloween-Themed Snack is one that parents will enjoy, as it is created entirely from vegetables. Use a cauliflower skull by slicing a cauliflower and using one half (or third!). Skeletal arms and legs are designed with fresh-cut veggies of your choice, such as celery, snap peas or carrots. Next, grab some sliced bell peppers to make a ribcage. Pair with a ranch, spinach, or hummus dip!
Creepy Fingers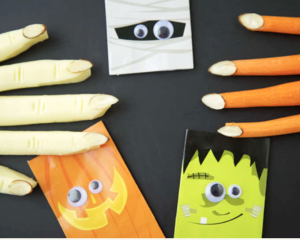 I came upon this simple, yet creepy appetizer idea during this year's holiday snack planning. Made with raw carrots, string cheese, hummus, and slivered almonds, these treats are fun to create. First, grab 5 long carrots, five mozzarella sticks, 10 slivered almonds, and a dollop of hummus. Then, peel the carrots and shave off a flat area at the tip of the "finger" for the nail. Next, shape one end of a cheese stick to resemble a finger shape and carve out a "nail" indentation. Use a knife to create knuckle notches. For both the carrot and cheese fingers, add a small amount of hummus to the nail area and place the "nail" (slivered almond) on top.
Mummies in a Blanket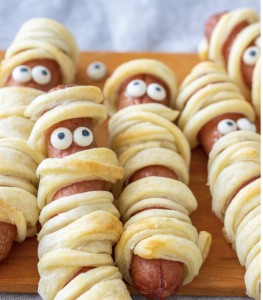 This recipe takes Pigs in a Blanket to a spookier level with very few adjustments to the traditional preparations. First, grab hot dogs of your choice, a tube of crescent rolls, and candied eyes. As the oven preheats at 375 degrees F, unroll the crescent dough onto a cookie sheet into a rectangular shape. Then, cut 1/4 inch wide strips lengthwise. Wrap the strips around the hot dogs, stretching them slightly to create a mummy gauze effect. Bake 10-12 minutes. Once out of the oven, add two small squirts of ketchup to the "head" and attach candied eyes.
White Chocolate-Dipped Strawberry Ghosts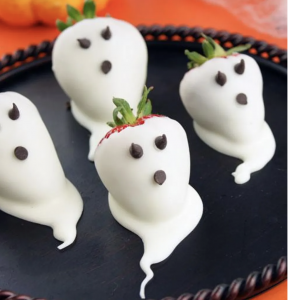 For this recipe, grab a 16oz package of fresh strawberries, mini chocolate chips, and some white melting wafers. Next, line a baking sheet with parchment paper and spread out the strawberries. Follow the guidance on the white melting wafers packaging to heat the white chocolate and get to work dipping the strawberries in. After dipping, add mini eyes and mouths made from chocolate chips.
Candy Corn Pretzel and Kisses Treats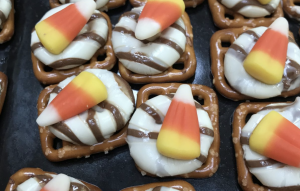 This is a quick one that kids can easily help with. Only 3 ingredients are needed! Grab bite-sized pretzels in the shape of your choice, Hershey Kisses (or Hugs, as pictured here), and candy corn. Then, assemble the pretzels topped with Kisses on a cookie sheet, pop into an oven pre-heated at 250 degrees F, bake for 4 minutes, remove and top the softened kiss with candy corn. Yum!
Looking for other Halloween treat inspiration? This blog post touches on alternative ideas to giving out candy this season.
Need more plating ideas for your Halloween spread? Check out these fun ideas by Women's Day!