We are an interfaith family and I am always trying to find ways to include our entire family in the various religious holidays throughout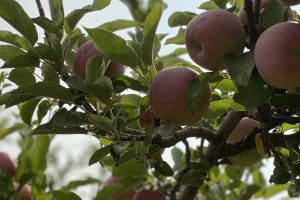 the year. This year for Rosh Hashanah, I wanted to explore some of the major themes of our Jewish New Year with family-friendly options that got us outside and engaging with our local community.
Lucky for us, we live in San Diego!
If you too are an interfaith family, or are a Jewish family looking for some new ideas, or simply want your family to learn about a few customs of Rosh Hashanah, I'm sharing four ideas that our family is doing this year.
Go Apple Picking
Rosh Hashanah, the celebration of the beginning of the Jewish New Year, also happens to be the perfect time for apple picking!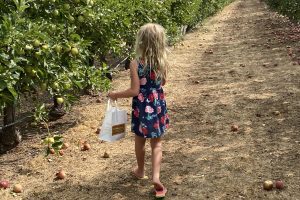 Coincidentally, one custom during Rosh Hashanah is eating apples dipped in honey (more on honey below), typically on the first night, and asking for blessings for a sweet new year.
Of course, for apple picking in San Diego county, Julian is a family favorite for the many U-Pick farms and the wide variety of apples! While some orchards are not open for U-Pick this season, or are opening much later, Volcan Valley Apple Farm is opening just in time for Rosh Hashanah apple picking. They opened for U-Pick on Friday, September 11th with hours on Friday – Monday from 9 am – 4 pm and will stay open until all the apples are gone!
Learn about bees and make a honey cake
Honey and apples are part of the Rosh Hashanah tradition symbolizing the hope for a sweet New Year.  However, according to Jeffrey M. Cohen, author of 1,001 Questions and Answers on Rosh Hashanah and Yom Kippur, another reason for this custom is that honey also symbolizes the idea that while bees are "feared because of their sting, they are also the dispensers of the sweetness we enjoy."
This year, I added learning more about bees to our celebratory preparations.  The University of Arizona has put together an online resource called Africanized Honey Bees on the Move that provides information, activity sheets, and videos separated by grade clusters, ranging from Kindergarten to Grade 12. In the week or two leading up to Rosh Hashanah we spent some time learning about bees with these resources, adding context and appreciation to the making of the traditional honey cakes.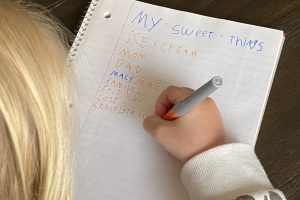 You can find many recipes for honey cakes online, often family favorites, but two of our favorites are this one from Always Delicious and this one from My Jewish Mommy Life. As you enjoy your honey cake, you can have each family member share out all the sweet blessings currently in their lives.
Make handmade new years cards to give to family and friends
Two things that we have an abundance of at our home right now: bubble wrap from delivery packages and wine corks (wait, you too?! – wink, wink?!)
As it turns out, these are perfect supplies for card making! The website, My Jewish Learning, suggests "the tradition of sending Rosh Hashanah postal greetings probably dates to the 14th century." This tradition, which continues today, is a fun and inexpensive craft-activity the entire family can participate in to ring in the Jewish New Year.  Below are our two favorite handmade card crafts that will use up that extra bubble wrap and those wine corks!
Craft your own Shofar
There are many reasons why the shofar, traditionally a ram's horn, is blown on Rosh Hashanah. Among those shared with me years ago, that I share with our daughter, is that the sound of the shofar is like our annual "alarm clock" telling us: "wake up, pay attention – there is important work to be done!".
This important work includes reminding us of the most important priorities in our lives, acknowledging our mistakes from the year, and reflecting on ways we can become better humans. Each year as children grow and mature in their understanding of the meaning of these customs, the conversations in preparation for Rosh Hashanah can grow as well.
This year, we made our own toilet paper roll shofars using directions from Alphamom and will practice blowing them on Rosh Hashanah as we reflect together as a family on how we want to do better, and be better to each other and others, in the coming year.
Doing these activities together helped ground us in the importance of, and helped us get us excited for, Rosh Hashanah as an entire family.
From our family to yours, Shana Tova!