All I want to do is stream movies of people falling in love in snow-covered small towns in unexpected ways while wearing winter-themed leggings and cozy socks. Is that too much to ask? The answer must be 'no' because each major streaming network has gifted us with a plethora of new romantic releases that achieve just that! Here are four new romantic holiday movies you should be streaming (with many more great ones out there!). Be sure to check these titles out as you sink deeper into the sofa this holiday season.
The Noel Diary (Netflix)
Were you saddened when This is Us came to an end? Me too! When would we get our next dose of Justin Hartley? Well, thankfully The Noel Diary delivers on this. Hartley plays Jacob Turner, a detached but successful writer. His mother's unexpected passing brings him back to his hometown, where he has a not-so-chance encounter with Rachel (Barrett Doss). A discovered diary sends both characters on a journey to find answers…and leads to a love story neither of them saw coming.
A Hollywood Christmas (HBO Max)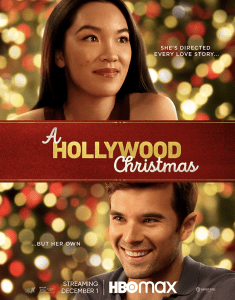 A Christmas movie about the magical art of making Christmas movies, A Hollywood Christmas covers all of the bases and isn't afraid to admit it. Movie director Jessica (Jessika Van) has cultivated the perfect "formula" for romantic holiday movies. Somehow she still unwittingly finds herself in a Christmas movie storyline when a network exec (Josh Swickard) shows up with the intention of halting the production of her latest movie. Despite a fairly predictable storyline of an unlikely pair falling for each other, it is an engaging watch. Also, getting the behind-the-scenes making of the "perfect" holiday movie was entertaining. Producer Ali Afshar has a knack for getting lighthearted holiday movies just right.
Something from Tiffany's (Prime Video)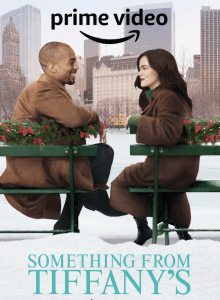 Something from Tiffany's might give you the Serendipity feels a bit. But in this one, we aren't seeing a battle over a pair of gloves. We find our characters involved in a mixup of signature blue bags from Tiffany's. What to do when the engagement ring Ethan buys for his girlfriend Vanessa ends up on the finger of Rachel, another guy's girlfriend? It would ordinarily be a complete misfortune. However, in the process of trying to recover the said ring, Ethan connects with Rachel in unexpected ways. You'll find yourself rooting for them, and craving cornettos like never before. Check it out to see what I mean.
Holiday Harmony (HBO Max)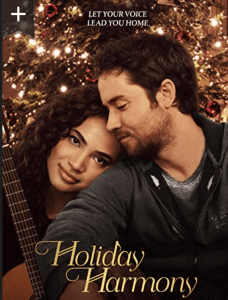 Picture this: an aspiring musician living her best van life is trying to get her "big break." Luck strikes and Gail gets a holiday iHeart Radio performance opportunity in L.A. Traveling from Florida with many stops on the way, Gail's road trip is halted when an alpaca crosses her van's path in Harmony Springs, OK. With a broken-down van, limited resources, and 2 weeks to make it to California, Gail connects with the townsfolk in unimagined ways. She then faces a difficult choice between love and opportunity. But perhaps she doesn't have to give up one for the other after all!
Looking for more holiday movie inspiration? Check out last year's top picks in this San Diego Moms post. These 4 movies are only a few of the great new releases of 2022. This list can easily keep you going if, like me, you just want more!