Ready to walk on the wild side this holiday season? Well, the San Diego Zoo and San Diego Zoo Safari Park have you covered. Our holiday season may look a little different this year but San Diego Zoo Global has brought back two popular events to make your holiday season special, Jungle Bells at the San Diego Zoo and Wild Holidays at the San Diego Zoo Safari Park. I look forward to attending these events every year with my daughter and am excited about what they have cooked up for 2020.

Jungle Bells
The San Diego Zoo has put together a great lineup of entertainment and activities for this year's Jungle Bells. I'm especially looking forward to the tree at the front of the zoo leading a holiday dance with its thousands of lights. There will also be plenty of musical offerings throughout the night. If you're looking for something festive and animal-oriented, I recommend Northern Frontier's Holiday Forest. You can catch glimpses of your favorite arctic animals while enjoying a specially decorated forest.

Wild Holidays
Up north at the San Diego Zoo Safari Park, Wild Holidays is an event primarily focused on lights. From the Bridge of Lights to the Enchanted Lagoon, they've got all your festive light wishes covered. I'm personally most excited about the Nairobi Lantern Walk. Here, color-changing lanterns will light your way as you wander through the Nairobi Village section of the park. Keep an eye out for the special roaming entertainment as well during your time at Wild Holidays.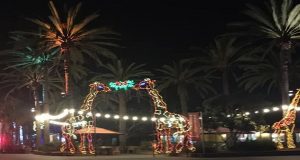 Currently, both the zoo and safari park are advising there may be long wait times to get into these special events. I've also heard rumors they may implement a reservation system as we get further into the holiday season. You can find all the current information about Jungle Bells here and Wild Holidays here. However you choose to make this holiday season special, I wish you and your family a safe and happy holiday season.