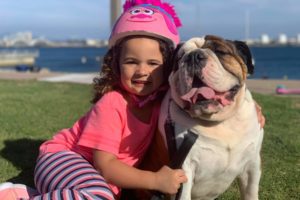 Before my was born, I was a "dog mom" to an English Bulldog named Deuce and have now added a adorable French Bulldog to the fam, Angel. Now, I would like to think they are BFF's, but that being said, as parents we need to understand that our furry little friends may not be as excited for the fireworks as our kids.
This can change their normally sweet temperament to terror or aggression. Our friends at West Coast Animal Hospital sent out a very important reminder for keeping your pets safe this 4th of July. We wanted to share it with all of our families who have furry four-legged friends in the house!
Imagine how startled you would be if you suddenly heard loud booms and saw bright lights—but had no idea what caused them. Although your family may eagerly anticipate the fireworks every year, your pet has no idea that your usually peaceful home will soon be disrupted by loud, frightening noises.
Here are some tips to help ensure their safety:
Do not take your pet to a show unless you are absolutely sure that he or she is not afraid of fireworks.
If you are setting off fireworks in your yard, or you live in earshot of a fireworks show, do not leave your pet outside—even in a secured and fenced yard. Make sure that fences and screens are in good repair to prevent your pet from escaping from your home during the fireworks.
Find the quietest room in your house, and put your pet's food, water, bed, or crate in that room, along with a few toys. Turn on the TV or play some music to help mute the sounds of the fireworks.
Put a collar and tags on your dog or cat. The tags will help ensure that your pet returns home if there is an escape. Make sure that the information on the tags is current. Ask your vet about microchipping!
Take a road trip. If your pet is terrified of fireworks and nothing you do makes the situation more tolerable, consider leaving your pet with a friend outside the firework zone, or check into a pet-friendly hotel.
Try and anxiety jacket (or similar product) on your pup. ThunderShirt is vet recommended option, but there are a ton on the market that may help calm your dog in stressful situations like hearing the 4th of July fireworks. ThunderShirt applies a gentle, constant pressure to your dog's torso, like swaddling an infant or a comforting hug to help them feel calmer. ThunderShirt is safe, easy to use and drug-free.
Talk to your vet about medications that will help calm your pet. We recommend using Sileo, which has been approved by the FDA and is not sedating.
If your little furry friend is afraid of fireworks or suffers from any other type of anxiety, call your local vet or check out West Coast Animal Hospital.
West Coast Animal Hospital
5267 Linda Vista Rd, San Diego, CA 92110
(619) 431-1423