---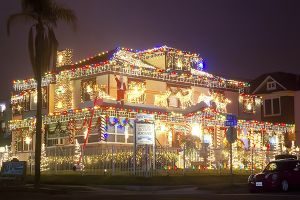 Downtown San Diego Christmas Lights
Downtown San Diego / Gaslamp
The Forward House in Bankers Hill. 25th annual holiday lighting display at The Forward House, built in 1905 for San Diego Mayor John Forward, Sr., it is known as "Griswold's Christmas House." Walk by to enjoy holiday lights and Christmas music. 108 Ivy St. (1st & Ivy, 6 blocks W. of Balboa Park). Nov. 24–Dec. 31, 5–10 pm. www.AmericanSecurityMortgage.net
---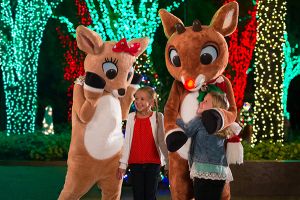 Mission Bay | San Diego Bay | La Jolla-UTC | Point Loma
POINT LOMA, 92106
Garrison St. & Chatsworth. Off Rosecrans. "Garrison Street Lights." Dec. 1–31.
---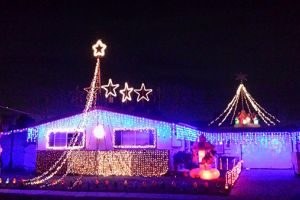 Clairemont | Mira Mesa | Scripps Ranch | Sera Mesa-Mission Valley | Tierrasanta
CLAIREMONT, 92117
Lana Dr. & Jamar off Mt. Abernathy Ave.  "Clairemont Christmas Park." Circular street with 40+ decorated homes. Dec. 1–25.
5404 Mt. Burnham Dr. Features a 128-channel animated light display to 98.5 FM. North Pole village, train and animated figures display in garage. Dec. 9–27.
SCRIPPS RANCH, 92131
Stonebridge Pkwy. & Merritage Ct. "Merry-tage Court." Entire street lit up with themes including Star Wars, Minions, Disney, Frozen, Cars, The Grinch and more. Dec. 1–31.
10883 Sunset Ridge Dr. Decorated house with lights, inflatables and animated decorations. Nov. 25–Dec. 31.
SERRA MESA/MISSION VALLEY, 92123
2002 Ainsley Rd. Features a 20 ft. Christmas tree made of lights, multiple blow-ups and lights. Dec. 1–31.
TIERRASANTA, 92124
5306 Belardo Dr. Off Via Valarta at Via Playa De Cortes. Over 100,000 lights and decorations all sequenced and animated to music at 106.1 FM. Nov. 26–Dec. 28.  www.belardolights.com
---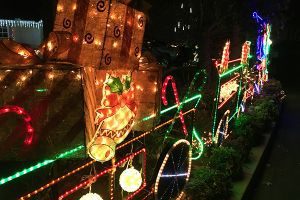 Campo | El Cajon | Lakeside | La Mesa | Lemon Grove and Lomita | Santee | Spring Valley
EL CAJON, 92019, 92020, 92021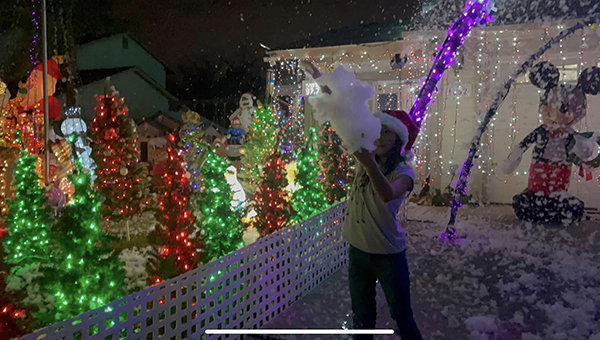 1552 Cajon Greens Pl. Snow, decorations and lights synchronized to holiday music on 97.7 FM. Nov. 25–Jan. 2.
Jingle Bell Hill (also known as Pepper Dr. Lights). Solomon Ave./Pegeen Pl. and surrounding area. Off 67 & Bradley. Dec. 2–25.
9777 Valley Ranch Rd. An acre of lights programmed to music, giant dazzling trees and a winter wonderland of computerized lights and music. Nov. 26–Dec. 26.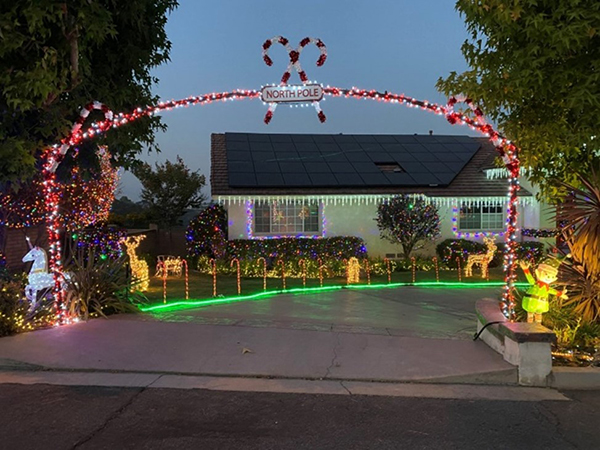 1838 El Pico Dr. Off Hacienda Dr., Fletcher Hills. The 58th year decorating the 18 ft. star sitting on top of an 80 ft. twinkling tree overlooking El Cajon Valley. Also experience over 80,000 programmed lights and a 55 ft. automated train arriving at the North Pole with a view into Santa's Workshop. Dec. 4–31.
11456 Pegeen Pl. "Nightmare Before Christmas" theme, complete with Jack, Sally, Zero, the Mayor & Oogie Boogie. Santa may make a surprise visit through Christmas Eve. Nov. 27 – Jan. 2
LAKESIDE, 92040
10248 Paseo Palmas Dr. "Tinsel Town." 20+ decorated houses. Dec. 9–25.
LA MESA, 91942
6266 De Camp Dr. Magical lights and music display featuring a 22-ft. tree of twinkling lights with synchronized music that you can tune into on your car radio. Dec. 1- 25.
2034 Ensenada St. "Winter Wonderland" theme. Nov. 25–Jan. 1.
SAN CARLOS 92119
6715 Tuxedo Rd. A colorful winter wonderland with a musical tree synchronized to holiday music. Nov. 27–Dec. 25.
6296 Lake Arrowhead Dr. See Santa jumping down the chimney while his reindeer wait nearby, six animated window scenes, toy soldiers, a snowman nativity scene and more. Dec. 5–31
SANTEE, 92071
Starlight Circle/Sunburst Santee. Tomel Court, off North Magnolia Ave. 75 homes lit up in an easy-to-drive circle. Dec. 12–25.
9325 Pebble Beach Dr. Full light display and yard set to music. Dec. 1–31.
8575 Shanes Way. The sights and sounds of Christmas with a 25 ft tree of light and more. Thousands of lights dance to over 30 Christmas songs on 91.3 FM. Dec. 1–31.
Lights at the Lakes. Drive through 35+ light displays set to music. Select dates, Nov. 25–Dec. 24. Santee Lakes, 9310 Fanita Pkwy. www.santeelakes.com
SPRING VALLEY, 91977
4037 N. Bonita St. Lights, music, penguins, Snoopy, Mickey, Minnie and Santa in the window. Dec. 10–Jan. 1.
Enchanted Village at Noah Homes. Walk through acres of brilliantly lit trees, magical cottages, light tunnels, over a million lights, interactive displays and more. Dec. 16–22, 5–8 pm. All proceeds benefit Noah Homes. 12526 Campo Rd., Spring Valley. www.enchantedvillage.org
1333 Darby St. Gingerbread lane. Dec. 1–25.
---
Coronado | Chula Vista | Paradise Hills
Special Events Featured on San Diego Family
CHULA VISTA, 91910, 91911, 91914, 91915
Whitney St./Mankato. "Christmas Circle." Circle between First and Second Ave. off H St. & 1st Ave. 65th year of decorating 55+ homes. Dec. 10–26.
751 Nolan Ave. A night at Disney theme. Nov. 25–Jan. 1.
PARADISE HILLS, 92139
2160 Reo Dr. Lights, inflatables and decorations. Nov. 24–Dec. 31.
6134 Chadwick Ave. Lights and inflatables. Nov. 26–Jan. 1.
---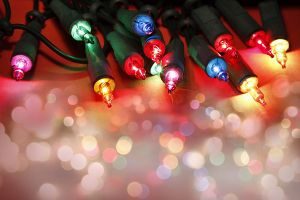 Carmel Mountain Ranch | Escondido | Poway | Ramona | Rancho Peñasquitos | San Marcos
Fairway Village, east and west sides of Stoney Gate Pl. 100+ homes decorated in "Holiday Magic." Dec. 16–Jan. 1.
POWAY, 92064
Hickory Ct., Hickory St., Butterwood Ct., Rockrose Ct. Off Twin Peaks Rd. & Silverset St. "Candy Cane Lane." Entire cul-de-sacs are lit up. Dec. 1–25.
RANCHO PEÑASQUITOS, 92129
Oviedo St. off Black Mountain Rd. "Christmas Card Lane." Also enter off Twin Trails Dr. & Carmel Mountain Rd. or park at Sunset Hills Elementary and walk. Dec. 1–31.
SAN MARCOS, 92078
2516 Rockdale Pl. "The Griswold's." Over 25,000 lights decorate this home and entire cul-de-sac. Nov. 27–Jan. 1.
251 Glendale Ave. A classic look with warm white lights, garland and Christmas tunes on 89.9 FM. Dec. 1–25.
---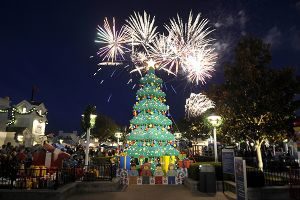 Encinitas | Carlsbad | Oceanside
CARLSBAD, 92009, 92011, 92024

7607 Romeria St. The "Carlsbad Christmas House" where it snows. Home of Canterbury Gardens' giant Santa. Park & walk around to see Surfin' Santa, the miniature village, Snoopy & Friends ice skating, Island of Misfit Toys and animals frolicking in the waterfall. Food drive donations accepted. Dec. 4–26. www.carlsbadchristmashouse.com
6646 Elegant Tern Pl. Santa's mailbox (Santa writes back), Christmas village, inflatables and 10,000 lights. Dec. 1–Jan. 2. Santa visits Dec. 17 with crafts, hot cocoa and cotton candy.
3520 Corte Ramon. SpongeBob theme with lights and characters coordinated to music. Accepting food donations for local food shelters.
6774 Vermarine Ct. Light show synchronized to music. Dec. 1–31.
3920 Rockfield Ct. Musical light show with 20,000+ lights and show selector where visitors can pick from over 20 songs. Nov. 26–Jan. 1.
2695 Medford Ct. Amazing light show. Partnering with the local Toys for Tots for toy donations. Nov. 27–Dec. 31.
OCEANSIDE, 92056, 92057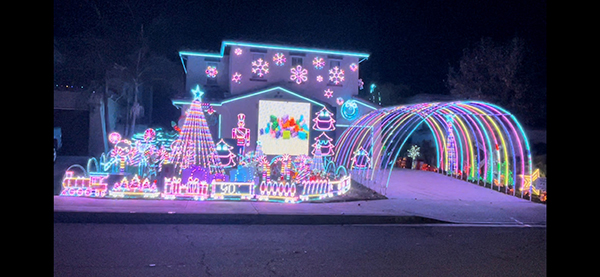 5279 Willow Walk Rd. Over 40,000 digital lights synchronized to music with mega board, arches and more create a 30-minute light show. Dec. 1–31. Santa and food drive for San Diego Food Bank on Dec. 3, 5:30–8 pm.
2329 Snead Dr. Lights, nativity scene, animated elves and Santa Village light display. Walk up to see Christmas scene in garage. Dec. 5–31.
---
About: San Diego Family has been San Diego County's best parenting resource since 1982. Our mission is to enhance the quality of life for San Diego County families by providing information and resources that support the importance and pleasure of parenting. Our readers are parents and caregivers of children ages 0–18.
San Diego Family Magazine is a free monthly publication with a circulation of 75,000. It is distributed to more than 1,500 locations throughout the county. Main distribution locations include Albertsons Supermarket, Sombrero Mexican Food, Whole Foods, as well as Round Table Pizza and Party City stores, for additional magazine pick up locations CLICK HERE.