Fog gently shrouded the Italian city that loomed before us. Venice spread itself across 188 tiny islands and appeared to float atop the Adriatic Sea. We huddled close together with excitement as we caught sight of millions of twinkling Christmas lights festively draped across trees and trellises, illuminating the city's 450 palaces and cheering the cold January night.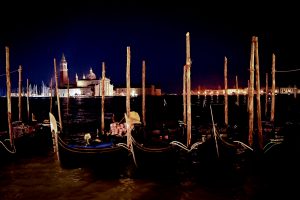 A mysterious maze of 177 canals soon appeared between the tiny islands, which are crossed by small footbridges or by boat. It was nearly midnight, and we needed to find our way through the city center to the apartment where we would be staying. After the boat docked, the six of us gathered our luggage and started walking, as Venice is a city with no roads and no cars.
My animal-loving daughter was pleased to find a statue of the Lion of Venice greeting us at the entrance of Piazza San Marco. The fierce bronze-winged, lion sculpture has come to symbolize the city and its patron saint, St. Mark. It has been there since the 12th century, solemnly greeting visitors to Venice for hundreds of years.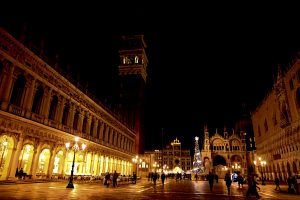 A series of elegantly dressed Christmas trees lined the path along the wide piazza, and we stopped in front of the city's patriarchal cathedral, the Basilica of St. Mark, and stared up in awe as its edifice towered over three hundred feet above us.
Our suitcases made a click-clack, click-clack sound as we broke out of our reverie and continued across the ancient cobblestone of St. Mark's Square, passing under intricately designed archways dating back as far as the 9th century. We paraded our tribe of six down the Calle Seconda d'Ascension, Venice's high-end shopping street.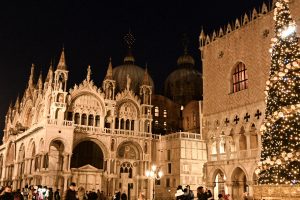 Our three oldest children, ages six, eight, and nine years old, push-pulled their suitcases down the ancient streets, their backpacks long since abandoned and strapped to the handle of the stroller I was pushing. Inside the stroller slept our three-year-old, the youngest of the family.
As we passed by the impressively designed windows of Dior, Chanel, Louis Vuitton, and Cartier, I remembered reading that this was the place to see and be seen on the weekends, especially for the fashion-inclined. But at that late-night hour, it seemed we had Venice all to ourselves.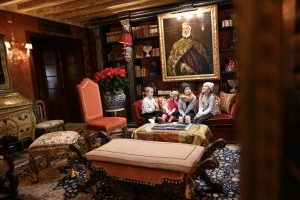 The next morning, we were awakened by music. It sounded a lot like opera singing. My four sleepy-eyed little girls scrambled out of bed and I flung open the wooden shutters that boarded our windows. Together, we peered two stories down to the small canal below.
There it was — a shiny black gondola! At the back of the gondola stood a man with black pants, a blue and white striped shirt, and a round straw hat which was encircled by a navy blue band — the gondolier.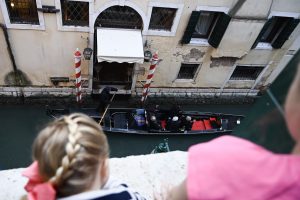 At the front of the boat, facing the back, stood another man who was singing a beautiful song. From having played it in a violin lesson, our oldest daughter recognized the famous song to be La Biondina in Gondoleta.
I explained to the kids that the song was a barcarolle, a traditional song sung by a singer on a gondola. I quietly asked them to listen for the 6/8 time signature and rolling tempo. Reagan even noticed that the timing of the song matched the rhythm of a gondolier's strokes.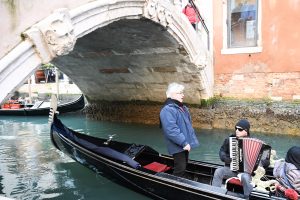 "Belissima!" the girls shouted down to the singer as the gondola passed below our window. Beautiful! They clapped and cheered as he waved back saying, "Buon giorno!" Good morning!
We watched as the couple on the gondola kissed as they passed under a low bridge. "In Venice folklore, it is said that if you kiss each other as you pass under a bridge, you will remain in love forever!" I told the girls, and they giggled.
The next week was filled with moments like these, each more incredible than the other. History and art came alive as we learned about Galileo, Da Vinci, and other famous people of the Renaissance era who lived and worked in Venice. The museums, the opera, the cafes, and the food, all made for a magical winter trip for our family with young children.
Why not give it a try?
__________________________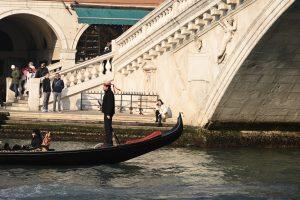 With tickets on Google Flights from San Diego to Venice hovering around $650 round-trip in January 2022, it's a great time to go.
Be sure to check the latest entry requirements to Italy too. If you are vaccinated, you can easily travel within Italy this winter.
Plus, it's not too chilly there in January, and tourists are sparse, making it a perfect time to visit. Check Air B&B for great places to stay on San Marco, Venice's main island. Bonus: there are no cars in Venice, so you don't need to rent one. Yay!
__________________________
Do you ha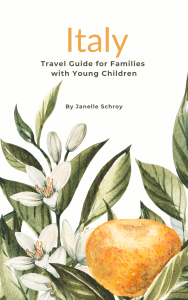 ve questions about visiting Italy? Email Janelle, the author of this article at [email protected]
Her new book: ITALY, Travel Guide for Families with Young Children, is being released this December.
Let her know you are taking a trip to Italy and get your free guide for families!