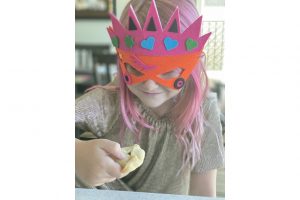 Let's get this party started – whoo hoo! The Purim party, that is!
Purim, the Jewish holiday that commemorates the strength and bravery of Queen Esther in saving the Jewish people from destruction at the hands of the king, and his evil advisor, Haman, begins at sundown on February 25th.
Cookies for Purim
One of the things our family loves most about Purim (besides the costumes!) are the hamantaschen – buttery cookies, uniquely shaped, and filled with delicious fillings are both fun to make – and eat!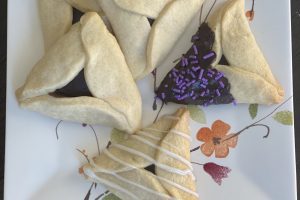 Hamantaschen comes from the Yiddish for "Haman's pockets". There are several (dozens, perhaps?) interpretations of how these triangle cookies have gotten their name.
Two of my favorite references include:
A nod to Haman's wickedness
Haman's pockets were said to be filled with bribes. Therefore, eating a hamantash is part of the celebratory reminder that Haman's bribery and evil plan to destroy the Jews was thwarted.
An homage to Esther's strength
Alfred J. Kolatch, in The Jewish Book of Why, suggests that the three-cornered cookies are an homage to where Queen Esther derived her strength, her three ancestral patriarchs: Abraham, Isaac, and Jacob.
Hamantaschen comes from the Yiddish for "Haman's pockets"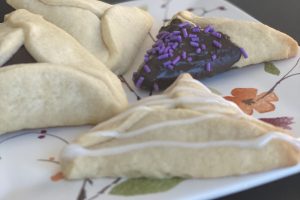 Regardless of where the inspiration and derivation of the name for these Purim treats comes from, finding favorite fillings to make them extra special is a fun baking experiment!
If you are looking for some filling inspiration, check out our three family favorites below:
Fruit-Filled
Raspberry is our (my) family favorite, but strawberry comes in a close second. Both deliver the sweet fruit taste against the buttery crispness of the cookie that makes these almost good enough for breakfast! While making homemade filling can be fun, store-bought works just as well. When we are feeling fancy, we dip a corner of our fruit-filled hamantaschen in chocolate for an even more decadent treat.
Kid-Approved
Chocolate-filled takes top honors in our chocolate-lover home. The added richness of dark chocolate makes them extra decadent and "fancy" according to our seven-year-old. We melt up some chocolate baking discs and use a teaspoon of that for our filling. However, chopped-up bakers squares (need to add vanilla to sweeten it up) or chocolate chips work just as well.
Traditional
We don't go too traditional in our house because #kidfriendly but
this lekvar, or plum butter, recipe from Tori Avery
that includes orange zest and brown sugar to cut the 'pruniness' of the prunes is truly delightful (and smells amazing while you are making it!).
Finding your family-favorite fillings, and trying new ones each year is part of what makes these cookies perfect family traditions to return to, year after year, as part of Purim celebrations!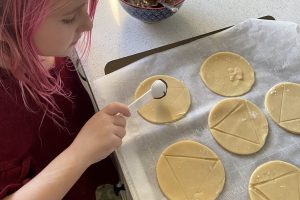 May your Purim be filled with fun, laughter, and merriment — and yummy hamantaschen!
~ chag Purim sameach!