Most of us grow up with a lineup of holiday traditions, and this year I'm implementing Bake Day! Whether it's the cookie decorating, the cleanup, the gifting, or the eating, there is a treat for everyone. This time, our treat to ourselves was sweet, hot from the oven, apple crisp. For me, apple pies, or any apple desserts paired with heaping doses of cinnamon always remind me of fall and the oncoming holiday season.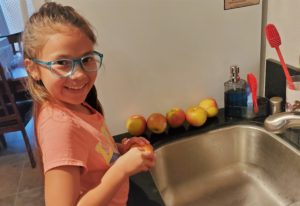 Our sweet neighbor gifted us with a bag full of apples. They smelled so deliciously sweet, at the peak of ripeness. I knew there was no way the three of us would eat all those apples in a short amount of time, so I started bake day a little early this year with an apple crisp. I'm confident it'll be the first of many desserts that will cross our countertops into our bellies.
My daughter loves to help in the kitchen, so her first task was to wash the six apples that the recipe calls for. While she was busy scrubbing away at the red, pink, and yellow skins (on roller skates, by the way) I was collecting some of the other items we would need.
As the mixing bowls, pans, and measuring spoons piled up, I could tell my seven-year-old was getting excited. I hadn't made an apple crisp for her before and she couldn't wait to try it out. She named all the ingredients aloud for herself. Butter, flour, oats, brown sugar, white sugar, apples, cinnamon, nutmeg. We were ready to assemble.
I peeled and sliced the freshly bathed fruit and put them all in a medium sized bowl. The little one added the dry ingredients together in her own bowl next to mine. When the apples slices were all contained in their bowl, little hands poured on the sugar along with a dash of the cinnamon and nutmeg. I tossed the apples and sugar around the bowl, some high over the counter for fun. The sounds of them being coated in sweet granules was music to our ears. We let the apple slices rest and my little got the fun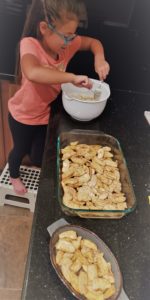 part of cutting the cold butter with forks into the dry ingredients for our soon-to-be crispy crumbly topping.
Gentle metal clanking around a plastic mixing bowl formed tiny round bits of buttery topping. The ideal consistency for sprinkling over the fruit base.
I wanted to use this bake day dessert to teach my daughter the importance of being grateful and saying thank you. I had my rectangular dish and a miniature casserole dish right next to it. I explained that it was a very nice gesture for our neighbor to share with us, so to thank her, we are going to share right back. She loved the idea of being able to walk across the complex to gift our neighbor with a mini apple crisp, still warm from the oven.
She helped me pour the apples into both dishes. Thin layers are a good idea, so there will still be plenty of room for the topping to nestle in. If you prefer more apple to crumble, then you could use a square pan and bake for a little longer.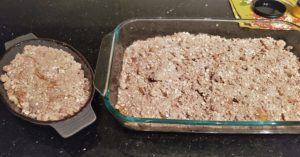 We made sure the topping made its way across every centimeter of those dishes before I carefully placed them into the pre-warmed oven. About 40 minutes of magic heating and bubbling, and that was all it took.
The house was filled with the scents of cinnamon, warm apple sweetness, and butter. The bigger hot pan was still bubbling away on the counter to cool. The edges caramelized with flowing brown sugar. It took a lot for my daughter and I not to dig in straight from the oven pre dinner.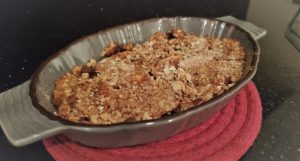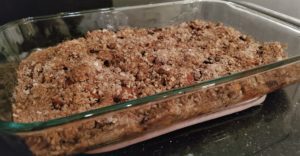 But it was very much worth the wait. And it tasted even better knowing that we were able to share it with a friend. (You can find the recipe we used here.)
Share with me your favorite recipes for Bake Day in the comments. Have a wonderful holiday with your families!