Organization is so hot right now.
Every other post on every newsfeed is someone Kondo-ing their closet, kitchen or bathroom inspired by Marie Kondo's Netflix series, Tidying Up With Marie Kondo. Personally, I find the show to be kind of dull, but I completely appreciate most of her methods and the reasoning behind them. As a country with so much at our fingertips, it's all too easy to fall into a cycle of overspending and purging. As a parent in this heavily commercialized country, toys and accessories can overwhelm a home fast.
While I'm not exactly a neat freak, I'm a person who gets overwhelmed by clutter, so organizing has been an ongoing project of mine since I've been out in the world on my own. Here are four items that have changed the game in my last round of toy purging, makeup restructuring, and pantry reconfiguration.
Slanted Pantry Storage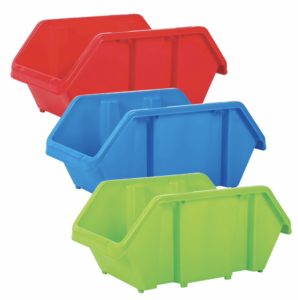 Wrangling snacks and small items in the pantry is much easier when you can see what you're looking for.
I've used these bins in my pantry for things like fruit strips, protein bars, mason jar lids, measuring cups, and even seed packets.
There is a similar basket available at Target that is perfect for things that come in packets or small bags or need to be displayed out in the open.
Countertop Storage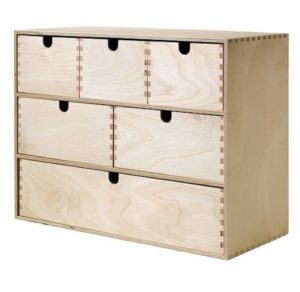 I'll admit that I have some issues with bathroom countertop storage. This fall I decided to try and come up with some creative ways to reclaim the one and a half square feet of counter space that was being occupied by one product organizer and an overflowing makeup bag. As with so many other situations in life, a trip to Ikea helped me immensely. This Mini Storage Chest has more than enough room for my makeup and my husband's skin care products, too.
Small Toy Storage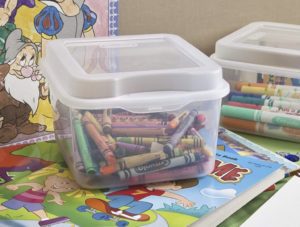 I have one daughter with a pretty modest LOL Doll collection. SO MANY of today's popular toys are tiny. Polly Pockets, Shopkins, LOLs… Because they're so small, they're so hard to keep track of. I came across these containers on sale late last year and have used them to house all of our LOL Dolls and accessories and clothes for my daughter's My Generation Doll. I paid nowhere near the price that Amazon offers for the case, but you can also find these boxes individually here.
Broom and Brush Organizer
Getting the brooms, dustpans, fly swatters, bottle brushes, and barbeque utensils in one place was something that needed to happen. All of these items were previously strewn throughout the pantry and in our backyard.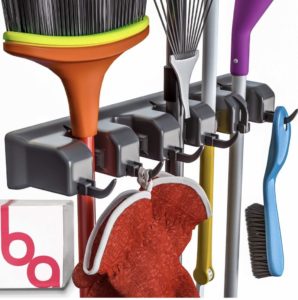 Consolidating them into an organizer like this (I think I got my exact one at Daiso) has been a huge help. I would recommend using really great wall anchors when installing it, however, since most of us have to deal with drywall and no one wants to deal with wall studs.
Don't be worried if you're not ready for a full Kondo purge of your home! These organization tools have helped me chip away at some of the most problematic areas of my home and they can do the same for you.
Do you have any organizational tips or tools? What's first on your 2019 organization list?
Let us know in the comments!