I bet you are wondering how you are going to host a house-party during a shelter-in-place order?
Don't worry, with the ALL-NEW Houseparty App you don't have to leave the house to host the most epic house party with your friends and family this summer. Houseparty is a new face-to-face social network that was created to be the most human way to be together when we're not together. It is super fun, easy to use and it gives you the opportunity to stay connected with those you love!
I have to say this has been an tremendously challenging time for everyone, especially us moms. That "adult" interaction with another mom, even if it was just for a few hours a week, was often what would get us through the day. So if you are yearning for that in-person connection the way that I have been yearning for it, the Houseparty App really offers that opportunity to truly connect face-to-face with friends and family.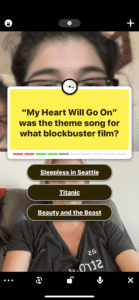 Here are five cool features I love about the Houseparty App:
You can play games with friends and family. They have four fun games to play:
– Heads Up!
– Trivia
– Chips and Guac
– Quick Draw!
It's safe and fun. 

Friendship on Houseparty is by mutual agreement. Only people you have accepted as friends can join you when you open the app. Rooms can be locked or unlocked by the people in the chat.Houseparty is secure. Your data is protected.

You can leave a "Facemail"!

I don't know about you, but I hate when I FaceTime a friend and they don't answer. Well, now if you try to connect with someone and they don't answer, you can leave them a "Facemail", which is basically a video voicemail.
Houseparty offers a more casual video chat experience. No more organizing specific times (unless you want to) jump on or off as you feel through out the day. You can also download the app to your computer (macOS or Chrome) and it is available for both iPhone and Androids.

This app is perfect to celebrate together, face-to-face, since we are unable to be together in person

. Virtual birthday celebrations, dance parties, kids' playdates/school lessons—and of course my personal favorite, wine nights with other mamas you so dearly miss!
So are you ready to host a Houseparty this weekend?