I wear yoga pants most days. I even bought a pair of Lulu Lemons to join my fellow moms in the "active wear" is life movement.
I'll say, most days I am totally cool with rocking a t-shirt and some spandex but there are those days when I want to feel a little more put together. In the early days when my little man was nursing around the clock I didn't even get dressed, but 6.5 months later I am rocking the breastfeeding in public- but I still like to cover up.
I have a knock-off  "hooter hider" and it was my everything for 5 solid months but now the little guy is just too active and curious, well rather nosy to keep the cover in place. So I went on a search and found a few different options for breastfeeding "outerwear" for lack of a better word. I wanted something that would keep me warm – I know crazy right? Considering I am always hot because my hormones are WACK now, and well of course, we live in San Diego, why did I want warm? Because every Sunday our little family spends the evening at the outdoor rec center where daddy plays hockey. It gets cold up there and I always end up sitting in the car when Bubby gets hungry. I like to watch my husband play hockey so sitting in the car hiding was not ideal for me.
Once I took to the Internet I was overwhelmed. So overwhelmed I could not make up my mind. So I put it off. Then one day while I was scrolling through my Instagram feed I saw a gal wearing what she claimed to be "the best breastfeeding cover/cardigan!"
I was confused because it didn't look like a breastfeeding cover at all, just a cute cardigan. Then I did some further digging and found that the cardigan was called a "Cardimom" and it in fact was ALSO a breastfeeding cover!
I quickly clicked through to the find a number of "Cardimoms" on Multiwear.co – the photos on the site showed how the Cardimom converts from a cardigan to a breastfeeding cover with a simple pull over the head motion.
I chose the "Classic Cardimom – Convertible Nursing Sweater and Cover" there were lighter jersey knit versions, which I would normally go for, but I wanted this specifically to be my Sunday sweater so I went with the thicker option. I also picked a color I wouldn't normally pick just to be fun!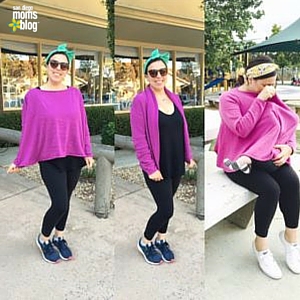 When I received my Cardimom I put it on immediately to see how it looked and I found that I actually like wearing it pulled over my head forward, just as much as I liked wearing it as a cardigan. It was nice and flowy. And if you're thinking it might be too hard to get it up and over your head when you are ready to nurse (I had that thought) you are wrong.
The neckline is nice and big and scooped – the way I prefer most necklines. And it went up and over without messing up my head wrap – don't mess with my hair!
The website showed me 10 different ways I can use my Cardimom but I won't lie – I was stoked on just the two obvious ones. I have yet to try to use it the other 8 ways, but who knows how wild and crazy this mama might get one day! Stay tuned! 🙂