My husband is a minimalist. Although I'm not as radical as him, I still appreciate a tidy and clutter free home. Some people can function with items strewn, but we are definitely not that type. Therefore, we like to organize everything in our home.
When we got pregnant, we decided that we didn't want the baby items to take over our apartment, but to keep her items minimal and under control. We soon realized that this wasn't up to us. Our daughter is the first grandchild on both sides, so when the baby shower arrived our home was filled to the brim with all kinds of baby items.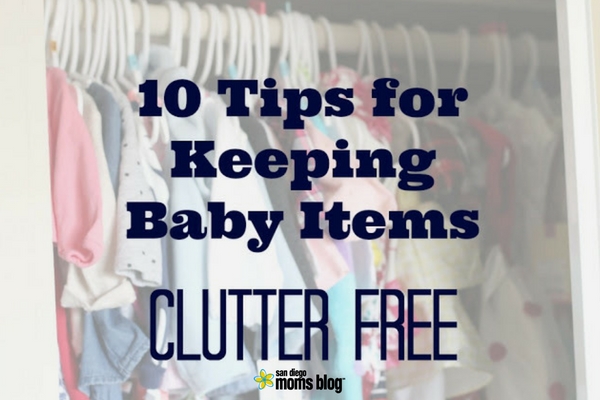 Let's start off by saying that this was not a one day project for me. It took about 2 pre-baby months and 3 post-baby months to finally get a system going where her items were out of the way and organized perfectly! It was right on time for when I go back to work in a couple of weeks so I don't have to spend extra time organizing her items. I feel that being clutter-free has also helped us spend less money on baby items, have less mess to clean up, and allows us to feel at peace in our home.
Here are some tips I followed to organize all of my baby items and create a clutter-free space.
1. Have a Space for Bulky Everyday Items.
From the very beginning, I knew I needed large baskets. I bought these three huge baskets from Target, and they have been the greatest purchase yet for my little girl's room. One basket holds all of her blankets, the second basket holds her everyday bath items such as towels, toys, robes, and the last basket holds her outgrown clothes. Those were the bulkiest items in her room that didn't need to be organized in a delicate, pretty fashion so I just stuffed them in baskets.
2. Use a Dresser for Everyday Clothes
My lovely in-laws wanted to buy their grandchild a dresser, but they let me choose which one. I looked and looked for a dresser that had at least 4 small drawers because I didn't want a huge bulky item in the room. Only the everyday clothes would be in this dresser and everything else would be in the closet. In the first drawer I keep all of her current size onesies. In the second drawer I keep all of her current size pajamas, and the third drawer holds current size bottoms. I use these drawers every single day!
3. Leave Extra Room in Drawers
When I get lazy, I don't fold clothes and just stuff them into the drawers. I feel like that's okay because I am a busy mom. Sometimes I would rather spend time cuddling my cutie pie then folding her socks. The only way I can get away with doing this is by having extra room in the drawers to put clothes in without perfectly folding them.
4. Save a Drawer for Costumes
My baby is not even three months old yet, and she already has five tutus and more than two costumes. Those types of clothes are so hard to fold nicely, so I reserved a drawer just for those items. My baby girl looks awfully cute while wearing them, but my type-A personality doesn't like seeing them in an open closet unfolded. They are now out of sight and out of mind!
5. Make Use of Closet Organizers
If you want to organize your baby's room, the best way to achieve that is by utilizing the closet! Find vertical hanging shelves, small baskets, and other items to put in all those little shoes, socks, hats, ribbons, crib sheets, wash clothes, and everything else. Once you close the doors to the closet, you are left with a clean space.
6. Organize Hung Clothes by Size
This might seem pretty self-explanatory, but it was a great ordeal trying to figure out what needed to be hung. At first I started with hanging everything. Then I realized that I could use my shelves to hold the everyday items. I came to the final conclusion that the best things to hang are the jackets, outerwear, and nicer going out clothes. I keep all of the onesies off the hangers because I simply don't have the space to hang everything. Once you have figured out what you will hang, organize it by size.
7. Organize Larger Sizes in Sections
My baby is still in 3 month clothing, so the dresser holds all of those clothes. In this bin of drawers, I organized her six month, nine month, and 12+ month clothes. This way I don't have to stress out when my baby can no longer fit in her current clothes. I simply dump those outgrown clothes in one of the huge baskets, then grab these already washed and organized clothes and put them in the drawers.
8. Keep Bulky Diaper and Wipes Boxes in Closet
We were very thankful to have received so many boxes of diapers and wipes. To this day we have yet to buy a box of diapers, but that only means that we had a lot of boxes that were just in our way! They were a sight for sore eyes! I had my husband stack them on the top of the closet, and I never had to worry about stumbling over one of these boxes again.
9. Sort and Separate Everything
When I say organize everything, I mean every single last thing. Do not use a single basket for two things. Keep everything separate. This will make your life so much easier, because things can get jumbled up and look messy. I highly suggest getting 1-3 of these vertical hanging shelves for the inside of the closet because they hold so much!
10. Keep Some Spaces Empty for Potential Items
It is so important to not fill your baskets, drawers, and shelves to the brim. As your baby grows, they will need more and more things and their clothes will take up more space.
How do you keep baby items organized?
What other organizational tips work well for you? Leave your answer in the comments section below. I would love to hear back from you!
Looking for more?
10 Ways to Simplify Your Home in 2017