I can assure you this is not a food critic's review.
It's an, "Umm, you need to try this place!" post. That is, after all, what friends do, right? We tell each other about great finds or give advice? Just like that time way back when a momma friend educated me about gripe water. Yep, that stuff was liquid gold before essential oils. Here's one for you, gripe water momma!
You need to try this place in Temecula called Toast!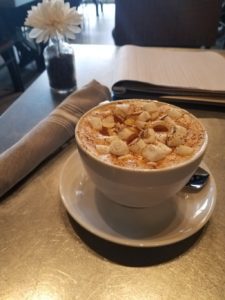 I heard about the grand opening a few weeks ago, but curiosity struck me when all the moms at school started talking about how great this place was. Let's be honest, if its multi-mom approved then it's a place you need to try, so I did.
Toast has a back-patio type of feeling, minus the kids running around wild. The waiters are friendly, attentive and skilled with a sense of comfort. While the kitchen was serving food with speed and grace. This family-owned business is doing it right Temecula.
My first challenge came with drink selection. How do you just order coffee when they have a mocha named Rocky Road? It's just not possible in my book. At first glance, I didn't know how to drink it. It was covered with marshmallows and almonds and I second-guessed my choice. Then the aroma beckoned me like a coffee siren and man was it completely worth it. I'm sure it's one of the reasons it took me so long to figure out what I wanted to order. That mocha totally had me hypnotized.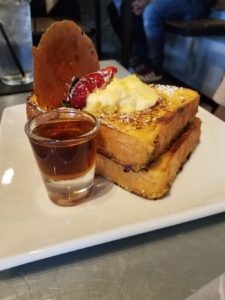 After much mental debate, I couldn't resist the idea of gluten-free Chilaquiles Verde Nachos! When you think of nachos, you can't help but wonder if those chips are going to hold up to the sauces and heat of the pork.
Then you pick up a chip covered in lime crème, a little pork with the chile verde sauce topped with egg and pickled onion, and then you take that first bite. Seriously taking that bite made me close my eyes and have a moment of silence for the joy I found from this dish, it was that good!
Here's the kicker, I haven't mentioned a word about their Crème Brûlée French Toast or their Él Jefe Burger. This place is the kind of place that makes you literally want to try everything on the menu and not stick to ordering that one favorite dish.
Gripe water momma, I hope this place is a spot of gold for you like that gripe water advice was for me. It's the perfect place to meet up with those special mommas in your life, and it reminds me of something my dad used to say, "Tell me who your friends are and I'll tell you who you are". It's amazing how much sense things make when you become an adult, because my 15-year-old self had no idea what he was saying but I do now; I get it.
Surround yourself with people you want to be today and every day. Surround yourself with people who make you feel blessed when you look around the table sharing a great meal. Surround yourself with friends who become family.