Sensory play is any activity that sparks your child's senses: touch, smell, taste, movement, coordination, sight and hearing. These hands-on activities helps dive into children's natural curiosity to explore what is around them, while supporting their development such as fine and gross motor skills, language, cognitive advancement and even social skills. Lately, my toddler Bryson and I have been having a blast with sensory play! I actually started this with him as a baby and have adjusted the activities to suit him as he's gotten older.
I am a self-proclaimed Pinterest Fails mom, but the beauty in sensory play is that most of the ingredients or tools you need for the activity, you probably already have in your home and are really simple. One of the most popular ones, and the one my son loves the most, is playing with water! I put him in the shower with a little water on the bottom and give him a few different sized plastic bowls, tupperware, cups and spoons. It keeps him entertained for hours. You can also use water beads, which come in different colors and expand. They kind of feel like a squishy marble. You can find very inexpensive water beads here. You can also use bubbles or foam, which come in colors or glow in the dark. If it's a hot day, instead of the tub, fill up a kiddie blow-up pool and take your H2O themed activity outside.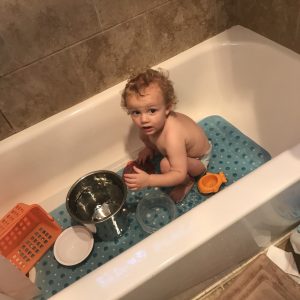 Another popular sensory play activity is making sensory bins, and the possibilities are just endless. Bryson and I had a great time using three different beans, feathers and pom poms. You can try rice, sand, marbles (as long as your child is old enough not to choke), differently shaped and colored macaroni, cotton balls, sprinkles, confetti and then add in other elements like figurines, beads, buttons, shells, string, popsicle sticks, magnets, feathers… let your imagination and creativity take the lead!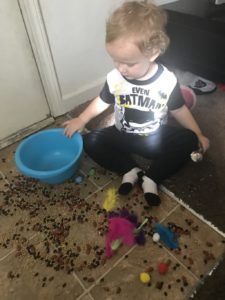 Some popular sensory play for smaller babies is letting them smush things around between their fingers and hands. When Bryson was smaller, I would put a few globs of paint on foam paper and put it in a ziplock bag and let him smush the paint around. He was so intrigued and it made no mess at all since it stayed in the sealed bag. I saved and dated them as his first pieces of art. When babies are that young and exploring food, that can be made into a sensory activity as well as they discover food's different textures. I would also put a little of the baby food I made Bryson on his tray and let him stick his fingers in it and play around.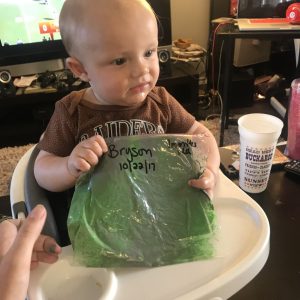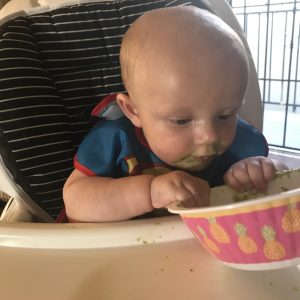 One more easy sensory play accessory is a water bottle. You can use food coloring and glitter to create something real cool your child can swirl around and watch. Or you can fill it with rice and make it into a noise shaker. Points for colored rice and putting a few other things like beads or feathers in it.
If you don't want to make sensory projects yourself, I discovered a great shop online that puts together boxes for you. It also carries lavender essential oil playdough, wood pieces and stamps. You can find that here and follow along on the corresponding instagram page (@poppyspreschool) to see how to use all of the items. Also, the dollar store is up your alley here. You can get so many sensory play ingredients and not break the bank. Amazon, Walmart and the Target Dollar Bin will also have your back. But most of all, enjoy this incredible play experience with your children.