Hope: a feeling of expectation and desire for a certain thing to happen.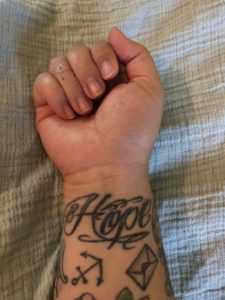 I can't tell you how much this simple yet powerful word has carried me through life. Yes, there is faith, determination, strength and other words, but hope helps push those words.
Never would I have thought that our vows would have significant meaning when my husband got sick. Yes, wedding vows are beautiful and are such a powerful promise, but I never imagined of applying "in sickness and in health, till death do you part." For goodness sakes, we were still in our newlywed stage when life changed.
The day after Thanksgiving of 2009, I drove my husband to the hospital. He had been feeling sick prior, so something was building up. He could not walk, so his uncle placed him in my car and off we went. I feel like we got to the emergency room just in time because he flatlined. I froze. Medical people were moving all around me but I heard nothing… no sounds or voices. I watched a nurse get on my husband and try to revive him as someone got the AED. Miraculously, he was brought back to life and was put on a medically-induced coma in the ICU. We found out that my husband had diabetes and an infection had risen his blood sugar to around 800 (the normal range is 80-100). The doctors told me to call close family and friends because the situation was looking bad.
While having family was a great distraction during the day, the nights were evil. How could I sleep in that cold and sterile room that beeped constantly? The nurse came to check on his temperature and change out at least one of the 13 bags of medicine that were connected to him. Those nights I was able to grieve alone, when I could let out some emotions because I couldn't bring myself to do so around others. At night was when my mind wandered to the forbidden territories that I never even knew. "What am I going to do? How do I plan his funeral? Am I going to stay in our apartment or move back home? We won't have the family that we've been dreaming of. What about the bills?" I know, dumb, but bills and rent were also on my mind.
Hope was always in my heart and mind to not give up on him and on us. Hope kept me somewhat positive to push myself to keep the fight to look forward to our future when the odds were against us. I was fighting on the outside while my husband was fighting from the inside.
My better half was woken up from his medically-induced coma and came to, after our last decision with the doctors to get his organs working again worked! He had surgery and was recovering in a regular room. With hope and faith (no pixie dust), I helped him learn to walk and feed himself in his new start of life. The doctors have no answers on how he came out of this traumatic situation alive.
During trying times, I encourage you to keep the hope. Keep the desire to not only continue the fight no matter what the outcome may be, but to strive for the positive to push you. Hope is what drives us to our dreams and goals.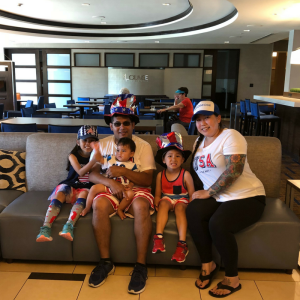 Today, my husband is healthy and well and we have 3 beautiful children. I'm hopeful for our future because we are the lucky ones; we are living our best lives.