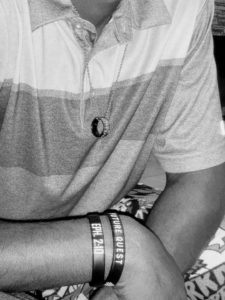 My husband and I tend to catch a lot of grief and strange stares from others about our decision to not allow our 16-year-old to date until the age of 18. We've even had people laugh in our faces and say "good luck with that one," but in today's world, dating is just not at all what it used to be. People aren't looking to date these days with the intention of finding a life partner. Instead, many are looking for a short-term hookup without any real commitment, thus making dating a very discouraging thing for those who do desire a long-term relationship and/or marriage.
Many decades ago, the older generation married their high school sweetheart and stayed married for 50 or more years. Courting was almost a must and so was dating the same person for a period of time before advancing to becoming engaged and eventually married. Granted times were different, people were different and society's thought process towards dating and marriage was different than present day, but I do believe morals and standards were a bit higher then vs now and it played a crucial part in choosing a life partner.
Romance Isn't What it Used to Be
Fast forward to present day, and young people go through partners like they go through a sock drawer. Dating has become more of a twisted, confused game and less of a way to find a life partner to settle down with. Unfortunately kids are being taught about relationships, dating and even sex from other friends, tv and social media and they're taking all of that info and putting it into play with their peers which in turn creates some situations young people are not at all prepared to handle emotionally, mentally in and some cases physically. Not to mention the amount of peer pressure many of them face among their friends when it comes to sex or dating.
When my husband and I first decided on an appropriate age for our son to date, he was 9 years old. We reiterate and remind him of the rule every year. Of course at that age, girls and dating were foreign to him and the furthest thing from his mind but once he started crossing into middle school, he slowly began to take notice of girls. By his freshmen year in high school, he was bombarded with a whole new world of temptations, peer pressures, aggressive young ladies,well-developedd bodies, numerous dating couples, and the internet which came with an almost regular usage requirement for school. He quickly became overwhelmed with all of it and started testing our "no dating" rule, but with me being a full time stay-at-home mom, I am heavily involved with my kids and nothing gets past me which he learned the hard way halfway through his sophomore year.
When people ask us why we don't just allow him to have a girlfriend now, our answer is simple. He simply isn't ready. With teenage relationships also come a rollercoaster of emotions, frustrations, gossip, peer pressure to have sex and short-term dating episodes. When ended, they result in tears, confusion, and major heartbreak, all of which affect their friendships, mood, grades, and concentration. Many young people also tend to mistake infatuation and lust for love; there is a big difference here but many kids never have that difference explained to them. We also had to explain to him that in order to date well, it is usually helpful to have a job, a car, a little money in the bank and be somewhat prepared to afford dating to some extent; nor is it a good look to have to show up on a bike or skateboard to pick your date up for a movie or dinner.
I've had my share of dating experiences in my life and definitely kissed my fair share of frogs before finally meeting my prince charming, and something I've learned during the dating process is when you give too many pieces of your heart away, you have nothing left for the one who truly is deserving of your heart.
Not only that, but two broken people don't make a whole relationship. And no one wants to enter into a relationship, especially marriage, with trust and commitment issues which stem from too many hurts and broken past relationships.
Start a Relationship with God First
We are raising our son to be prepared for life, for marriage, and to be a great husband in a time when many people have begun to laugh at the idea of marriage and don't embrace marriage like it used to be embraced. After witnessing quite a few unfortunate dating situations and meltdowns among many of his friends at school, he now has a better and more respectful understanding of our rules and has decided to wait and even proudly wears his purity ring daily.
We have always encouraged our son to allow God to write his love story and in the meantime to be patient and just enjoy being a teenager. Women aren't going anywhere anytime soon and he has plenty of time for women and dating, so why rush it. He will be adulting soon enough as will many of our young people in today's society, but for now we want him to stay focused in school, athletics and his church activities, and work on being the best him he can possibly be. So when the time is right, and he meets the girl of his dreams, he will be ready.