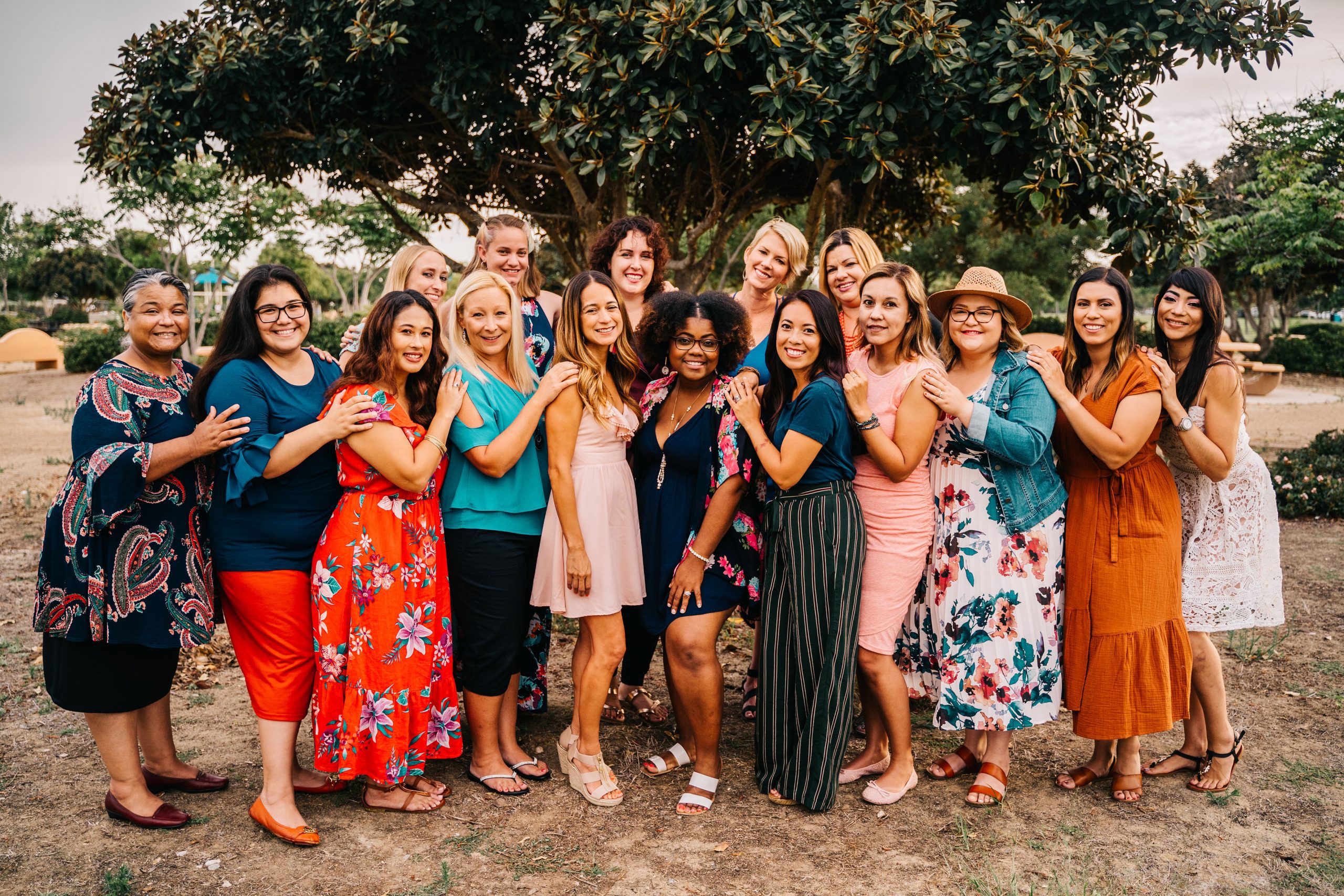 Our
Writers
Our amazing volunteer writers live all over San Diego. They create fun content for San Diego parents on anything and everything relevant to this beautiful city and parenting. From our favorite parks/restaurants/recipes to extensive schooling and camp guides, we strive to be the top resource in San Diego! Each writer brings a unique voice and presence to our creative team.
Niki
Owner & Contributor
Niki has been the owner of San Diego Moms since May of 2018. Her background and passion are in event planning, marketing, and sales. She loves spending time with her daughter, volunteering, and bulldogs.



Daphne
Managing Editor & Contributor
Daphne manages and edits all of our content and is an all-around Mom BOSS. She is a full-time professional blog manager, copy editor, writer, and ghostwriter. Daphne loves singing, reading, time with her whole family.



Sarah
Contributor
Sarah is a holistic fertility health coach. What that means is, She helps women who are trying to conceive take a natural approach to their fertility through education, nutrition, and lifestyle changes.



Charo
Marketing Manager & Contributor
Charo assists with everything marketing. She comes from an events public relations background. She is a certified life coach, yoga and mediation instructor. She loves running, traveling and is a self-help junkie.
Tracie
Contributor Lead
Tracie is an award-winning make up artist who loves having adventures and creating memories with her son. Lending her expertise to San Diego Moms' signature events is a true highlight for our local moms.



Nicolette
Contributor Lead
Nicolette is a free-range mom that carries a set of reins in her back pocket, just in case whose interests include kid-friendly adventures and specialty egg-free baking.




Tiffany
Sales Manager & Contributor
Tiffany works closely with our executive team to coordinate marketing & sales opportunities. Tiffany has a background in teaching, women empowerment, and community engagement. Her interests include education, health & wellness, and DIY projects.
Amber
Marketing Manager & Contributor
Amber provides marketing administrative support. As a mom and marketing professional, she is all about meaningful connections. Her interests include kombucha, dance breaks, and bedtime reading.
Adaline
Contributor
Adaline is a stay at home mom who's interested include parenting, shopping, acting, blogging, KETO cooking, running, and being a wife. Not necessarily in that order, and varying degrees of success.


Kara
Contributor
Kara is a wife, mom of two and Realtor for "K and K Realty Team, a Mother/Daughter Real Estate Team. She is passionate about giving back and the San Diego Community. She resides in North County San Diego.


Colleen
Contributor
Colleen is an accomplished educator who specializes in literacy and special education. With a Ph.D. under her belt, Colleen's interests are running marathons, reading, wine & challah. Colleen lives in North County with her daughter.
Alexis
Contributor
Alexis is the owner of the San Diego dance studio, Starlight Kids Dance. She is passionate about teaching dance, mental health, and creating memories with her son.



Brandy
Contributor
Brandy is a traditional mom with a hint of old school parenting and our resident beauty expert. As a previous Mrs. California-America, Brandy is passionate about beauty, the Bible, and fashion.



Jennifer
Contributor
Jennifer's passion is in guiding you to live a more active, zen-filled, cleaner life inside and out. She is a twin mama, Beautycounter consultant and yoga & group fitness teacher.




Bri
Contributor
Bri is a photographer who loves exploring- whether it be a museum, or looking for wildlife out in the mountains. Her interests include chai tea lattes, books, comfy bedding, dessert and being in the moment.



Janelle
Contributor
Janelle founded and owns Adventure Clubs, a learning design company with a corresponding app for parents offering unique educational experiences for ages 4 - 12 years old. Currently an education-focused blogger and Film Producer.
Felicia
Contributor
Felicia is our resident "nerd" mom who passionate about performing arts and advocating for the LGBTQ community. Felicia's interests include crafting, cosplay, and adventures with her family.



Deanne
Media Manager & Contributor
Deanne is our resident multimedia expert who is a podcaster, on-camera host, speaker, and digital/video journalist. Also co-founder of local business, Kombucha On Tap, Deanne loves exploring with her family.


Jennifer
Contributor
Jennifer is a stay at home mom who's interests include cooking and all things Disney.







Jyssica
Contributor
Jyssica works with our sales team and manages our monthly events guide. With her background in visual marketing, she has a keen eye to highlight local talents and businesses. She's passionate about photography, fashion, and her mom tribe.
Karina
Contributor
Karina is a relationship coach for mothers. She uses her knowledge to assist moms in rediscovering who they are and seen by the people around them. Karina's interests include soaking up the sun & warm ocean and take long road trips with her family.
Krystal
Contributor
Krystal is a working mom with deep connections to serving the local homeless community. As San Diego Moms Cares manager, Krystal uses her expertise in creating local volunteer events.



Laura
Contributor
Laura is a 30-something first-time mom raising her little dude by the beach in southern California. Originally from New York, Laura is a nurse practitioner by day and blogger of The Kinda Mom by night.



Inga
Contributor
Inga Brydson is a Brit who came to San Diego and never went home! She is the sole female in a house of boys, being a mom of two teen boys and a highly individual rescue pup. Her true love is anything social - family, friends, dogs and ideally involving food.
Lindsay
Contributor
Lindsay is a working mom for her family's business, Aolani Catamaran Sailing. She is owner of fun Instagram brand, @sdaventuremom which inspires families to get out and explore San Diego. Lindsay lives in Central SD with her two daughters.
Maya
Contributor
Maya is a work from home mother and our resident foodie expert with all her amazing recipes. Her interests include cooking and baking.





Mary
Contributor
Mary is your traditional Mexican mom who loves her family, coffee, and "brainy" makeup. Self-proclaimed as an outgoing introvert, Mary leads a life full of reflection and learning about different ideas and ways of thinking.


Tia
Contributor
Tia is a Jamaican native and military spouse who loves writing and coffee. As a self-proclaimed "perpetual know-it-all", Tia is passionate about creating new experiences with her family, one adventure at a time.
Victoria
Contributor
Victoria is a military wife and transplant from South Carolina with a bachelor's degree in Psychology. Her interests include traveling, cooking, family adventures, coffee, and Jesus.



Alexandria
Contributor
Alexandria is a work at home mom and owner of Scents by Alexandria Elliott. Her interests include reading, cooking/baking, and advocating for her autistic son. Living with endometriosis has given her a passion to live life each day to the fullest.
Suzanne
Contributor
Suzanne is a work from home mom who runs her Young Living biz, Mother Rockin' and her wellness brand, Wellness Rebels. She is passionate about the healing power of the body, with a little help from mother earth, as it was divinely designed.
Xochitl
Sales Manager & Contributor
Xochitl manages our event sponsorships and local business sales. She has a background in sales and customer service and a passion for teaching kids. Her interests include beer, the ocean and music.