Fall is here! I don't know what it is about this season, but it always seems to go by really fast. Our family loves to make a Fall Bucket List to make sure we accomplish all of the fun things we want to do during this busy season.
This year I also wanted to put together a list of our favorite crafts and activities to do during fall. You can modify any of these activities so that kids of all ages can enjoy them. I hope you will check out our list and pick a few of these to do with your own family this season!
1. Nature Painting: Rock painting is all the rage right now, but we love painting all kinds of nature items in the fall. Last year we painted leaves and then strung them together to make a garland for our fireplace. We also love painting pine cones, sticks and of course because this is San Diego, we love to paint seashells too.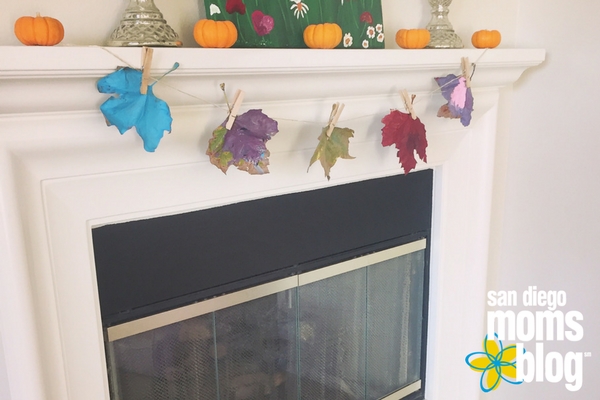 2. Cookie cutter stamping: Cookie cutters aren't just for baking, we love using them to paint. Every holiday we use seasonal cookie cutters to create art. Just fill a shallow tin with some fall colors and drop a cookie cutter in. Stamp the cookie cutter on some paper and make a design! These always turn out so cute and can be framed or turned into cards for family members.
3. Pumkpin baths: We usually have a few weeks between when we pick out our pumpkins at the patch and when we are ready to carve them for Halloween. So while we are waiting, we give them a bath! We use soap, water and sponges to get them all shined up and ready for carving. If you want you can do this outside with bowls of soapy water or you can of course do it in the bathtub.
4. Paint pumpkins: If you don't want to go through the mess of carving pumpkins, or if you end up with any extra pumpkins, my kids love painting them. We also usually end up buying a few of the 99 cent mini pumpkins when we are at the grocery store and those are fun to paint too. My girls aren't old enough for anything fancy, but older kids can get really creative with fun designs for Halloween.
5. Go on a nature walk: We are so lucky to live in such a beautiful place! Take some time this fall to explore nature. Go for a hike, stroll on the beach or just take a walk in the neighborhood. Give the kids some supplies like a magnifying glass or a nature journal and a basket to collect some leaves.
6. Fall sensory bin: My kids absolutely love sensory bins and although they can seem overwhelming, I promise they aren't! If you are worried about a mess, lay down a cheap shower liner, or better yet do it outside. In the past, we have made a spooky Halloween bin with dyed cooked spaghetti noodles and plastic spiders. We love to pick up some cheap corn kernels from our local feed store. You can also just fill the bin with pumpkin guts or items collected on your nature walk.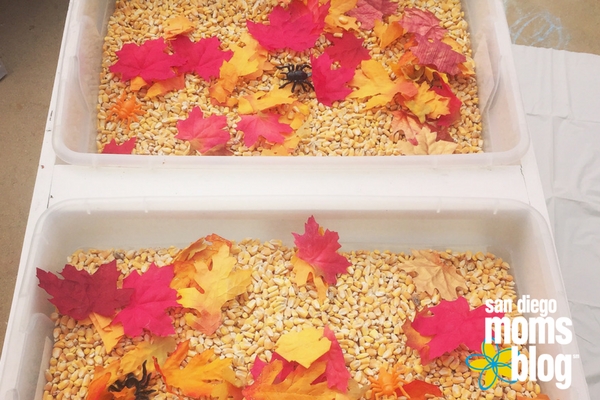 7. Make a gratitude tree: I don't know about you, but I am trying my best to raise grateful kids. At the beginning of November we make a tree out of butcher paper and each day we each add one "leaf" with something we are grateful for. At the end of the month we have a full tree and grateful hearts!
8. Create a Halloween countdown: If your kids are like mine, they are counting down the days until Halloween is here. They also have a very minimal understanding of time. Every year we create a countdown with a construction paper chain and each day they get to tear a piece off.
9. Process art: Painting is always fun, but I like to switch it up to keep it interesting. Instead of painting with paintbrushes, use various fall items. We love using corn on the cob, feathers, and even food like potatoes and apples cut in half.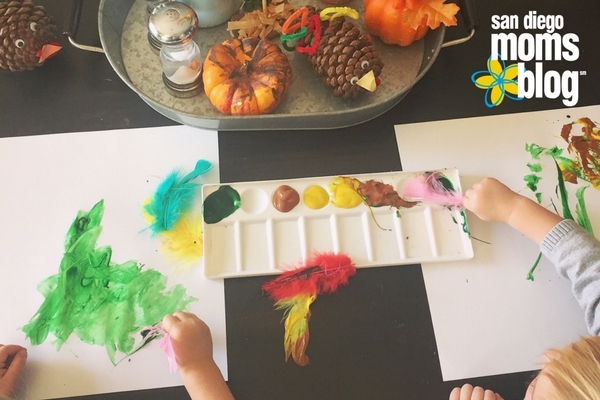 10. Bake something: I know kids make giant messes in the kitchen, but they truly love helping. Choose one thing you can bake as a family this year. Something like pumpkin bread or homemade applesauce. You can even make some fall scented homemade play-doh!
I truly hope that whatever your family does this season, you enjoy every moment of fall!