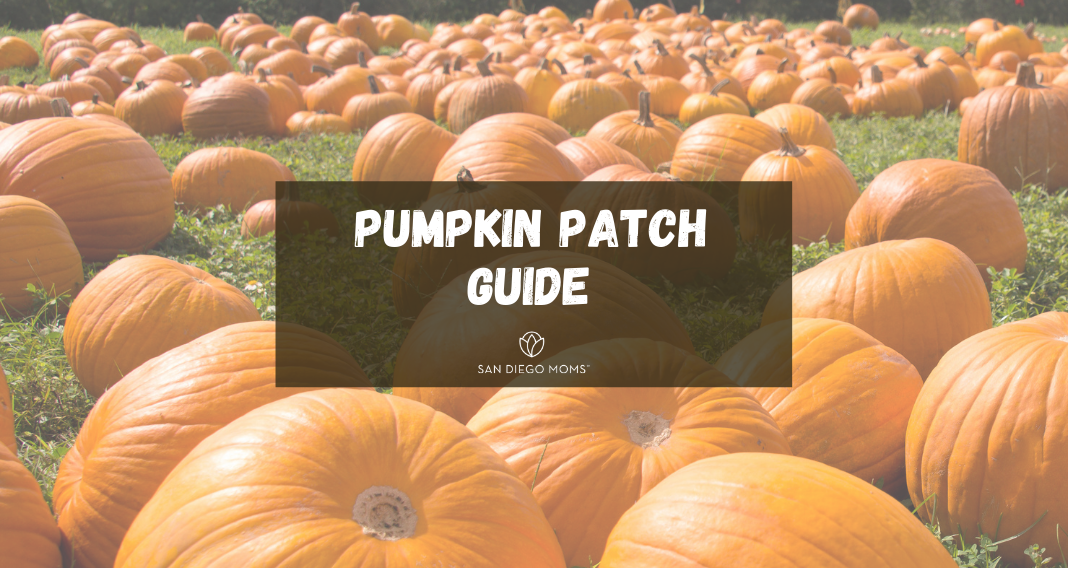 Bring on the pumpkins and all things fall! In San Diego, the change of season doesn't mean sweaters, boots and brisk weather – well just yet. But that doesn't mean we can't enjoy all the festivities that Fall brings across the country. Here is our annual Pumpkin Patch Guide!
Tag us in your instagram pics this fall. #SDMoms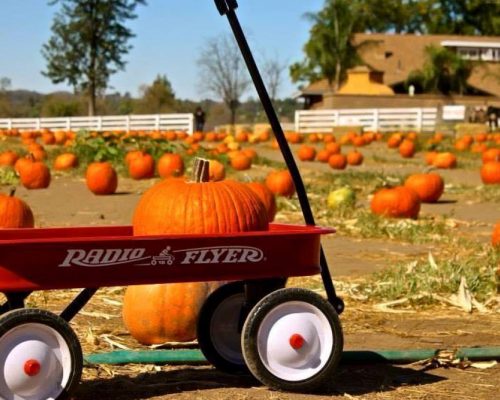 Open September 26, 2020 – October 31, 2020!
7 Days a week – 9am to 6pm | Open to the Public – Free Admission!
Mountain Valley Ranch pumpkin patch is a great experience for all. Snacks and refreshments are available on the weekends along with an assortment of pumpkins, gourds, and Indian corn. Bring your family and friends! Their pumpkin patch is a great experience for all.
Come enjoy:
Assortment of pumpkins, gourds, and Indian corn
Corn Maze open all day, 7 days a week
Corn Cannon open all day, 7 days a week!
Petting Zoo open all day 7 days a week!
Pony Rides – All Day on the Weekends, Tuesday through Friday 3pm-6pm.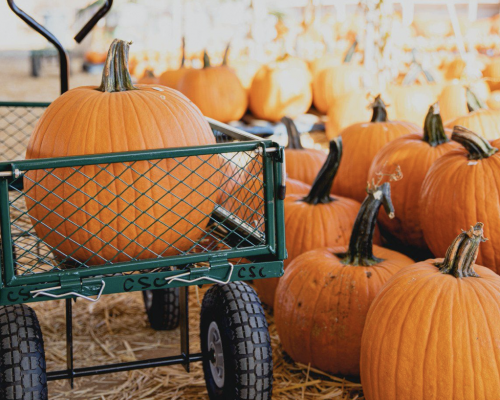 September 18th – November 8th | 9am to 7pm Admission: $5; children 5 and under are free
What is the Halloween season if you didn't get a great photo (or several) with some pumpkins? The Carlsbad Strawberry Company know that photos in a pumpkin patch are a hallmark of the Halloween season, for families, couples, and friends, so they have come prepared with giant pumpkins, perfect for the social media photo.
Visit them on the weekends and where games and food will make it a memory to last a lifetime. They love when your family visits their family farm – it's like their family is continuously growing larger, and they couldn't be happier about it!
Activities include:
Apple cannon
Tractor Rides
Bounce-land
Corn Maze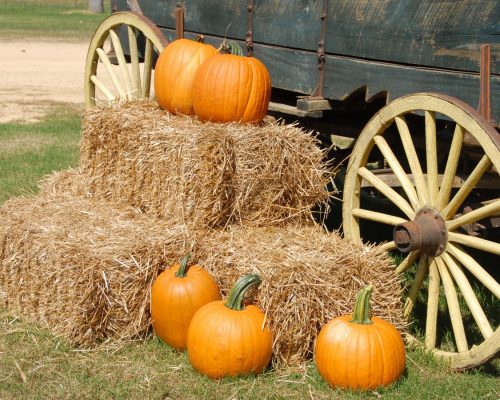 Open from Sep. 29th – Oct 31th
Hour of Operation: Tuesday-Saturday from 10am-7pm

All tickets, including tickets for the wagon ride, must be purchased online prior to arrival. No tickets will be sold on – site. BUY TICKETS HERE.
Activities included in your ticket purchase for kids 2-13: (Ticket prices are $11.50-$16.50 depending on what package is picked. Check their site for package details.)
Playground equipment with swings etc.
Cottonseed Mountain (kids love to climb & slide down)
Sand pile with toy trucks & tractors for the kids.
Petting Corral
Pedal cart/tricycle Race Track
Lots of "kid-powered" games
Giant slides
Special area for children under 5 years old
Adult tickets (14 years and over) are $8.50-$10.50.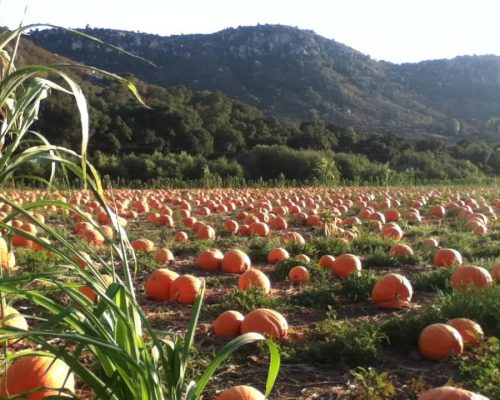 September Hours: Weekdays 9am – 5:30 p.m. • Weekends 8:30 a.m.- 6:00 p.m.
October Pumpkin Patch Hours: Monday – Friday 9:00 am – 5:30 pm – Free Parking, No Admission Fee
Saturday & Sunday: 8:30 am – 6:00 pm – $5.00 CASH ONLY Parking, No Admission Fee
Over 50 years of fall traditions and memories have been created at the Bates Nut Farm Pumpkin Patch. Family and friends enjoy their tractor hayrides, & straw maze. They have a petting corral and Snows Pony Rides on Weekends & Weekdays as well! In addition, weekends at Bates include live entertainment, BBQ, kettle corn, food trucks, rock climb, bounce, slide and other family friendly events. Check their calendar for details and schedule. Dogs on a leash are welcome at the farm.
$5 CASH ONLY parking on October weekends. FREE parking on weekdays.
Beginning Sept. 19-20 through Oct. 25 | Open Thursday-Monday | Thursday, Friday, Monday 11-5 *Sat & Sunday 10-5
Julian Farm and Orchard is 25 acres with over 2000 berry plants, 1,500 apple trees and about 3 acres of pumpkins planted for you and your family to come pick! Beginning Sept. 21st they offer tractor drawn hayrides, farm animals to visit, apple cider pressing, archery and axe throwing and a seasonal farm store called "The Farmer's Wife" featuring Gina's farmhouse decor, homemade candles, potpourri, goat's milk soap and all things country.
Hayride
Cider Press
Farm animals
Axe Throw
Tent Store
Pumpkin, Apple, Berry Picking
*Due to Covid concerns, Admission on weekends requires all guests to purchase 10 activity tickets for $10 a person (2 and under free). These tickets can be used for hayrides, cider pressing, visiting the animals, pumpkin purchases and axe throwing. We cannot guarantee ticket use on berry picking or apple picking. Some activities may not be available weekdays. Availability of ripe fruit for picking varies weekly.
Rancho Bernardo | October 1st – October 16th 9am – 6pm | October 17th- October 31st 9am-7pm
Mission Valley | October 1st- October 31st Monday- Thursday 11am- 9pm | Friday – Sunday 9 am- 9pm
Bonita | October 1st – October 16th 9am-6pm | October 17th – October 31st 9am- 9pm
Let the adventure begin at one of their incredible Pumpkin Station locations. Come pick out a pumpkin, ride their Tractor Hay-Wagon, cut your own Sunflowers, and try out the petting zoos! Masks and Social Distancing are required.
All locations have FREE Parking & Admission
Pumpkins are individually priced based on size
Leashed dogs are allowed this year!
Open daily beginning October 1st
Monday – Friday 10am to 10pm | Saturday and Sunday 8am to 10pm
PB Pumpkin Patch offers a huge selection of pumpkins in all shapes & sizes up to 100 lbs and at affordable prices. They offer a wide variety of accessories and decorations to enhance your home or business decor.
PB Pumpkin patch also offers a free pumpkin carving and painting area for the kids or the kid in you! Enjoy our FREE Hot Apple Cider and FREE Shaved Ice for the Kiddos!
Food & beverages available to purchase.
September 25- the month of October| Thursday-Saturday 9am to 5pm| Sunday 10am to 5pm
Wander in the pumpkin patch during the week and pick your favorite pumpkin! Featuring a selection of field grown pumpkins of all shapes and sizes. Fill your wheelbarrow with your favorite pumpkins. Fun filled days for everyone. Bring your cameras, family and friends. Snap a picture of the kids having fun in the "jumpy" on the grassy area. Something for all to enjoy!
Opens September 26th | Monday- Friday 11am to 8pm | Saturday & Sunday 9am- 8pm
A 5th generation family-owned pumpkin farm that is the perfect place for kids to roam the fields to pick the perfect pumpkin. They also feature a petting farm and are offering a 20% discount on Pumpkin Painting classes, weekday free entree into the farm for a family of 5 (must be from the same household), and a $50 Pumpkin Pass to visit them all season long!
$2 admission for all guests Monday- Friday. Children 2 years and under are free with a paid adult. $3 admission for all guests Saturday and Sunday. **To help with social distancing please consider visiting on the weekdays as they receive a high volume of guests on the weekends and you will be asked to wait in line to enter the farm**
Mr. Jack O'Lanterns Pumpkin Patch

| 844.452.2567

6710 La Jolla Blvd, La Jolla, CA 92037
October 3rd- October 31 | Monday- Thursday 11am to 8pm | Friday & Saturday 10am to 9pm| Sunday 10am to 8pm
Mr. Jack O'Lanterns Pumpkins is a family owned business that supplies customers with everything they need to get in the spooky spirit. They are a true one stop shop! Whether it's online shopping or at their local patch, customers can enjoy Halloween activities, games, shopping for Halloween costumes, picking the perfect pumpkin and purchasing fall decorations such as corn stalk, hay bales, gourds and so much more. Mr. Jack O'Lanterns Pumpkin Patch is now offering online ordering, delivery and contactless curbside pick-up to bring the Halloween spirit to your home or office!
Admission is free! Extended precautions will be taken by Mr. Jack O'Lanterns to ensure a safe and pleasant experience. They have provided sanitization stations throughout the patch as well as designated on-site cleaning staff daily to sanitize the patches thoroughly. When visiting, please bring your mask and maintain social distancing of 6 feet.
Please let us know if we are missing any pumpkin patches that you love taking your family to and we will get it added! Email [email protected]