Keeping a clean home is HARD, whether you're single and living in a small apartment, or you're the mom of five energetic children and living in a big house. Although motherhood certainly has its rewards – think of your child smiling for the first time, or when they tell you how much they love you – it also has its not-so-surprising challenges.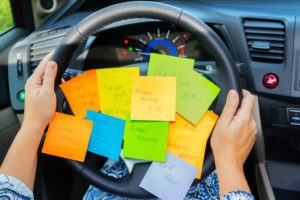 For instance, when your child becomes ill, resulting in your living room couch now being covered in vomit and your favorite shirt needing to be thrown out. Or when your children and their friends track in mud through your just-cleaned dining room so now you have vacuum all over again. The examples are endless, but at the end of the day, moms are still predominately tasked with keeping the home clean and organized. And even though it sometimes just seems like a clean home is all for show, a clean home has health benefits as well.
Here are a few hacks I use for keeping a clean home:
Always be prepared for a mess. You never know exactly when a mess is going to happen, but you should always be expecting a mess to happen. You can prepare by keeping all of the essential cleaning supplies on-hand so you'll be able to clean up the mess in a timely manner, thus preventing a larger mess or hefty stain from forming.
Don't keep anything around that you aren't willing to lose. Keep your most treasured but rarely-used items out of plain sight. A safe is a good option for this, as even your adult children won't be able to access the contents without a code. And for larger items, or if you just want to take extra precaution, try storing your items at your local self-storage facility. Trust us, the heartache saved from seeing your beautiful antique crushed will be worth not seeing it every day.
Enlist your children for help, even toddlers. While adults should be responsible for steadier chores – such as sanitizing the kitchen or ironing clothes – there are certain chores like washing dishes or making the bed that can be done even by a child as young as four years old. But lo and behold, even children of a younger age can help! Your two-year-old can start putting their toys away when they're done playing or dust some of the easier-to-reach furniture.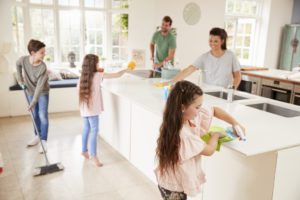 It's not always easy to maintain a clean home, especially if you're a mom whose focus is on caring for her family. With having to make school runs twice a day and preparing a healthy dinner each night, the housekeeping can sometimes fall behind. Unfortunately, a dirty house is not enjoyable for anyone – mom or child.
I hope my hacks will help you to keep a clean home, whether you stay home with your kids or work outside the home. Because there's no harder job than being a mother, especially when trying to keep the daily messes at bay!
So, what are your Clean Home Hacks?
Share in the comments!
About Guest Writer Monica LaFerla
Monica LaFerla has a long history in writing, but has recently ventured into guest blogging. She enjoys sharing tips she encounters and any hacks she figures out with all of those who are looking to read them. Find her on instagram @MonicaLaFerla.