Just getting out of the house can be a challenge when you have a baby or young child. Add to that a possible meltdown, tantrum, or unwanted nap in the car. With all that in mind, I found the idea of taking public transportation with my daughter to be quite daunting.
Fortunately, navigating San Diego's Metropolitan Transit System (MTS) was surprisingly easy, and we had so much fun! After exploring downtown and Little Italy via a MTS Trolley from Old Town a few days ago, I'm already planning our next adventure.
The benefits of riding public transit impact both individuals and communities.
To name a few, you can save time and money, ease traffic congestion, and be more environmentally friendly. For parents, it's a cost-effective and simple way to travel and guess what? Youth ride free every day with a PRONTO Youth Opportunity Pass. If that isn't enough reason, there are even more reasons for moms specifically to adopt public transit.
Here are five unexpected benefits to taking public transit together as a family.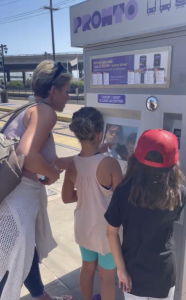 1. When you push everyone outside their comfort zone, everyone wins.
I also enjoyed participating in something new with my daughter and two friends who joined us. The kids helped us purchase our PRONTO cards (fare), chose our destinations, and found the "green line" trolley. We watched as they worked together, and it was surprisingly refreshing to go through that.
Kaia now keeps her PRONTO card in her purse and wants to go back!
2. You have an opportunity to be PRESENT.
As a result of not driving, fighting traffic, or trying to find a parking spot, I was able to connect with my daughter and friends who joined us. I was able to sit with eye to eye with my daughter rather than look at her in the rearview mirror. It made exploration, laughter and the entire experience better not having to drive. Plus, the benefit of not having to find parking in Little Italy, a huge win!
3. We put our kids in the drivers seat without a destination in mind!

I'm an event planner by trade, so the idea of that makes me sick to my stomach, but it was surprisingly refreshing and fun! Our kids (Kaia, 6 and Micah, 8) enjoyed choosing the stop and being in the driver's seat, which boosted their confidence, increased their engagement, and inspired learning.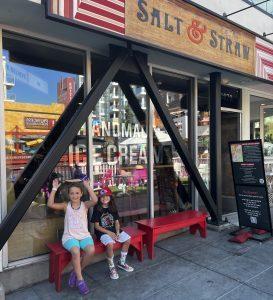 Our kids chose Little Italy, we hopped off to grab lunch and stopped by Salt & Straw for ice cream.
The next time, I'd like Kaia to help me plan the trip by looking at the map. Technology has made the world they live in so different that they no longer need to read a map because Siri takes them wherever they want to go. You can plan your Trolley trip or let the day take you on an adventure!
Talk about bringing the famous saying "Life is a journey, not a destination" to life.
MTS operates three trolley lines and over a hundred bus routes that connect to just about anywhere you would want to go.
Petco Park
Gaslamp to Ferry
Downtown La Mesa
La Jolla/UTC
Snapdragon Stadium
Children's Museum
The opportunities are endless, use their trip planner tool to help you plan your next escape!
4. The Trolley ride itself, inspired and sparked curiosity and a huge opportunity to learn!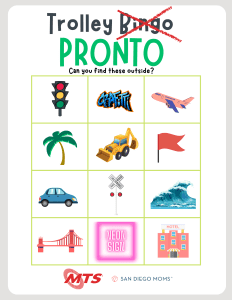 What I loved most was the spark of curiosity in both Kaia and Micah from the moment we got to the station. Since I wasn't sure Kaia would enjoy the trolley ride as much as she did, I planned a photo scavenger hunt with a $1 cash prize! Because they had so much fun searching the list, we have unofficially named this game PRONTO after the MTS online fare system! PRONTO is used by riders via the app or card to ride MTS buses and trolleys. Simply load money to your PRONTO card or app account, then tap or scan every time you ride!
Download our PRONTO printable to take with you on your next Trolley ride, or simply work up a list (which is what we did prior to the experience).
5. Exposure to people from all walks of life.
You are essentially riding in a bubble while in a car, limiting your interactions. When we are walking in public, I always teach my daughter to make eye contact and say hello, to be confident and kind. Although safety is always my top priority, I enjoyed watching my daughter interact with riders from all walks of life. I enjoyed seeing how she handled different rider interactions in a new environment. Be sure to check out these helpful safety tips MTS provides on their website.
Interactions with strangers are intentionally limited, so I can definitely see how this could be a positive experience, that would shape her confidence and awareness of her surroundings. It's not something that can be taught in a car. Although I wish I could keep her in a bubble, I know that isn't how she will learn to make safe and smart decisions on her own.
Our experience on San Diego's MTS was easy and beyond rewarding! I can't wait to find our next adventure and I challenge you to get out and see how the experience positively impacts your family!
What has been your favorite destination and how have you experienced public transport here in San Diego?