I've never been much of a cook and I find trying to prepare a meal with a young child standing between my legs to be almost as fun as breastfeeding a teething baby.
I've become somewhat of a lazy chef and resort to making meals as quickly as possible using as few dishes as possible. So, if you find yourself in the same "lazy chef" category as myself, I hope you'll enjoy these 5 minute meals I've found myself whipping up when my ambitious meal plans get thrown out…and by thrown out I mean they never existed.
BREAKFAST
Banana Oatmeal
Ingredients:
-Rolled Oats
-Banana
-Yogurt
-Chia Seeds
I love mornings, and to make them a little easier I prep breakfast before I go to bed. It's so easy. You just fill your tea kettle, dump a cup of the oats in a bowl then sprinkle on some chia seeds. That's all the prep you need. I cover my oats with a plate since they're sitting out all night.
In the morning, turn your stove on to boil the water and once it's hot pour it in your already made bowl of oats. Let it sit for a few minutes then add in 2 spoonfuls of your favorite yogurt and sliced banana. It'll keep you full all morning!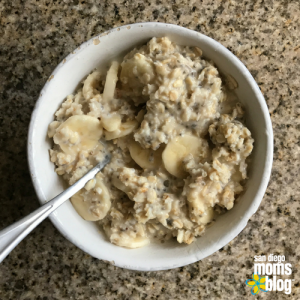 LUNCH
Avocado Toast
Ingredients:
-Sliced bread
-Avocado
-Salt
-Pepper
-Garlic Seasoning
-Tomato
-Balsamic glaze
-Grated Parmesan or Romana
While your bread is toasting, mash an avocado in a bowl and lightly sprinkle in salt, pepper and garlic seasoning. Spread the avocado mixture across the toast, top with sliced tomatoes, grated Parmesan or Romano and drizzle with balsamic glaze. Yum!!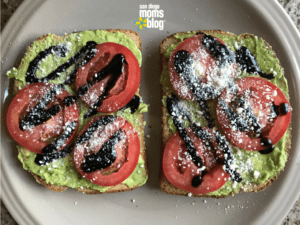 SNACK
Fruit Bowl
Ingredients:
-Yogurt or your favorite nut butter
-Chia Seeds
-Apple or banana
-Almonds (optional)
Chop your fruit and place it in a bowl, sprinkle with chia seeds, add a handful of almonds and spoon yogurt or nut butter over top. Mix it all up and wait a minute for the chia seeds to soften.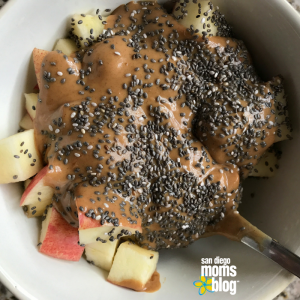 DINNER
Tomato Avocado Soup
Ingredients:
-Tomato Soup
-Avocado (1 per person)
-Grated Parmesan or Romano cheese
-Tortilla chips
Pour soup into a large microwave safe bowl and heat as directed on the package. Cut avocado into cubes. Once the soup is hot, add avocado, sprinkle with cheese and top with tortilla chips. Celebrate that dinner is ready ☺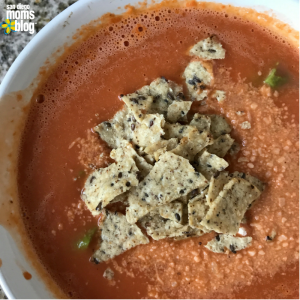 (Sorry, this one is so ugly. Probably because I made it in 5 minutes? It's delicious though!)
What are your favorite 5 minute meals? I'd love to have some more to add to my list!