Stress. Anxiety. Depression.
Do you struggle with any of these issues? Whether the struggle is mild or severe, the reasons vary between difficult situations and chemical imbalance. However, this post is not about the hows, the whys, nor the whats. Instead, it is my desire to share with our mom tribe the steps I use to grow through a common struggle: Stress. Anxiety. Depression.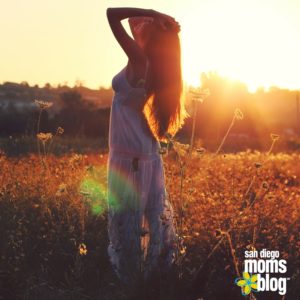 Talk to someone. Preferably, a counselor. Most important, talk to someone who will help you process your thoughts, grief, stress, fears in a healthy manner. Talk to someone who wants to see you grow forward and not stay stuck. Anxiety wants you stuck. It isolates you. In order to grow forward, we must talk to people who have a a healthy mindset. Now is the time to throw out the victim mindset that stress, anxiety, depression reaches for. Process forward, don't look back.
Pray. Meditate. Be still. In the middle of a crisis, our prayers may be as simple as "HELP ME NOW!" Some prayers are about gratitude. Both are o.k. I choose to grow forward with my Creator. Sometimes, I play soothing music and allow my mind to relax as I listen and meditate. Yet, to be still in the midst of our world's fast paced life takes practice. My favorite place to practice stillness is at the beach, watching the waves, while enjoying the sunset.
Surround yourself with positive minds. The old saying is true, misery loves company. Misery seeks attention from misery. If we want to grow forward and get unstuck we must surround ourselves with people who love us, encourage us, and believe in us. This is our season to look up, be a light, grow forward, and be more than we were yesterday. We have a purpose that is greater than our mistakes, our history. We are created to LIVE. To LOVE. To be THANKFUL. To have JOY.
Get outside. In the midst of severe anxiety and depression, the hardest thing to do is to get out of bed. The next, is to open the door and go outside. Trust me, I know. I've struggled too. My experience has taught me that going outside is a simple step (yet sometimes painful!) in growing through our struggle. So open the door. Go for a walk. Go for a jog. Go for a hike. Try something you haven't tried before such as surfing or paddle boarding. Anyone want to grab their kid's board and boogie board with me?
Get creative. We are created to create. So get creating! Write. Journal. Crochet. Color. Go to Michaels and purchase something to build. Garden. Draw. Play some music. Rearrange your house. Finger paint (my personal choice). Some may need to learn a new skill. Thank you YouTube for teaching us new skills for free! If you are still at a loss at how to get in touch with your creative vibe: Turn on the radio and get shaking!
Hug somebody. You're laughing, right? So here's the thing, I'm not a natural hugger. Hugging, for me, takes work. However, I've learned that humans need touch. In the midst of strenuous moments, I've borrowed my fur niece, placed her on my lap, and pet her until her tiny hair is in piles all around me. Don't worry, she naturally sheds fur, I merely aid in the process. All jokes aside, hug a friend, hug your dog, pet your cat. It really does help!
Honest moment: I sit on my couch. My heart races, breath becomes short, arms numb, and my mind spins. I am ready to hit the publish button on a post about working through my anxiety symptoms. I'm not alone in my struggle which is why I share with you.
Mom Tribe: What are some healthy habits you have adopted to work through stress, anxiety, and depression? Together, we learn. Together, we grow.