As all moms do, I remember the birth of my first baby like it was yesterday.
You spend the entire time being pregnant preparing for the day and the role of motherhood. You read books about what to expect, plan your delivery, set up the nursery and pack your hospital bag. You pray for a healthy pregnancy and a good delivery, but you can never plan for the unplanned. At 37 weeks, our daughter 'O' was born and placed in my arms on November 18, 2009 at 10:56 am.
Shortly after delivery, we noticed a tiny red mark on her left cheek, and we were unsure of what it was. Our doctor thought it was a Port Wine Stain. A Port Wine Stain is a mark that happens when chemical signals in tiny blood vessels don't turn off. The extra blood turns the skin red, causing it to look like spilled wine.
Over the next few weeks the mark on her face continued to grow. Eventually it covered the left side of her face, up to her scalp. The light red turned to a dark purple and puffed up to swell her nose and eye shut. Unfortunately, our pediatrician was not familiar with birthmarks like this, so we didn't have any explanation.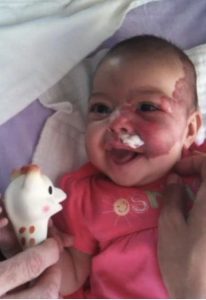 A wave of emotions went through me. I felt anger about not being able to stop the growth on her face and was helpless as a new mother. I questioned why God would allow this to happen and felt sadness for our baby girl.
I didn't want people to see her. We got insensitive comments from strangers, and we couldn't explain what was happening. Our friends were becoming parents and having different experiences. I was jealous. I could see the hurt in the eyes of our family, no one knew what to say.
In February of 2010, blood appeared behind her left ear. We went to a children's urgent care. It was not until this visit that we were given the correct diagnosis and were referred to Rady's Children Hospital. The dermatologist let us know the mark was a 'Severe Infantile Hemangioma'. These are the most common benign vascular tumors made up of blood vessels. They grow quickly for up to a year. Luckily, there was treatment available.
She was admitted to the hospital and started on Propranolol; a beta blocker that was approved a few months earlier for hemangiomas in the US. This would assist with shrinking and fading. A steroid was also given for a short time. Unfortunately, the steroid caused the skin to thin out, which led to an open ulcer sore on her lip. Our poor baby was in extreme pain, and cried constantly. Breastfeeding was difficult and bottle feeding was a struggle. We took shifts holding her all night in a rocker. Eventually, after months of hardship and pain, the lip was able to be closed using a laser.
"O" continued on Propranolol for a year until the hemangioma stopped growing. At a year and a half, she had her first Pulse Dye laser treatment to reduce redness. While the procedure only lasted a few minutes, it was extremely painful and we had to strap O down and hold her still while the doctor did the work. After several treatments she was finally old enough to be put under with anesthesia which made the process less traumatic but still had its recovery issues. To assist with the severe lip scarring from the ulcerations, we had her go under two lip reconstructive surgeries. All the treatments and surgeries were hard, but the end result is a world away from where she started.
"O" is now 11. She is growing into a beautiful, strong and confident young lady. There is still some scarring above her lip, and slight redness on her face, but hopefully with time it will fade and we can soon stop the laser treatments.
We are forever thankful to the incredible dermatology staff and doctors at Rady's. The first dermatologist, Dr. Eichenfield performed laser on her lip at four months of age and is now treating her again. Our advice; get a second opinion. Advocate for your kiddo. And hang in there.