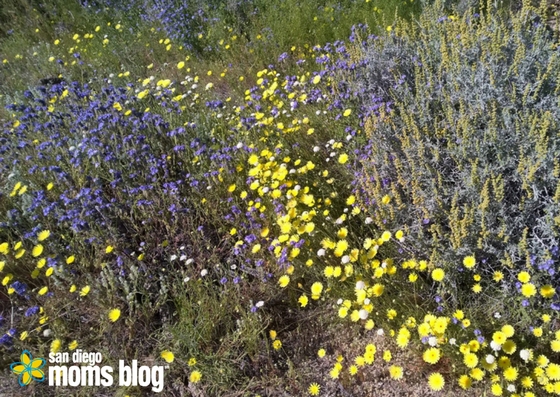 Whew – Spring is finally here, everyone! I can't tell you how much Spring always seems to motivate me to clean, get organized and venture out more! This past weekend my little family joined up with our dear friends and their new little to do some exploring out in the desert. Thanks to all the rain this year, the wild flowers have really taken off!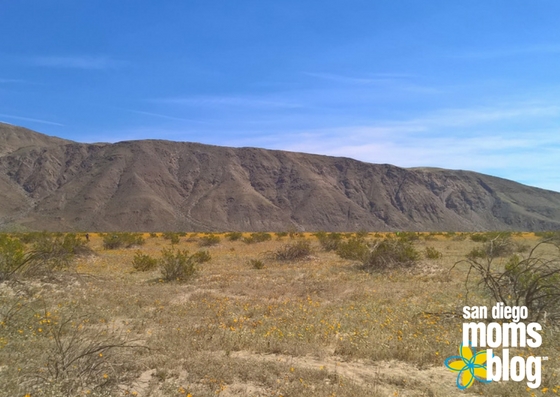 If you're looking for a day-trip with the family that's not too strenuous on the budget, I highly recommend investing the time to make the drive out to Anza-Borrego State Park. Although, be cautious, as this season's bloom has brought on A LOT of traffic congestion with visitors everywhere wanting to experience this spectacular sight! We chose to take the desert route via 8 East to exit 89 which takes you through Ocotillo until you reach the 79. We were unsure how congested the 78 would be and to be honest, every since I had my son, my constitution for battling car sickness has dwindled. So no winding mountain roads out there for this girl!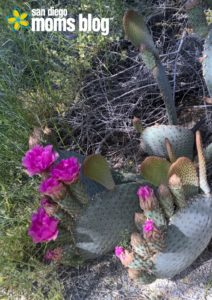 While this may seem like a longer (and hotter) route, I'm so very happy we choose this way. The sights out the window do not disappoint. Everywhere you look, beautiful reds were blooming on top the cactus, seas of greenery everywhere, and, of course, fields of beautiful yellow and purple flowers wave as you pass by. There are certainly a lot of opportunities to stop along the way too for exploring and picture taking. (Keep in mind, it's smart to take off early to beat the heat and crowd. Plus this goes without saying, marinate in your sunblock and pack lots of water!)
Surprisingly, once we got there, despite a line of cars, parking wasn't as bad as it seemed. It took a little under a mile to get to the visitor center. I highly recommend the quarter-mile loop right in front of the building. It's an extremely easy walk, and at the end you're greeted with a very beautiful bloom of purples on the Beaver Cactus. From there we drove less than 10 more minutes to Henderson Canyon to swim in some desert sunflowers.
All in all, it was the perfect day to go exploring. We even ended it with lunch in Julian which is never a bad idea!
To get the latest information on the blooms, check out Anza-Borrego Desert Natural History Association.