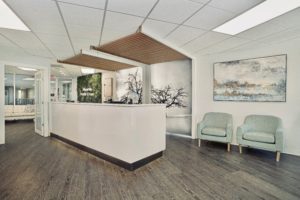 Did you know that tooth decay (cavities, specifically) is the most common chronic childhood disease? 51 million school hours are lost annually due to dental-related illnesses. Protect your child's teeth by starting dental visits early. The American Academy of Pediatric Dentistry recommends that the first dental visit occur as soon as the child's first tooth appears and no later than their first birthday.
At Alvarado Dental Group, the first dental visit helps to acquaint the family with their pediatric dentist in a nonthreatening and friendly manner. It offers an opportunity to educate and inform parents about their child's oral health. Each child has different oral health needs, but it's almost always true that preventative care from your pediatric dentist can save time, money and teeth. Dr. Truska Mahmood strongly believes in practicing preventative care through educating her patients and their families.
Early Intervention for Dental Health
"It has been a goal of mine to open a dental practice that focused on prevention and early intervention. It is so important for me to educate children and their parents/guardians the importance of oral health and how to prevent cavities before they exist through dietary counseling, oral hygiene instructions and recommendations of oral products. As for apprehensive children and children with special healthcare needs, we arrange for them to come in for a "desensitizing" visit during which parents and their little ones get a chance to meet our dental team and become more familiar with the sights, sounds and feel of our dental office. These visits also help us establish a bond and rapport with our patients and their families. My husband and general dentist, Dr. Anas Najm and I wanted a family practice so we can care for all patients for generations to come: the very young, their parents, and even grandparents!"

– Dr. Truska Mahmood, Alvarado Dental Group
Alvarado Dental Group is a full-service family practice providing care for patients of all ages. Their services include:
Bonding

, to repair small chips or fractures

Crowns & Bridgework

, to replace large amounts of lost tooth structure and/or missing teeth

Dental Implants

, for the longest-lasting tooth replacement available today

Fillings

, to make your teeth strong and healthy again

Oral Cancer Screenings

, to detect disease at a curable stage

Orthodontic Treatment

, to move teeth into the right position

Periodontal (Gum) Disease Therapy

, to prevent tooth loss

Porcelain Veneers

, for repairing larger chips and fractures, and reshaping teeth

Professional Teeth Cleanings

, to maintain good oral health

Removable Dentures

, to help you smile again

Root Canal Treatment

, to save an infected tooth

Sealants

, to protect children's teeth from decay

Teeth Whitening

, to brighten a faded or discolored smile

TMJ/TMD Treatment

, for chronic jaw pain

Tooth Extractions

, when a tooth is hopelessly damaged or decayed

Comfortable sedation options for patients who are fearful or anxious about dental treatment

Silver Diamine Fluoride, topical medicament to treat/prevent dental caries

ICON, minimally invasive restorative treatment for certain enamel discolorations or defects
"This is a great place to come! We started with my daughter visiting and we were so impressed we decided to make Alvarado Dental Group our family dentist. They are professional, and make it painless as much as possible. The office is immaculate, the staff will go above and beyond for their patients. Highly recommend them if you're looking for a quality dentist and dental team" – G.Y.