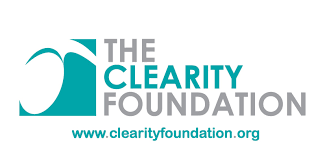 September is Ovarian Cancer Awareness Month. Ovarian cancer is a leading cause of cancer-related death in American women. To support and drive awareness for this cause, during the entire month of September we will be highlighting the strong mothers of the The Clearity Foundation who work tirelessy to change that statistic.
The Clearity Foundation seeks to revolutionize ovarian cancer treatment. Every year, more than 22,000 women are diagnosed with ovarian cancer. Unfortunately, survival improvements are decades behind other cancers. Clearity is working to change that. Clearity believes that all women deserve the best possible therapies for their unique disease and the best possible emotional support for their unique life challenges.
Liz, we are so grateful you decided to share your story with us. Let's start with who you are both personally and professionally. Give us the 30-second elevator pitch that you would give when asked to introduce yourself. I live in Carlsbad, in the La Costa area. I have 4 teenagers, one in college and three in high school. My husband, Lars and I have been married for 28 years. I graduated from UCSD and have worked in healthcare my entire career, mostly in marketing, for health insurance as well as on the provider side. I love swimming, especially long distances in the ocean so San Diego is an ideal place to live.
What does "As Strong as the Mother Next to Me" mean to you?

"By definition mothers are strong and we can all benefit from each other's strengths."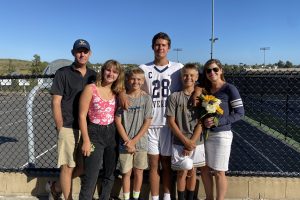 Tell us about yourself as a mother and businesswoman. I have four children, all teenagers, one in college and three in high school. I graduated from UCSD with a degree in sociology and started my career at Planned Parenthood. From there I worked in marketing at Blue of California and Dignity Health where I gained a 360 view of healthcare, from the payer and provider side. I'm currently the Director of Marketing and Communications at The Clearity Foundation where I have the opportunity to combine all my marketing experience and my passion for women's health to promote the services and resources Clearity offers to women and families living with ovarian cancer.
How important is it to you to surround yourself with other moms both professionally and personally? It's important because I'm always learning from other women. It reminds me that despite the shared experience, different perspectives are so eye-opening.
I was recommended to this position by a friend who I previously worked for. She is on the Clearity board and suggested I apply. My day-to-day life is busy like everyone's. I manage all the aspects of marketing and communications for the organization so, even I don't do all the work, it's important to keep a pulse on everything that's happening.
What challenges do you face as a mother and a business person? Keeping track of everything! I'm still old school in that I write things down because I've never found a more effective method
What piece of advice would you give another mom who is struggling with balancing work/home life? or thinking about starting her own business? Exercise first thing in the morning, whatever that means for you – a walk, a run, 15 minutes of yoga and breathing. Make it a non-negotiable way to start the day taking care of yourself.
What are some of your favorite resources for business that have saved you time? Freelancers – there are so many wonderful people who can be a part of your organization, bring their talents, energy and expertise
Tell us about a challenging time in your business and how you overcame it? I had a period where the organization I worked for was re-organizing and i was fairly sure my position would be eliminated. i went to my manager at the time, discussed an exit plan that would allow me to deliver an important campaign and time my departure. So I was able to leave having made a positive impact but more on my own terms.
How did you build your community of moms around you and how have they impacted your life personally and professionally? I've gathered the women around me by reaching out to ask for help and offer help. Both receiving help and lending a hand to someone else feels great and keeps me motivated.
Do you have a non-profit or cause that you want us to know more about? And why are you so passionate about this? The Clearity Foundation, of course! I'm passionate about this organization because ovarian cancer does not have the level of awareness and support of other cancers and yet, many women and families are impacted every year.
Would you like to offer anything to our readers? Register for Clearity's free, online Teal Woman 2021 Celebration to honor women and families living with ovarian cancer. Special guest host is Shannon Miller, Olympic gold medalist and ovarian cancer survivor. www.clearity.org/tealwoman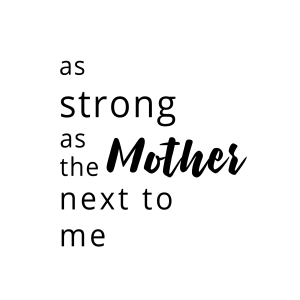 "As Strong as the Mother Next to Me" was built on the principle and belief that with the right community and sisterhood you can move mountains. Founder Niki Jones is a single mother and entrepreneur who understands that leaning on her circle doesn't make her weak; it makes her unstoppable.
Research supports that by doing good or paying it forward, in ways big or small, not only feels good, but also does us good.
MOTHERHOOD IS HARD ENOUGH. San Diego Moms wants to provide an experience and community that is inclusive, uplifting and supportive to ALL moms. By empowering and lifting each other up, we become better women, partners, leaders, and friends.
At this time I would like to ask you to MOMinate two moms and tell us why they are the Strong Mother Next to You . . .
Annette McElhiney
"Annette is a mom, an artist and an ovarian cancer survivor. She continues to give back to her community with grace and humor."
Gina DeSantis
"Gina is a mother of three and an ovarian cancer survivor. She supports The Clearity Foundation because she said the scientific, trusted information she received was critical for her and her family. "My mantra is to stay here and see them get married, have kids and do what they want to do and go in their different directions. It allowed me to maintain my mom-ness."