Do you have a childhood bucket list for your kids? These are things to include in your child's bucket of childhood experiences before they move into adulthood.
They are the experiences that will give your children the gifts of WONDER and AWE while they are still kids, give your family great joy to see together, and develop in your littles a love of adventure and seeking out what the world has to offer beyond the everyday.
Building a love of places and interests you share in common with your children as they grow into adults will give both you and your children the gift of a special and unique bond that can sustain throughout your lives.
I have great memories of growing up. Traveling to other states and even out of the country to experience the things my mom thought we should see or that she wanted to see herself. Mostly, the places we visited were close by, within driving distance, because as a single mom it just wasn't in her budget or schedule to take us any further.
So together we experienced the Grand Canyon, including a flyover in a helicopter, the destruction of the recently erupted Mount St. Helens Volcano in Washington, and the neon lights and casinos of Las Vegas, among others. In our early years, through the magic of live TV, my mom made sure we experienced the Apollo launches and splashdowns, lunar landings, and various other rocket launches and historic wonders. This for sure nurtured my own love of everything space and technology.
When we were young adults she took us on our second international vacation to London to see theater and castles. A trip that I still have vivid memories of 30+ years later, like of my brother and I walking around the Tower of London with our hoodies pulled up over our heads (to appear to be headless to our mother's horror… and giggles).
Our first international vacation, as little kids, was a 2-week long Baja California trek from the international border to Cabo… in a VW Camper Bus…. on mostly dirt roads…. across the Gulf of California by car ferry… to the mainland of Mexico for the drive back home. WOW, I can't believe we did THAT!!!!
My mother was an adventurer and I am so thankful she did not hesitate to pack us up in the car or camper for a drive to places unknown or take us on a long-awaited plane ride out to see the 'world', a world beyond our own little day-to-day living.
She instilled in me a love of both natural wonders and man-made wonders. I consider myself a 'wanderer' and an 'awe seeker' because of it.
And so, I have trekked my kids off to see some of the same things I experienced with my mom and brother. To new places too – to share and satisfy my own love of amazing scenes of natural beauty and examples of awesome engineering feats.
My kids are grown now, one living and working on the east coast and one home while she continues her education to obtain a masters degree. But, that hasn't stopped me from continuing to give them the gifts of WONDER and AWE when I can include them.
I recently checked off one of the last remaining childhood bucket list items with my daughter, even though she is now an adult.
Sadly, I was never able to take her in her childhood (as I did my son) to the top of the World Trade Center to experience from the observation deck for the most amazing view one could ever imagine. By our next family trip to New York, the towers were no longer standing.
Here we are atop the One World Trade Center tower recently, aka the Freedom Tower, from the Observatory which opened in 2014.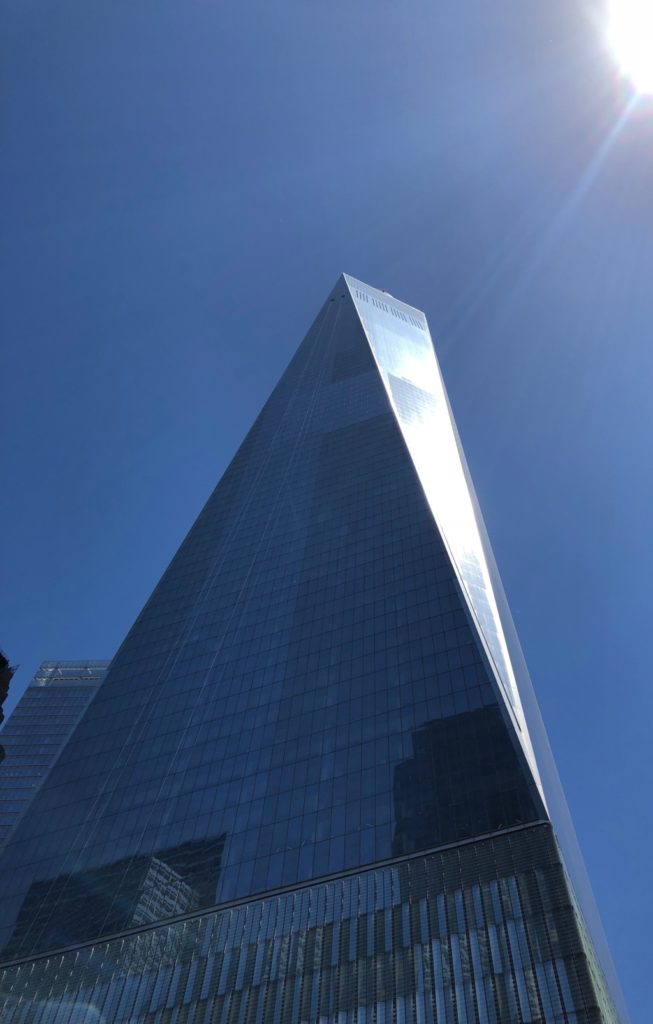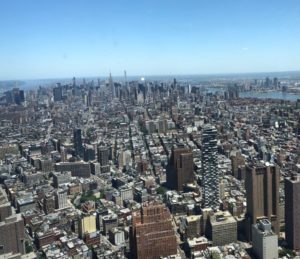 It makes me so happy to have finally shown her the beauty of New York City and beyond from above. We also enjoyed a Broadway show together each night we were there!!! So fun!!!!
I could tell a dozen stories of the great times we had experiencing some of what the world has to offer both close to home and away, but that would take many more words than I am allotted here.
A child's bucket list is as unique as each family. Mine is different than yours. Yours is different than your best friends'.
Below is my list of our WONDER and AWE experiences to spark some ideas to experience with your own children.
I would love to hear in the comments the 'childhood bucket list' for your kids and your stories of receiving and giving your children the gifts of WONDER and AWE through the travels you have experienced together.
———————
Our Childhood Bucket List (with Links)
Natural Wonders
Lava tubes on Hawaii
Volcano Peak on Maui
Niagara Falls
Howe Caverns
Grand Canyon
Grand Canyon Caverns
Man-made Wonders
Lombard Street
Golden Gate Bridge
Palm Spring Aerial Tramway
Hoover Dam
Broadway Show
World Trade Center Observation Deck (pre-9/11)
World Trade Center Observatory (post-9/11)
Kennedy Space Center
Launch of Juno Mission to Jupiter
Shuttle Launches and Landings on Live TV or online
Sydney Harbour Bridge Climb
Yet to Discover
Aurora Borealis/Northern Lights
Alaska Inside Passage
Panama Canal Crossing
London Theater, Stonehenge and Castles
Our Lost Childhood Bucket List Opportunities (So, don't delay!!!)
Concorde Supersonic Jet Flight (fleet retired 2003)
Shuttle Launches and Landings (last flight 2011) – we were hoping for a delay of launch for the very last shuttle mission until our visit a few weeks later, which was not to be, but lucky us, we got to see the Juno Mission Launch instead.
———————————
My son, who also developed a love for all things flying, and I still text each other when a rocket launch is imminent. And, that makes me smile.
So, where are you taking your kids?
Which lifelong love for WONDER and AWE are you nurturing in your children?
What is on your childhood bucket list?
Share share share!!!