As mother who formerly enjoyed a very socially active lifestyle, I keep an active eye and ear out regarding places I can enjoy a great bite and craft beverage whilst keeping my tot under wraps. I have nearly made it a civic duty to share knowledge of such places to my friends who also now have kiddos, and thus found it fitting to lend this fantastic find to my fellow San Diego mamas as well.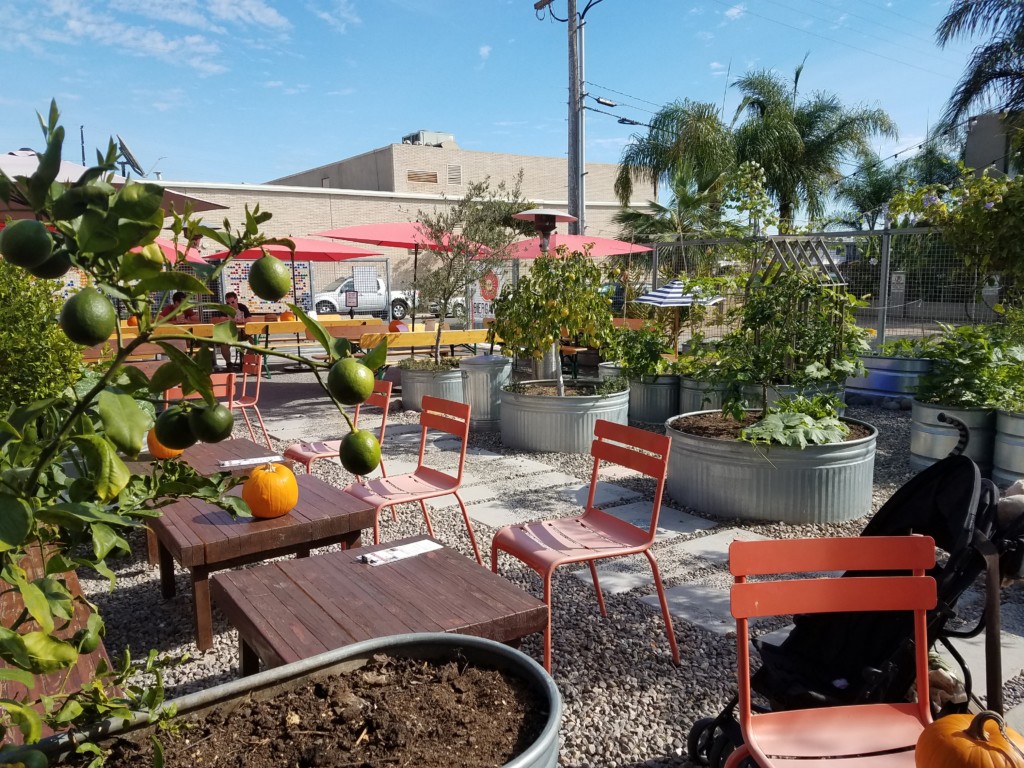 ChuckAlek Biergarten, located in North Park on Herman Ave just south of University, is swiftly becoming one of my top go-to places with tot in tow. Why? Several reasons! This spot is literally an outdoor community garden (think lime trees, fresh herbs, strawberries, greens, and the like) that also hosts community arts and crafts activities led by Art Produce. There's an array of seating throughout of the picnic table and lounge seat variety, with both sun and shaded spots and illuminated market lights after sundown. There is even a small picnic table for the little ones, which is nestled next to a play area complete with bins of toys (Tonka trucks, dolls, stacking blocks, and Mr. Potato Head are amongst this crew). My 21 month old now stays occupied within this section of the garden, and interacts with other little ones, which is kinda sorta helping her become a more collaborative player. If you are trying to entertain your wee one tableside vs. running a bit more "free," they also have children's books and paper and crayons accessible. Want to bring your dog along? They are also pet friendly!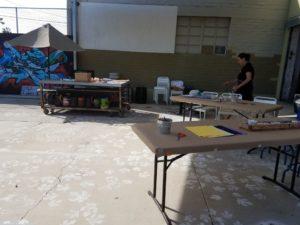 Presently, Art Produce hosts free community art classes in the west end of the outdoor area on Saturdays from 2-4PM. I have observed decent sized groups of children and their adults participating on 2 separate Saturdays. Mediums such as paint and brushes, clay, sculpting tools, and construction paper are available for use. It's a great way to connect with other locals and get your hands a little dirty while creating a take home project!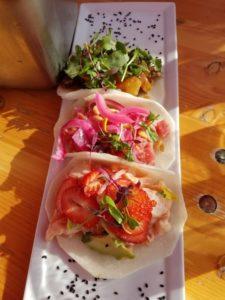 Food is available to order from Tostadas, which is housed within the same building, though outside food is also welcome. Tostadas menus are present at tables with the phone number and guidance to dial your order in. The food is delivered pretty promptly and is fresh and delicious. There are fresh ceviches, seafood tacos served in jicama shells (amazing!!), the Pibil tostada for those craving meat, and quesadillas for the kids at a fair price of $2.75.

For beverages, a variety of brews are available on tap and in bottle. I am a fan of ChuckAlek's Flycaster Helles Lager, as I am typically here during the day and enjoy sipping a crisp, light beer in the San Diego sunshine.
This place is a win-win for parents seeking to maintain some semblance of their former social butterfly lifestyle while indulging in a tasty meal and beverage with kids (and pet!) in tow. Check them out! They are open Tuesday-Thursday from 3-11PM, Friday-Saturday from 11AM-11PM, and Sunday from 11AM-10PM.
Bio:
Nicolette is a mother of 1 fast moving toddler girl and resides in the North Park area. When she is not confined to her cubicle by day, she is writing creatively, playing outdoors, indulging her inner foodie, and actively planning her next travel adventure. You can check out her new blog here.