We hosted our first CONNECT & SWEAT event at the end of January and had SO much fun—we thought we would share the experience with you and get you excited for February's event. CONNECT & SWEAT is a new event series that will give our SDMB family the opportunity to try one of FIT4MOM's core classes for JUST $5.
This month we will be trying out their Stroller Strides class (info below) at the Carlsbad Poinsettia Park on Tuesday, February 26th from 9am-10:15AM. Click here for more information on our February event.
Finding time to work out can be so difficult. Then we add on work, motherhood, and just life in general, and the task can seem truly daunting.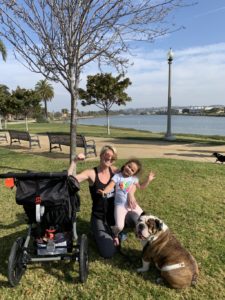 I became hooked on Stroller Strides as I embarked on my fitness journey after pregnancy. It was so much more than just a workout. For me, the connection aspect was where I saw the most value. To meet other moms and be able to connect and create relationships while getting a good workout was something that no other fitness class can offer.
At our first event, we tried out their Strides 360 class. I was personally SO excited to learn that you don't actually need your stroller for these classes and are welcomed to come by yourself just to get a great workout and still benefit from connecting with other moms.
So if you are on the fence about FIT4MOM and all they have to offer, they have truly expanded their classes to fit any mom, in any stage of motherhood. From Strides360 to Body Back there are some great opportunities to continue your fitness journey with them, even though your child may be out of the stroller.
We hope to see you at our next event!!!
Stroller Strides is a total fitness program that moms can do with their babies. It includes power walking and intervals of strength and body toning exercises using exercise tubing, the stroller and the environment. Taught by certified and specially trained fitness instructors, it is a great workout for any level of exerciser. Stroller Strides instructors weave songs and activities into the routine designed to entertain and engage baby, while moms are led through a series of exercises specific to her role as mom.
FIT4MOM is dedicated to the Strength In Motherhood™. By providing FIT4BABY's prenatal fitness classes, Stroller Strides, Body Back, and Our Village, women have the opportunity to have a workout and support that is flexible around motherhood.