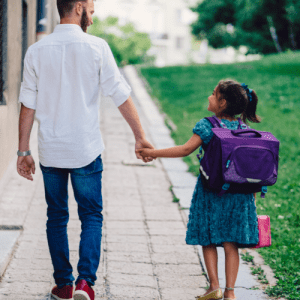 Students (and parents) already have plenty to worry about at the start of a new school year. Unreliable or non-existent internet connections should be the LAST thing that hinders education. Yet, 15% of students in the U.S. struggle to complete online homework assignments each year due to a lack of a computer at home or an internet connection.
Students from lower-income families are particularly affected by this conundrum known as the digital "homework gap."
Fortunately, Cox Communications is committed to keeping families connected and ensuring digital equity for households of all incomes and economic situations in our communities.
Is your internet connection meeting the needs of the students under your roof?
Ask these questions to make sure you are getting the most out of your home network (and your family's educational pursuits).
Is your home network password-protected? Always protect your Wi-Fi connection with a password to keep strangers and unwanted guests from using your bandwidth and slowing your speeds. Update your password regularly to keep hackers and "internet freeloaders" out.
Has it been a while since you last upgraded your equipment? Internet connectivity issues are often caused by outdated or overloaded equipment. As your household needs expand, be sure to regularly evaluate your devices and their lifespans. Contact a Cox provider for an assessment.
Is your internet equipment properly placed in your home? You can maximize your internet connection by placing your equipment strategically within your home.
Place your Wi-Fi equipment in a central location within your home, so the signal can reach more rooms. Alternatively, another option is to try placing your devices in the room(s) where your family uses the internet the most.
Keep your Wi-Fi modem and router away from devices that emit electronic radiation, such as refrigerators, microwaves, and baby monitors. These can disrupt the signal from your equipment.
Beware of furniture, doors, and other common obstructions that can interfere with a signal's ability to extend throughout your home.
Wherever you place your equipment, elevate it on a shelf or tall piece of furniture. Wi-Fi signals travel outward and downward and may struggle to reach your devices if placed on the floor.
Cox's broadband network can deliver some of the fastest speeds around. Their fiber-based network combines breakthrough technology with proven performance to deliver speed and reliability.
Do you qualify for free or discounted internet service?
Here are some Cox programs to check out.
The Cox Connect2Compete (C2C) program provides $9.95 a month internet service, including in-home Wi-Fi, for families with children in grades K-12 who are enrolled in government financial assistance programs. Earlier this year, Cox doubled C2C internet download speeds to 100 Mbps at no additional cost to enrolled families.
Cox's ConnectAssist internet tier is $30 a month for 100 Mbps download speeds for qualifying households that don't have K-12 children in the home.
The federally funded Affordable Connectivity Program (ACP) was created to make high-speed internet more affordable and accessible to households across the nation by providing a monthly subsidy of up to $30 for a qualifying household's internet bill ($75 for tribal lands). Among other qualifying criteria, household annual income can be no more than 200% of federal poverty guidelines. For example, based on current guidelines, a family of four with an annual household income at or below $55,500 would qualify for the program. Signing up for ACP is easy. Visit com/acp to learn more and see if you qualify.
If you qualify for the ACP subsidy and have Connect2Compete or ConnectAssist you could likely get your Cox internet service free each month by applying your ACP subsidy to your monthly internet bill.
With this handful of tips, Cox hopes your internet connection is one less obstacle on your, or your student's, educational path this school year. In addition, if you know of a K-12 student who could benefit from a low-cost computer program, please visit cox.com/c2c for information on Cox's partnership with PCs for People.
To learn more about Cox's dedication to digital equity and explore affordable internet tiers, visit cox.com/digitalequity.