Isn't everyone women's fairy tale, to eat whatever we want and not get fat?!?
The problem with "dieting" is that food is DELICIOUS and temptations are everywhere!
The trick to losing weight and keeping it off, is consistency and planning ahead! If you plan your meals and learn to swap out the unhealthy stuff for healthier options you will succeed. I know this doesn't sound great, but hear me out- I am not asking you to give up ice cream for broccoli!!
I just want to share some healthy eating hacks that are the key to success.
One of the best ways to lose weight, especially in your belly, is to decrease the amount of bad carbs in your diet. What are bad carbs you ask? Carbohydrates such as sugars, starches and fibers. The obvious culprits sugar, cookies, cake and candy. Fruit is also high in carbs despite natural sugars being the lesser of two evils. But some other bad carbs that help us pack on the pounds, are potatoes, bread, pasta and rice!
The problem with low carb diets, is they are hard to maintain. Doesn't everyone love carbs!?!? But lets be real. Think about it, what do potatoes, bread, pasta and rice have in common (especially the white varieties)? They don't taste like anything!! It's seasonings and toppings that give them some flavor. Most of the time, they are just fillers or holding the good stuff together.
Over the years, I have learned a lot of tricks to still be able to eat some of my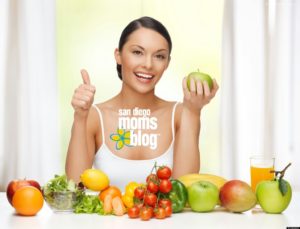 favorite foods when trying to lose weight. If you don't figure out alternatives, you end up denying yourself and eventually cave in.
There are many veggies you can incorporate into your diet to replace unhealthy options.
Staples I pick up when I am focused on decreasing my carbs-
Lettuce
Eggplant
Spaghetti squash
Zucchini
And Cauliflower
These veggies can be transformed into noodles, pizza crust, bread, tortillas (lettuce wraps of course)! Mashed "potatoes" and even "rice"!
Not only will you decrease your carb intake, but it's also a great way to add more vegetables to your diet! (Trick your kids as well)
Mexican food is one of my favorites. Not only can you substitute lettuce wraps for tortillas, you can also swap out your white rice for this satisfying option.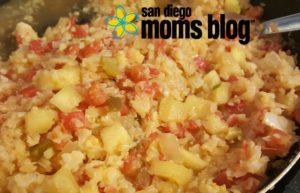 Spanish Cauliflower Rice
1 head cauliflower
1 can tomato pasta (or tomato sauce, enchilada sauce works and/or stewed tomatoes with diced green chiles)
small amount of EVOO (or your fave cooking oil)
diced onions
salt/pepper to taste (optional seasonings: garlic, chile powder, cumin)
optional veggies (depending on your taste and how low carb you are trying to be):

diced green peppers, diced tomatoes, cilantro, corn or peas
PREPARATION-
Take your cauliflower and cut the core out. Then cut into pieces (it cooks faster).
First step- Steam cauliflower.
There are two ways: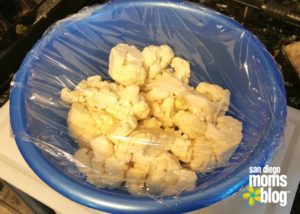 1. Use a large pot and add a small amount of water just to cover an inch or two. Place a vegetable steamer tray inside, add cauliflower. Place a lid over the pot and cook on medium heat on the stove top until tender.
2. Take a microwave safe bowl. Add a cauliflower and water to cover about an inch. Cover the bowl most of the way with plastic wrap. Microwave for 10 minutes or until tender.
(Both ways work the same so it's a personal preference!)
While the cauliflower is cooking, add cooking oil to your pan over medium heat. Add onions. Saute for a few minutes until they are becoming translucent.
Once cauliflower is tender and cooled down, take a cheese grater and grate the entire head. This gives it the "rice" texture. You can then put it in the pan with your onions. Add the tomato sauce or whatever you chose to give it the red color. Add salt/pepper to taste (and any other seasonings). Then add any additional sauteed veggies to the pan. Stir together and let simmer for a few minutes.
Then it's time to eat!!!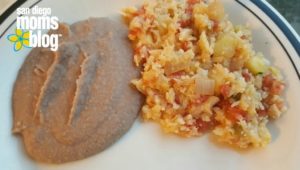 Enjoy your dinner guilt free (or at least a little less carbs in your life!)
For more information on healthy eating tips and making small changes to improve your diet: check out the resources on choosemyplate.gov.