Maybe you're like me, and you are in a busy season of life right now. So busy that you can barely find time to plan a date night out! Knowing the importance of dating in my marriage, I really needed to find an alternatative to trying to constantly plan date nights out that weren't actually possible.
I saw that my awesome friends over at One Extraordinary Marriage, a local company, have a monthly date night subscription box – Bonding Bees!
Knowing that subscription boxes are all the rage, (I subscribe to a few for my kiddos for their homeschooling studies, which will be another post for another day) I figured I would jump on the bandwagon and purchase a few. It ended up that a few of these subscription companies wanted to gift me a box as a sample to showcase to you what you might find in each of these boxes! So, the hubby and I embarked on a few date nights at home and here is what we want to share with you!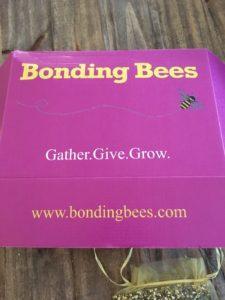 Their mission:
GATHER for one night a month, leaving your phones, tv, and stress to the side. Now is the time to focus on each other and spend real, quality time bonding.
GIVE to each other by investing your time in date nights. PLUS, every date you enjoy helps us sponsor children struggling in poverty. It's a win/win!
GROW through our customized date nights. They're designed to help you learn more, and even challenge each other, while rekindling the spark and growing your love.
Here is what came in ours for January: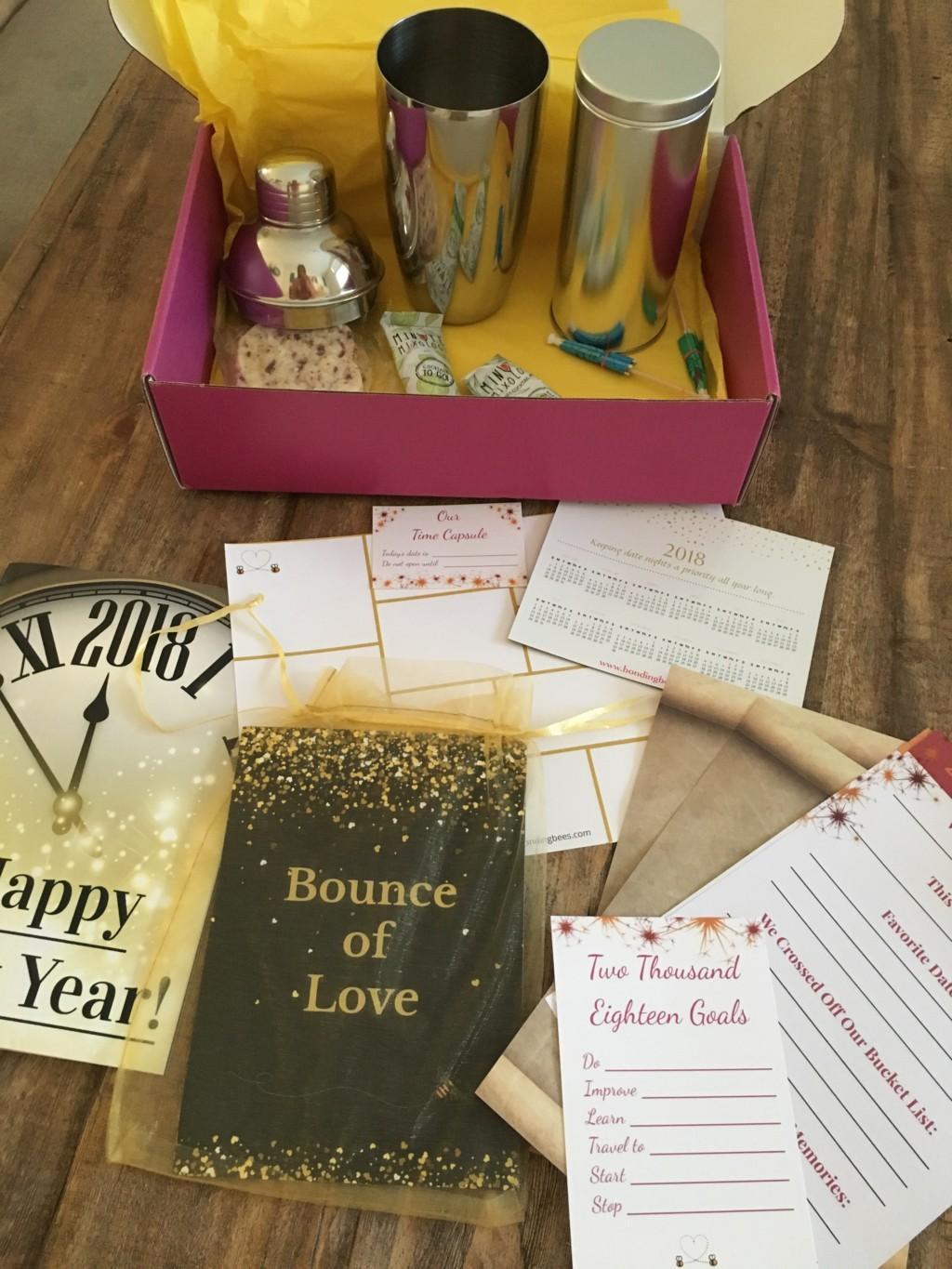 Our thoughts: It was very New Year's focused, which was great because we were able to really sit down and dream a bit about what we wanted to happen in 2018 together. It was packed full of activities for planning the new year and we also made some yummy drinks to cheers to our new goals. My hubby even used the little umbrella in his drink- shhhh, don't tell him I told you! I also love that we made a sweet little time capsule of some of the things we did in 2017 which helped us to plan more of what we wanted to do in 2018. MORE date nights on the calendar was necessary!
You can get $10 off your first box by using code SDMOMS at checkout!
Be "curious" starting at $34.25 for a one month box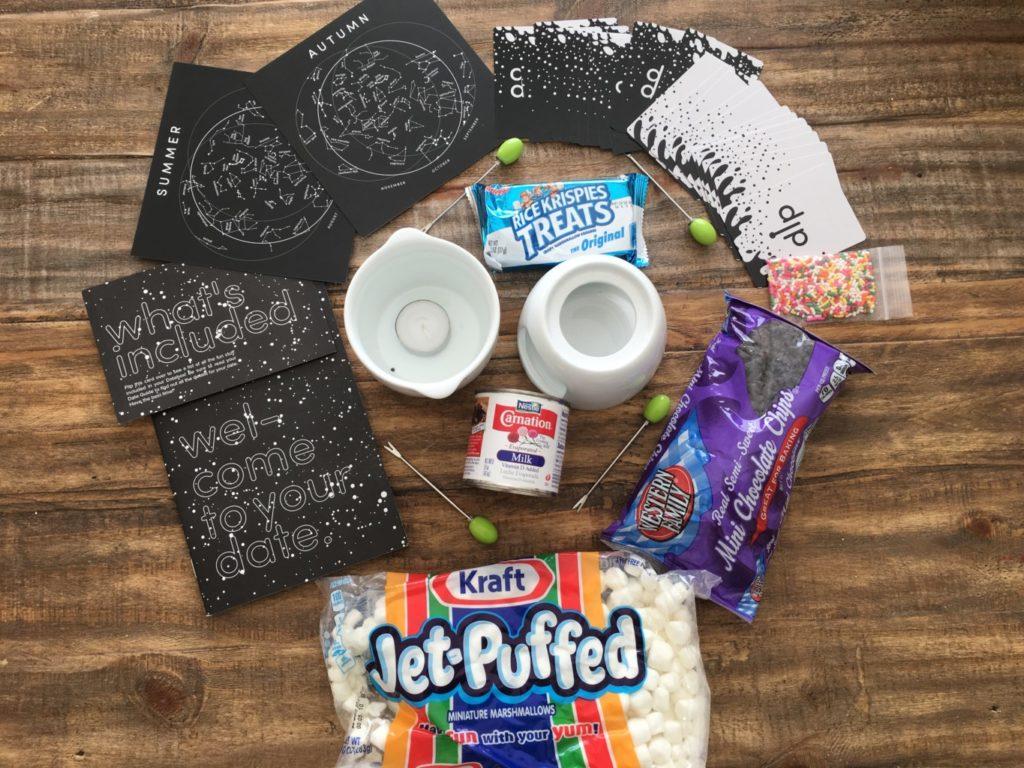 Mission: Whether it's a romantic night on the town or a salsa dancing lesson in your living room, we'll make sure you two have an amazing date night. Our dates make it easy for you to keep it fresh & have a blast together every month. #score
Our thoughts: So we loved this one a ton. Looking at the stars together, with a mini fondue set (we actually have one that we can plug in that we use all the time, but we love this mini travel one that you can take anywhere if you aren't at home!) was a relaxing evening. We definitely added fresh fruit as suggested, and had a gourmet dessert! What a fun spin on date night! Also, some of these subscriptions come with their own playlists through Spotify, so we listened to it for a different type of music for the night. It was really nice to stray from the usual and put on some mood-setting music.
With "digital only" options, you can score with $7.99/month
Mission: Night In Boxes are the ultimate solution to enjoy an experience with a loved one from the comfort of your own home.
We started our Night In adventure with Date Night In, delivering complete date nights to your door. After a placement in BuzzFeed things took off for us quickly and our customers wanted more!
We now offer; Date Night In, Faith Night In and Kids Night In.
Single box prices starting at $34.99/month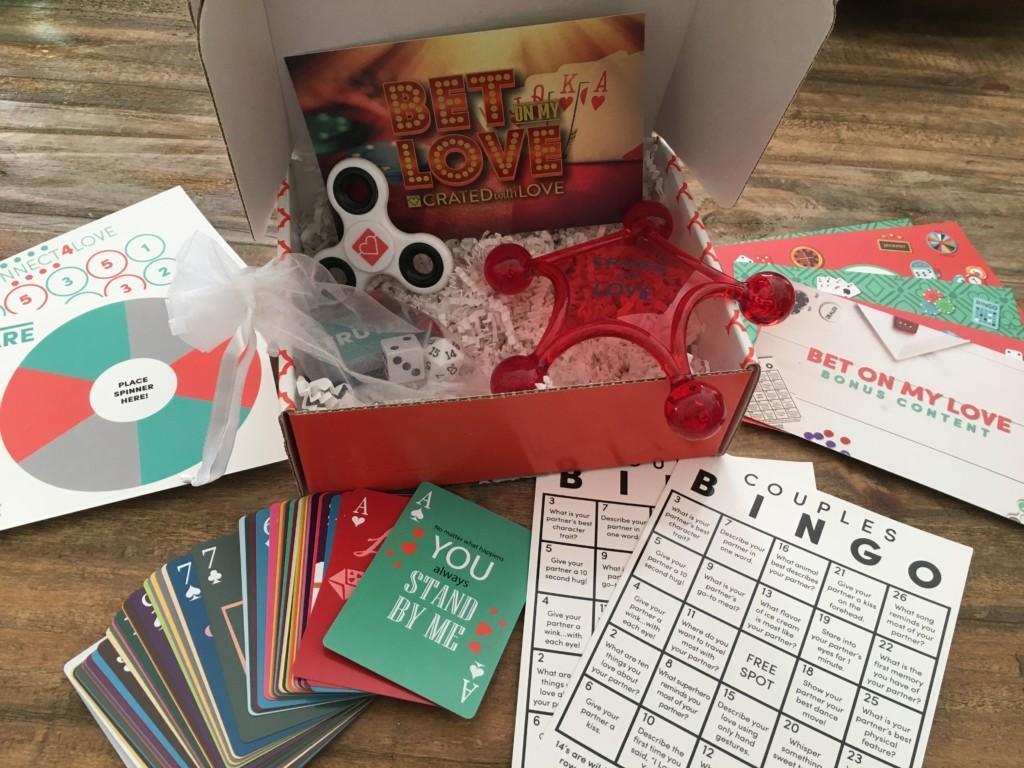 Mission: We've all said it… "I don't know…what do YOU want to do tonight?"
The amount of "couple time" spent together is directly proportional to a couple's probability to be happy and even their probability of divorce. What does that mean? It means date night is important! The hard part is planning a date that not only is fun but also allows you to strengthen your relationship. That's where we come in!
Our thoughts: What we loved about this box was the amount of fun we had. Some of the games in this box were silly, like Bingo, but we still did what it asked and had a few good laughs. In fact, we aren't even done with all the games in this box, so we are breaking up this one box into several date nights! I love that! Plus, our kiddos found the fidget spinner and couldn't stop playing with it! Also – we have yet to explore the bonus content, so we are excited about that!
Single box prices starting at $19.99/month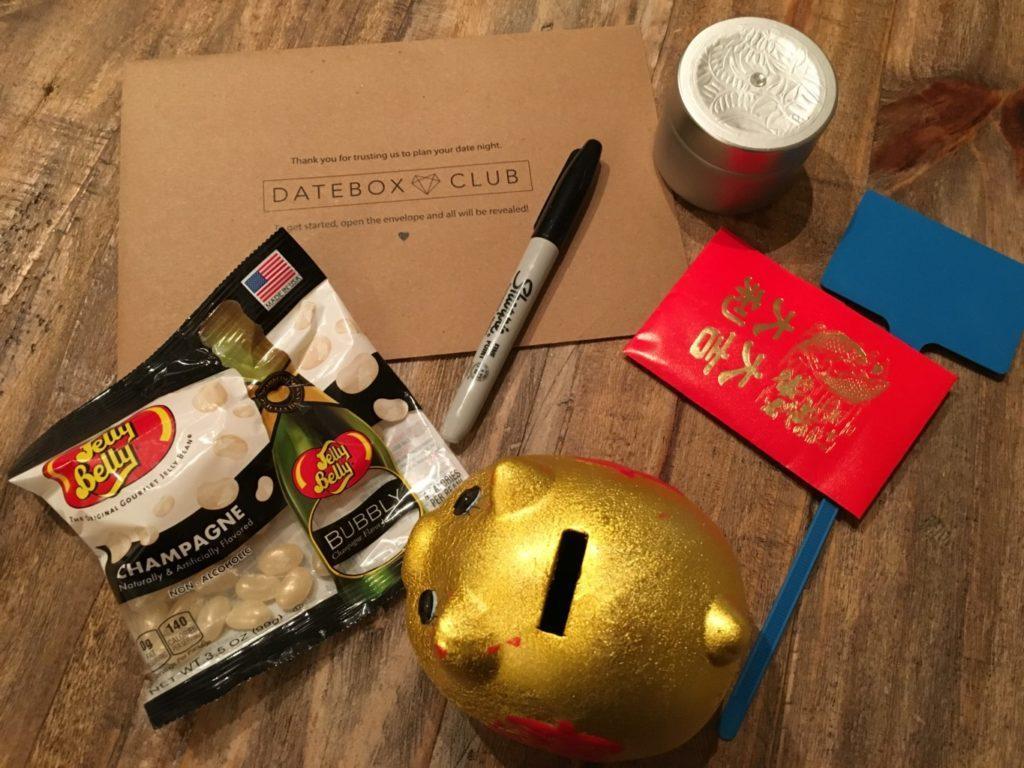 Our mission is to make date night both easy and delightful. Everything you need for your perfect date is included in our monthly subscription boxes.
We do the planning. You lovebirds just enjoy.
This one was a different take on New Year goals. Firstly, those champagne Jelly Bellys were DELICIOUS! Second, we aren't one for "good luck" type of things, but this cute little piggy now holds a lot of our goals for 2018. A lot of them are for beyond 2018, so it differs from the Bonding Bees box. I know what you are thinking- what IS that weird blue thing? My husband thought it was a kind of "toy" if you know what I mean, but it's meant to be a love lock. Take a hike and hook it to a tree and every time you go on that hike, you will see it. I love the different ideas that each of these boxes brings!
Single box prices starting at $35/month
ALL PLANS INCLUDE
Awesome Products-Games/ Gourmet Snacks-Drinks/ Fun Together Projects
Awesome Date Instructions/ Recipe & Tips Cards/ His & Her Only Cards
Music Playlist to complement the date
Everything you will need for the date
No planning necessary & Free super-speedy USPS Priority Mail Shipping
Single box prices starting at $39/month
"Open When Date Box"
This Downloadable Pack Includes:
Box Decorations – Decorate your Open When Date Boxes with printable labels, tags, and a seal. Keep everything together, protected, and a secret until the big night. Remember "Do not open until DATE NIGHT!"
Date Labels – Give your sweetheart a little hint about the date hidden inside with our printable Date Labels. Pick your mood and find the date box to match!
Date Love Notes – Add a personal touch to your date box with a thoughtful Open When Date Love Notes.
Themed Open When Ideas – Once you've created your date box it's time to fill each one with a special and unique date idea. You've come to the right place my friend – That's what we do best! We've gathered a list of ideas for you!
These printables make the perfect gift! Choose your favorite 12 of the 15 dates included to create a personalized "Year of Dates" gift they will LOVE!
Price: $8.97
Have you tried any that we have missed? What are your favorite subscription boxes for date nights??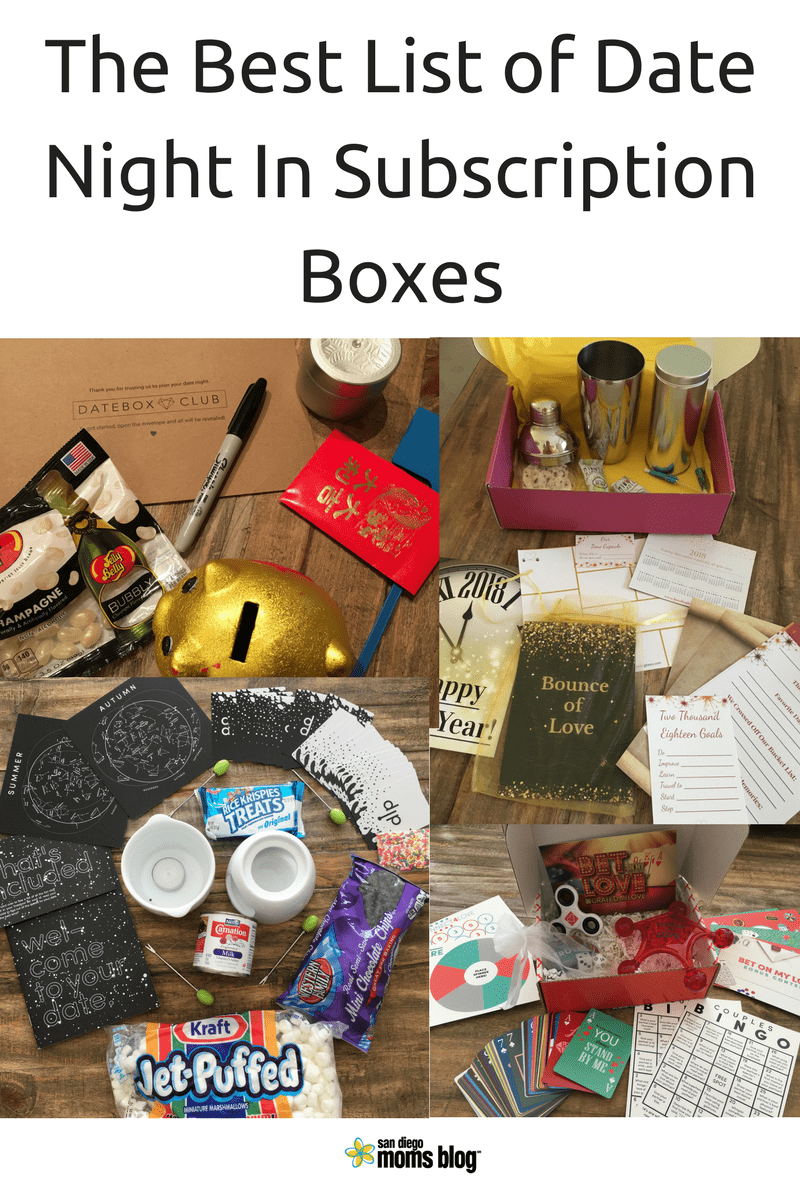 scr