There's a popular saying that goes "Never stop dating your spouse" that's often given as advice to keep marriages healthy and strong. Well, that same advice works with your kids, too. Whether you're a mom of 1 or 15, a single mom or a married mom or a co-parenting mom, as often as you can, take your kids on dates.
It's no mystery that children need and crave that one-on-one time with their parents, but when you turn it into a date, it hits another level of special and gives you a brand new way to connect. My son is 13 and my time is running out for how much longer he'll want to go on mother-son dates with me, but I will take them for as long as I can get them.
It's usually something simple — like dinner and a movie, but it's dinner somewhere special, either a place he chose or someplace we don't normally go, and it's a movie that has meaning, like when we went to see Dumbo and I cried as soon as the credits rolled because that's been "our movie" since the moment the sonogram tech said "it's a boy." But it's not what you do that matters, it's how you do it.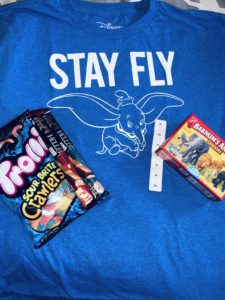 About a week before the date, I usually give him a little gift, whether it's a shirt to wear the night of the date or the book to go with the movie we're seeing or just a printout of the menu to get him excited about whatever we're eating. Then, a few days before the date, I leave him a little note telling him how excited I am about it and thanking him for saving his time just for me.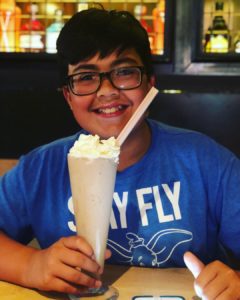 The night of the date, I get dressed and do my hair and make sure to look nice – just like I would for a date with his father. We hold hands on the way to the car. I let him pick the music on the radio. He opens doors for me. We conspire about what to order so we can capitalize on the menu and try as many things as possible. I let him order dessert, even if he's had a ton of sugar already and even if neither of us is all that hungry for it.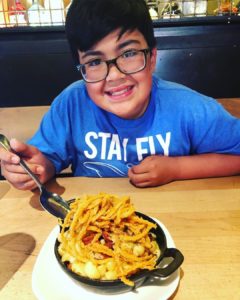 But most importantly, I put my phone away. Granted, I do take pictures to capture a few moments, but primarily, that phone is tucked into my purse. My eyes are just on him. I'm listening to him with an open mind. I'm speaking to him with an open heart. I am completely and entirely his. And it doesn't matter if we're sharing a bag of chips on a park bench or trading bites of steak and lobster at a swanky restaurant. The magic is in my presence, the weight of my focus being completely on him and not scattered across him and his little sister and his dad and work and the household chores. The dinner and the movie are just for show. It's that connection that these dates are really all about.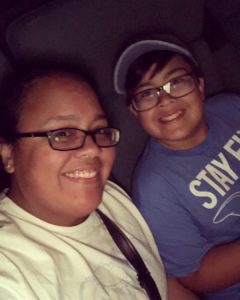 Just like they say dating can remind you why you fell in love with your spouse, it can do the same for your child. And even better, it can remind them why they love you, too. When we're in the daily shuffle of life, it's easy to get caught up and miss out on all the little things. Setting aside time to just be engaged and present with your kid can open your eyes to things you'd forgotten and help you see things you never knew. It doesn't have to be particularly often or extravagant. Just once every month or two, just a few hours, something specifically set aside just for the two of you. You'll be pleasantly surprised how that simple effort will truly fill their heart…and your own.