We are continuing with our "San Diego Series" with Santee, in East County San Diego! Santee is a lovely neighborhood with plenty of family friendly places. If you are lucky, you can find beautiful hand painted Santee rocks during your visit, kids love to go rock hunting!
Santee lakes: It's the perfect place for a walk, to ride a bicycle or rent a paddle boat. It has playgrounds between the lakes and a splash pad. Tip: there is plenty of parking outside the lakes, otherwise you need to pay to park inside.
Mission Trails Regional Park: There are lots of trails to hike or mountain bike at Mission Trails. They have a Visitor Center worth visiting on Mission Gorge road and have tons of events to check out.
Carlton Oaks Plaza has several different must-visit places including:
Kaffee Meister: It's one of my favorite coffee shops because they make their own syrups. They also have live music every Thursday and Friday night.
Janet's Cafe and Deli: Is the perfect place for breakfast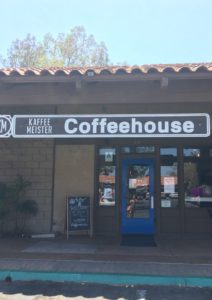 , brunch or lunch because their plates are large. It is a rather small place, but they have a nice back patio.
Santee Library: They have story time every day and different activities for kids of all ages. Check their schedule for activities!
The Cupcake store: Yum! Their cupcakes are amazing. They have miniature and regular size cupcakes. My favorite: Man cupcakes (with chocolate covered bacon on it!)
Mary's Donuts: They have a big selection of donuts and cream puffs. They are open 24/7!

Mast Park: It is right next to Carlton Oaks Plaza. It is great to go for a walk or ride your bikes. It has a playground, picnic tables, a dog park, basketball court and disc golf course.
Santee drive-in: They are open every day of the year and they sell popcorn and drinks inside. You can watch 2 movies in your car each time you go! They also host a swap-meet there once a week. Here is the movie calendar!
Any other places you think should be added to the list? I am always willing to discover new places!