Two years ago I had the honor of meeting one of the sweetest, most loving, cute, incredible, strong and down right most amazing human beings. Our meeting didn't go quite as planned, but the second I saw her I knew she was special. She exuded pure light, as if her soul was shining from within.
She changed my life forever; for the better.
Her name is Ashlyn, and she's my hero. She is special needs, and she is my daughter. Some people dream of meeting their favorite heroes, I was lucky enough to give birth to mine.
Ashlyn was born with not one but two rare disorders, and lives with (dis)abilities that will affect her everyday life, for the rest of her life.
But please, don't be sorry.
It took us almost 2 years to get Ashlyn's diagnoses. It was a long two years, with more tears and sleepless nights than most could bare. I would lay on the floor next to her crib at night and just cry. Why her? Why us? Why can no one give us any answers? But then the day finally came. After an extensive spinal, brain and skull CT/MRI, we finally had diagnoses. It was as if a weight was lifted off our shoulders. We finally had the answers we longed for. Having answers meant we could begin the care plan, treatments, therapies, appointments and interventions we needed to give her the best chance possible at living a "normal" life (Is there such thing?).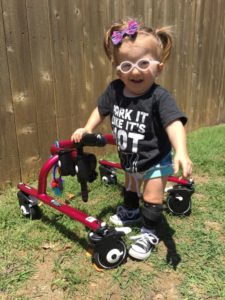 We immediately began updating family and friends with all the news we had received. I knew they would be elated and so happy that we had answers, but what I wasn't prepared for was the response we got, "Im sorry".
Now, I don't believe these comments came from a negative or mean spirited place. I truly believe this was the response people had because they didn't know what else to say. I mean, I get it. What do you say to someone who just found out their child has a condition that there is no procedure to correct, and that they will live their entire life with a disability? Not "Im sorry".
My daughter is perfect, regardless of any diagnoses.
She might not be on the same sports team as your child, and she might not be able to run and skip with kids her age, but that's ok! She will excel in her own ways, and her father and I will be gushing with pride every step of the way.
She is silly, kind, fun, smart. She is like no one else I have ever or will ever meet.
She's a miracle and everyday she surprises us and doctors with what she has and can accomplish.
She has the sweetest voice and the cutest giggles. Her crooked little grin can put a smile on any ones face.
She has taught our family more in the last two years, than I learned in my entire 30 years of life before her.
She is one of a kind, and she was given to us for a reason.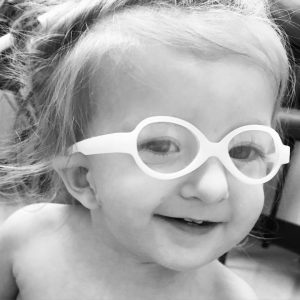 There is nothing for any one to be sorry about. She has blessed our lives beyond measure.
I am a special needs mom and I am proud of my daughter. Our family. My life.
So please, don't pity us. Don't be sorry. Just be supportive.
Our journey may be different than most, possibly more challenging, but we are up for the challenge, and we wouldn't want it any other way.
**Want to know more about Ashlyn**
– Ashlyn is an identical twin! A rare type of twin actually. Her and her sister Brielle are what is referred to as Monochorionic Monoamniotic twins (MoMo). Meaning they had skin to skin contact in the womb. This is a very very high risk type of twinning. It is believed that only 50-60% of MoMo twins make it to birth. Reason being cord entanglement and compression. I spent 60 days on hospital bedrest before delivering the girls via emergency c-section at 31 weeks. Ashlyn only weighed 2.7 lbs, while Brielle only weighed 2.14 lbs. They spent 80 and 55 days in the NICU respectively.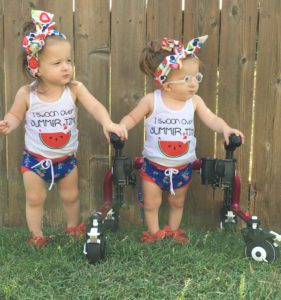 – Ashlyns diagnoses are:
1. Goldenhar Syndrome.
2. Caudal Regression Syndrome, also known as Sacral Agenesis.
Author Bio:
Kelli is the loving, sweet mama of 2 year old identical twin girls, who are second generation San Diegans! She worked as the lead designer for one of the cities best design agencies, before beginning her journey to motherhood. Kelli and her husband have been faced with many challenges throughout the last several years; high risk pregnancy, hospitalized for 60 days before giving birth prematurely at 31 weeks, a lengthy NICU stay, and raising a child with special needs. Despite it all, they have handled things with strength and grace.
Kelli is now a work from home – stay at home mom, who strives to find balance in life, work and being present in each and every moment. Kelli recently started her own company
Jean + Josie
, where she offers high quality stationery and design services. Last October the family made the tough decision to relocate to Austin TX, where they now reside. They eventually plan on returning to San Diego. Their roots run strong in San Diego and their love for Americas Finest City will always be in their hearts.
You can learn more about Kelli and her family here.