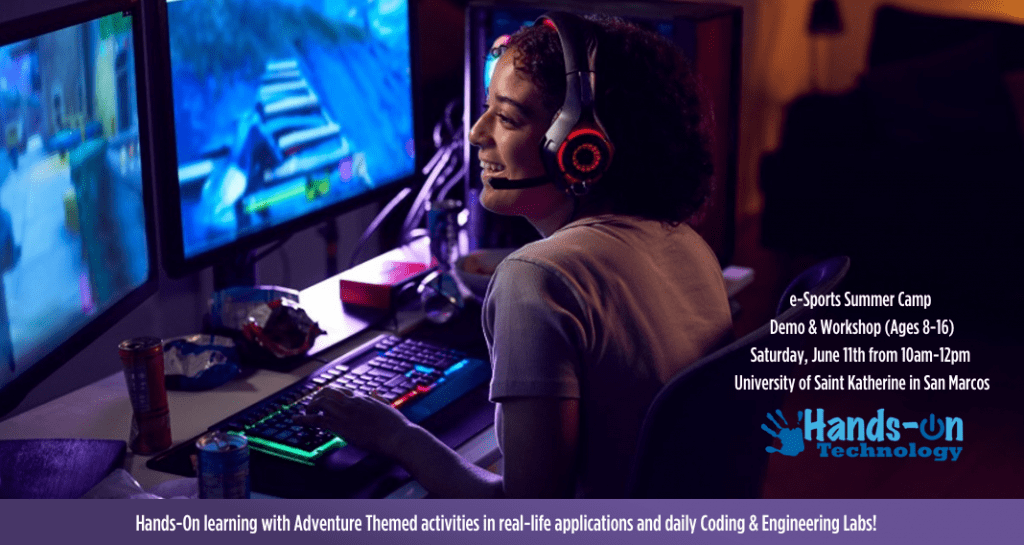 If your kiddo loves to game and compete in e-Sports, enrolling them in a STEAM camp this summer will make you mom of the year and your child will gain lifelong skills and education that benefits them now and in the future.
Careers in the technology field keep growing and e-Sports specifically has become a billion dollar industry! E-Sports is organized video gaming that promotes teamwork, competition and STEAM in an environment that kids love… Games!
Not sure what eSports is all about? Or maybe you're not sure if a technology camp could be a good fit for your child? We have an exclusive invite just for you.
This Saturday, June 11th from 10am-12pm, Hands-On Technology Education (HOTE) is hosting a FREE Workshop showcasing their newest Technology Adventure Theme: e-Sports! The workshop will be held at the University of Saint Katherine campus in San Marcos and it is completely FREE!
Complete the form below to reserve your e-Sports Workshop Spot!
HOTE Adventure Camp Staff will provide an introduction to the world of e-Sports gaming in a fun & inclusive environment. Come see if a tech/STEM camp is the right fit for your family this summer.
More about e-Sports Technology Camps
Offering an e-Sports program for ages 11-16 & a eSports Jr. program for ages 8-12
Their default e-Sports camps selects 1-2 games as the primary focus for the week while e-Sports Jr. Camps rotate a variety of games and STEAM activities each day.
Campers work together to form their own student-run "e-Sports Gaming Club" through the camp week and provide highlights to their week-long fun in our end of camp showcase event.
Digital exploration time and outdoor activities are also part of their daily schedule as well as special camp events!​
In addition e-Sports, HOTE offers a variety of Technology Themes to choose from, including Sustainable Agriculture, YouTuber, Virtual Reality, Game-gineers, Tech Entrepreneurship, App Design, Artificial Intelligence, Super STEAM Adventure and Robotics. Camps start June 21st.
Complete the form below to unlock access to this Saturday's e-Sports Summer Camp Demo Workshop.