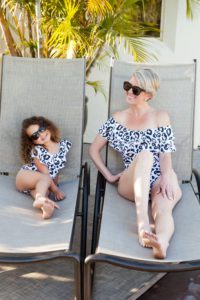 Motherhood can be exhausting, so naturally, normal personal care regimens typically get set aside. What's more important: shaving your legs and bikini line, or feeding the baby?
Luckily, post baby I was able to keep up with my usual eyebrow and Brazilian wax services because I was introduced to European Wax Center (EWC). I have always been a loyal EWC goer, but since moving to San Diego in 2013, the Liberty Station location specifically has exceeded all expectations, and I have been getting waxed for 20 years. From the moment I walk in, I'm greeted by their friendly front desk staff. Both the staff and estheticians make you feel comfortable and does great work.
Online Booking. Easy to navigate app, to book or reschedule appointments.
Efficient and quick when it comes to the service times. They get you in and out, no one wants a long extended wax service (ouch!).
Exceptional customer service. Maybe not having childcare is a reason you can't get to your wax apt. EWC – Liberty Station would let me bring daughter (when she was younger and not mobile) in the room. The point is they were extremely accommodating to my new role as mother.
The Liberty Station location is convenient. They offer plenty of FREE parking, 10 minutes off the 8 or 5 freeway and their customers come from ALL over SD county because of the quality of the services they offer.
Cost effective. They offer discounted packages and payment plans, to keep up with things that 'used' to matter.
Ready to give it a try?! Book your first wax FREE.
First-time guests can enjoy first Eyebrow, Bikini Line, or Underarm Wax for Free! Upgrade your experience and try the Bikini Brazilian or Bikini Full for 50% off (valid for first time guests only). Have you tried EWC PL in the past, but ready to go back? Mention SDMB for 20% OFF.

Other benefits to waxing at EWC Liberty Station:
We live in San Diego, it is summer YEAR round. Never miss an impromptu pool or beach day with your kids again.

If you have never had a Brazilian wax, it is seriously life changing and let's be honest we have gone through labor, a Brazilian Wax will be a walk in the park! And this is NOT true about all experiences.

It will save you tons of time. I go in for my wax appointments every 4-6 weeks and it takes approximately 15 minutes.
No more plucking, ingrown hairs or stubby skin. Shaving never reacted well on my skin and combined with a few key products – I personally have not had to deal with this for some time. Their SMOOTH ME

INGROWN HAIR WIPES and

REVEAL ME BODY EXFOLIATING GEL are my two personal favorites. CLICK HERE to check out all their products.
About European Wax Center – Liberty Station
They do one thing and they do it well, and that's waxing. European Wax Center (EWC) Liberty Station provides a unique waxing experience all around the country. The setting: a modern environment with crisp, clean lines, private waxing suites, providing the most professionally trained waxing experts, with exceptional service. You'll walk in, and strut out.
Location
Located next to Massage Envy, near the Starbucks in Liberty Station where there's lots of parking!
2560 Laning Rd – Suite A102
San Diego CA 92106 | (619) 222-3333