Looking to change up the weekend monotony with new scenery and a sense of adventure? Better yet, an excursion that won't break the bank? Borrego Springs and its desert enchantment is a mere two-hour drive from San Diego. This makes it perfect for either a day trip or an overnight experience! It's still in San Diego County, but it feels worlds away from the city. Read on to discover the top picks from our Family-Friendly Weekend Adventures in Borrego Springs.
Anza-Borrego Desert State Park
The State Park is a great place to check out if you are new to the desert. The volunteers at the Visitor Center are knowledgeable of the area and are happy to share their intel. Get tips on the best trails to hike with regard to the level of difficulty, where to seek out wildflowers, and what sorts of creatures you might find! If wildflowers are what you are seeking, consider calling the designated Wildflower Hotline at 760-767-4684. My personal favorite marvel to be seen here? It's the desert pupfish. If you make it to the Visitor's Center, promise me you will check them out!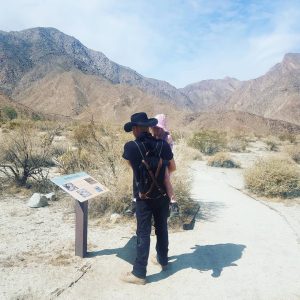 Galleta Meadows
Galleta Meadows Estate spans nearly 3,000 acres of desert landscape in the Borrego Springs area. This preserved land is home to over 130 metal art sculptures created by artist Ricardo Breceda. While some scale smaller in size, such as a tortoise, others are as large as the creatures they are meant to depict, be it a mammoth or dinosaur. Still, others are wondrously large, such as the grasshopper and scorpion found in a "Predator vs Prey" placement. These sculptures are scattered about the area and can be a bit of a scavenger hunt. Photo opportunities and smiles will be certain, and you might stumble upon a geocache if you are lucky!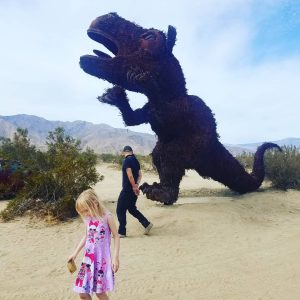 Experience Local Lodging
Lodging in Borrego Springs is an opportunity to break free from the hotel chains and try something new. Consider Desert Sands Vintage RV Park if you are seeking a unique experience. Choose a unique trailer or Airstream and find yourself transported back in time. For a resort experience complete with a pool and child-friendly activities, La Casa Del Zorro Desert Resort and Spa will fit the bill. In-betweeners will be well-suited to a stay at Stanlunds Inn and Suites, which is good for families and pets. Standard rooms are available as well as suites that feel like studio apartments with private patios, a kitchen, and a grill to use. We loved lounging in the pool area here!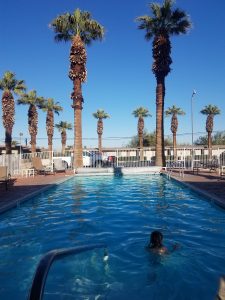 Downtown Borrego Springs
Palm Canyon Drive is the main street in Borrego Springs. Here you will find independent eateries and shops. For a casual bite to eat, Carlee's Bar & Grill is a long-standing locals favorite. Bighorn Fudge Company has been a local sweet staple for over 20 years. After your belly is full, check out WildHeart Company and pick up a t-shirt designed by the inspiration of the desert.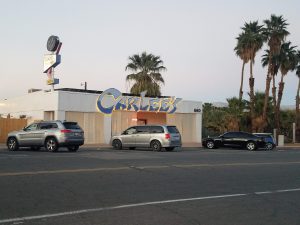 Looking for other close getaway ideas? Check out our tips on travel to Anaheim or Big Bear!