We are so excited to announce our first Family Safety Event!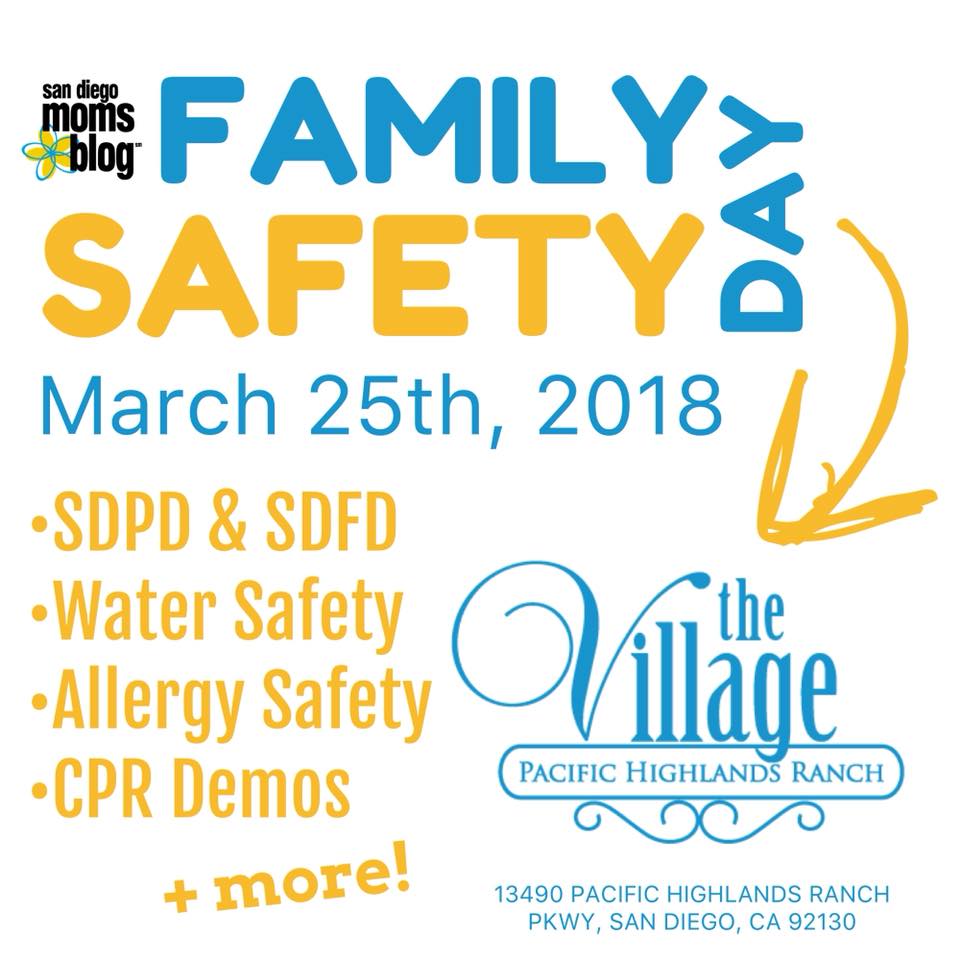 What is this event about and what is the purpose of this event?
This event screamed necessity after a dear friend of mine had a scary incident with her then 3 month old daughter. She wrote a guest post about her struggles and almost losing her daughter. It was simple- her daughter could have died had she not known how to properly give her infant CPR. She was CPR certified, but it could have been a different story if she didn't take the initiative to sign up for that class. It led me to thinking about how many other mamas might not know how vital it is to get CPR certified, or at least know the very basics of life saving skills.
Then other stories about social media incidents, kidnappings and more started popping up everywhere and I knew that San Diego Moms Blog HAD to have a safety focused event.
The goal of this Family Safety Event is simple- we want to saturate you and your family with safety information covering all bases so that it's a one stop shop for information while having some fun!
Where is this event going to be held?
Our friends and host sponsors, The Village at Pacific Highlands Ranch, are graciously allowing us to takeover their outdoor shopping space to hold this event, so that after the event, you can potentially do some shopping, and grab dinner at one of their yummy restaurants!
When is this event?
This event will be on Sunday, March 25th from 11am-4pm. Throughout the day, we will have various activities scheduled to keep you entertained and educated!
Who is going to be there?
Listed below are some of our featured sponsors and community resources that will be there for you to interact with! We are constantly adding more, so be sure to check out our Facebook Event page for up to the minute details!
Our Title Sponsors-
Children's Physicians Medical Group will be there with information about all the doctors in their group which are all over San Diego. One of their featured doctors will be there to speak on the subject of allergies from 3-4pm of the event and be available to answer any questions.
Other Sponsors-
San Diego Police Department– Of course they will be there with a police car, potentially a K9, and so much information about all types of safety for families. This will be a hands on type of experience for the kiddos too! Swat will also be joining them- so there is sure to be a ton of fun for kiddos!
Helen Woodward Animal Center will be there giving out information on animal safety. They will be bringing out some of their animals for the kiddos to have some hands on interaction with them which will help kiddos really soak in the safety information that they will be handing out.
The American Red Cross (Victor) will be there with a ton of information! They will be allowing families to sign up for free smoke detector installation, hands only CPR demonstrations, and evacuation plan information for families in case of emergencies! What an amazing resource!
The San Diego Fire Department will be bringing a fire truck for the kids to explore (from 1-2:30pm only) and other information for fire safety.
Rise Buddy will be there handing out samples of their delicious and healthy snacks!
Dr. Cameron Sutter of North County Family Chiropractic will be there chatting about wellness and the total body benefits of seeing a chiropractor.
Edward Wall from NY Life will be there doing free child ID kits! These are a must have item for all parents!
Sandi Schwartz from Leading Edge Parenting will be there with information on helping parents raise confident, responsible, happy children.
Nicholas Sanchez from AXA Advisors will be there to talk about money!
Daniel from Culligan Water San Diego will be quenching our guests thirsts with some water samples.
Kacee from Let's Talk Teens will be there on behalf of herself and STAPP (app controlling) talking about online safety for teens!!
We will have resources from the Bilateral Safety Corridor Coalition (BSCC) and Marisa will be doing a presentation on Trafficking 101 for our families.
The Storybook Character Company will have some princesses floating around the event for meet and greets! How exciting!
Milena Phillips from The Jonathan Sellers & Charlie Keever Foundation (JSCK), will be doing a play based on her children's safety book called "Always Fly Away" to teach kids the importance of stranger danger. That play will begin at the start of the event. (11am)
We have some swag lined up from our partners at Kind Bars, some chapstick swag from Dr. Lori at Coast Pediatrics, and some lotion samples from Bella B Naturals, some diaper cream samples from Triple Paste, some free coupons from the Carmel Mountain Baked Bear, discount coupons from Fleet Feet, and it will all be held in reusable totes from Title Nine. We also have free small pizzas from Fresh Brothers in Carmel Valley, swag from Tre Boutique and discount coupons from Crunch gym.
This is the tentative event calendar for sponsors that will NOT be there the entire day. These presentations and plays are only going to be there at specific times throughout the day. Please plan your schedule accordingly!
Please follow our FACEBOOK EVENT PAGE for up to the minute details!!!