National Tooth Fairy Day is August 22nd, so we thought it would be fun to share some creative ways the "Tooth Fairy" visits our San Diego Moms' homes when a child looses a tooth. 
My daughter Kaia hasn't lost her first tooth yet, but she is SO excited to loose a tooth and get a visit from the Tooth Fairy. She will be excited to know there is a national day to celebrate this momentous occasion in a child's life. I can image the first tooth will be the most fun, but I guess it is all in how you choose to celebrate using the Tooth Fairy whether or not the tale lives on!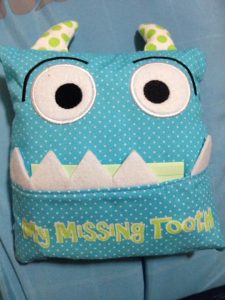 Five creative ways to celebrate the Tooth Fairy that you might not have thought about. 
Have the kids pick out or make their Tooth Fairy pillow
Make or decorate a Tooth Fairy house
Prep for the visit with books and stories of the Tooth Fairy
Have your child write a letter/note/card to the Tooth Fairy
The Tooth Fairy is also known to leave fairy dust/glitter and leave notes of encouragement
Here are how a few of our San Diego Moms Contributors celebrate in their home.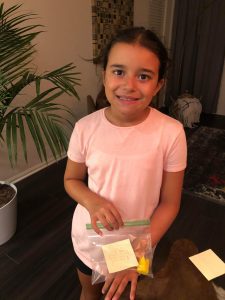 Adaline Kacur says they celebrate the Tooth Fairy in a big way with their daughter Mila, 9.
Her daughter writes a note and place under her pillow
Since her daughter has a very inquisitive mind, she asked about the rates. Who would have thought you can google the going rate for The Tooth Fairy by putting in your "zip code + Tooth Fairy going rate".
In their house, the going rate for the tooth fairy is around $10 and $3-5 depending on place of tooth. Bigger tooth bigger the rate.
---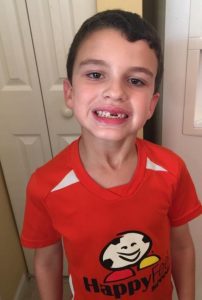 Tracie Rosales, also loves to celebrate the Tooth Fairy with her son Christian, 9.
Christian also writes a letter to the Tooth Fairy and tradition there is that she also writes back with a encouraging message!
The Tooth Fairy leaves $2 dollar bills for a special treat or coins.
They also have a special Tooth Fairy pillow that the notes and tooth go under.
---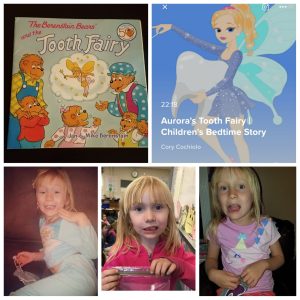 Nicolette Liebermanni celebrated a SECOND lost tooth with her daughter Isabelle, 5. 
In the photograph on the bottom  are her lost teeth in order.
They love the Berenstain Bears Tooth Fairy book, which is where we learned the going rate for teeth is $2.
We also love the nighttime meditation story about the Tooth Fairy that can be streamed on Insight Timer.
---
In honor of Tooth Fairy Day, we are celebrating all week long (Aug. 17-22) in partnership with none other than the The Super Dentists.
Share your favorite Tooth Fairy moment with us on Instagram and tag @sandiegomomsco and @thesuperdentists + use #TheSuperDentists and #ToothFairyDay for a chance to win The Super Dentists Super Toothbrush each day. PLUS on Saturday they are giving away a Super Toothbrush Collectors Edition set.
We would love to see those toothless smiles!

---
How did the Tooth Fairy even come about?
This childhood favorite evolved with a group of healthcare fairies during the mid-1920s. From bath fairies to Fairy Wand Tooth Whitener, they encouraged kids through a wave of advertisements and health classes. These ads and classes spoke to children about eating their veggies, brushing their teeth, and getting fresh air. While our research did not unearth the source of either the February 28th or the August 22nd observance, it is interesting to note the American Dental Association's recommendation to have cleanings twice annually.
In 1927, Esther Watkins Arnold brought the tooth fairy to life in an eight-page playlet. She named the playlet The Tooth Fairy. At the same time, Sir Arthur Conan Doyle published photographs of two girls surrounded by "verified" fairies. He claimed that fairies and gnomes existed and the pictures supplied the photographic evidence. For more info on the history click here.