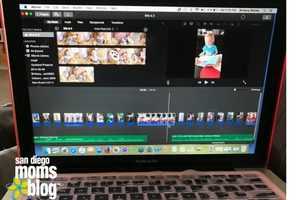 I just love birthday traditions. There is something so special about celebrating the same way year after year. One of our family's favorite traditions is creating a birthday slideshow. Every year I compile pictures and videos to create a slideshow of the past year. We have so much fun watching these every year and I know we will treasure the memories when this part of our lives is in the distant past. I have never taken a course in putting these together, but have taught myself a lot over the years. Here are a few of my favorite tips for making your own birthday slideshow:

1. Collect and organize photos and videos all year. Every year I create a folder on my desktop with my child's name and age. Each month I look through my pictures and videos and add any of my favorites to the folder. This saves me so much time at the end of the year since I already have everything in one place and in chronological order.

2. Choose your program. I love using iMovie for making my slideshows. It can be a little tricky to use at first, but over the years I have been able to teach myself a lot of things just through trial and error and of course, Google. When you look for a program to use make sure that it allows you to add photos, videos and background music. There are quite a few free programs available, but if this is a tradition you want to start, buying a quality program you can use year after year would be the best option. Using the same program consistently will help you make the best quality videos in the shortest amount of time.

3. Choose your songs. Once you know how many pictures and videos you are going to use, you will have a good idea how long your slideshow will be. I recommend showing each picture for 5 seconds, so a quick math problem will tell you how many songs you need for your show. I have quite a few songs that I really like for slideshows and use every year, but I also like to add in any songs my kids loved that year. Feel free to contact me for specific song ideas!

4. Be creative! Once you have your pictures and songs picked out, you get to start putting your own twist on things. Depending on the program you use, you can zoom in and out of pictures, fade songs in and out, and you can even add text to your pictures. One fun twist I like to put in my slideshows is a birthday interview at the end. I ask my daughter some questions about her favorite things and that is how I close out her videos. I also like to start my slideshow with a video of us singing happy birthday from the previous year.

5. Choose your method of sharing. Once your video is done you will want to share it with friends and family. I use iDVD to create a DVD for us to watch and also to play in the background at their birthday parties. Most of my slideshows are too long for most social media options, but YouTube is a great choice. There are quite a few different privacy options you can choose, but of course there isn't a guarantee once you put something on the internet.
Slideshows are definitely a labor of love and I have had many frustrating moments over the years, but the end result is always worth it. If annual slideshows sound intimidating, you can always stick to milestone birthdays. I have also made slideshows for graduations, anniversaries and even a gender reveal! The first step always feels overwhelming, but I hope you are encouraged now to teach yourself a new skill and create priceless family keepsakes. Good luck and let me know if you have any questions!