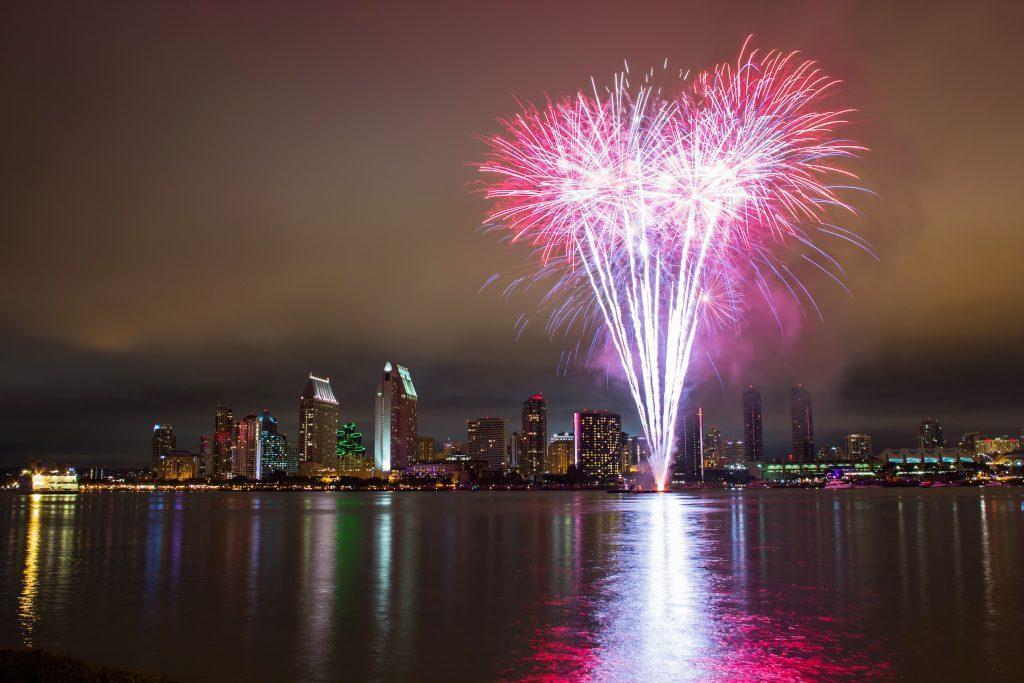 Millions of people would agree that San Diego is THE spot to be in summer, which means snagging a good spot to view the fireworks on Fourth of July can be a challenge! We focused this guide on some of the 'lesser-known' firework vantage points to help combat the major crowds, as well as a full fireworks schedule at the end of the post.
Central San Diego
Mt Soledad National Veterans Memorial
The Cross at the top of Mount Soledad offers spectacular 360 degree views of San Diego county, and will provide vantage points for the Big Bay Boom fireworks, La Jolla fireworks, and more!
Parking tip: Parking at the actual monument is scarce, but there is plenty of street parking about 7 minutes (walking) away in the neighborhoods off Via Capri Rd. If you have little ones, be sure to bring a wagon or stroller for the walk.
Kate Sessions Park
Kate Sessions Park is a spacious park at the top of a hill in the La Jolla/PB area, and offers clear views of the SeaWorld fireworks, and more!
Parking tip: Park in nearby neighborhoods. When you're ready to leave, use Coral Ave. as your exit instead of waiting in a potential line on Park Dr.
Midway Museum
The Midway Museum is in a prime location for the Big Bay Boom fireworks show, and kids will love the activities aboard the ship for their annual 4th of July Celebration.
Parking tip: We suggest arriving early for a chance at landing a parking spot along N. Harbor Dr. There is plenty to do around neighboring Seaport Village if you want to get there early and make a day of it.
Make a reservation at any of these waterfront restaurants:
Tom Hams
Bali Hai
Coasterra
C-level/Island Prime
Il Fornaio Coronado
Poehe's Coronado
Portside Pier
Tips: Make reservations NOW!
These places book up quickly in the week leading up to July 4th. Many of these restaurants offer valet parking which is a convenient option for those who don't want to waste time looking for a parking spot.
---
North County
Del Mar River Path
For those in the Del Mar area that prefer a more lowkey evening of fireworks, the San Dieguito River Path offers a large, sandy stretch of land. Bring your camping chairs and a picnic and settle in!
Parking tip: There is a good amount of street parking on nearby streets. Search "River Path Del Mar Phase 2" on your GPS to find the exact location.
Miramar Overlook
Sweeping views of North County surround this park. While Miramar Regional Park will be hosting the town's fireworks display, the Overlook Park could be a more scenic option.
Parking tip: Overlook park has it's own parking, but if you don't get a spot in their lot, you may end up walking ~5 minutes to get there.
Double Peak San Marcos
San Marcos will be hosting a fireworks show at Bradley Park, but Double Peak, the highest point in San Marcos, will be a more scenic place to see them. You don't even need to walk to the top to get a good view!
Parking tip: There is plenty of street parking in nearby neighborhoods off of Ledge st.
---
East County
Mt Helix Park
This could be one of San Diego's best views.
Parking tips: Parking will be very difficult on the Fourth, so plan on ridesharing or doing some uphill walking.
---
South Bay
Imperial Beach Dunes Park
While many will be gathering at Portwood Pier Plaza to watch the Imperial Beach fireworks display on the pier, Dunes Park is located a few blocks away and is more spacious, so you're more likely to get a good spot on the grass for the show.
Tips: While there is a lot of street parking, plan to arrive early (before 6pm), or rideshare/carpool, to avoid crowds.
________________________________________________________________________
Full schedule of 2022 July 4th fireworks in San Diego County
CENTRAL SAN DIEGO
Big Boom Bay
Location: San Diego Bay (visible from Embarcadero/Coronado Ferry Landing/Shelter Island/Harbor Island)
Time: 9 PM
Coronado
Location: Glorietta Bay
Time: 9 PM
SeaWorld 4th of July Fireworks
Location: SeaWorld San Diego
Time: 8:50PM
SAN DIEGO NORTH COUNTY
Del Mar Fair Grounds
Location: Del Mar Fair Grounds
Time: 9 PM
San Marcos
Location: Bradley Park
Time: 9 PM
Vista
Location: Moonlight Amphitheatre
Time: 9 PM
Carlsbad
Location: Legoland
Time: 8:30 PM
EAST COUNTY SAN DIEGO
El Cajon
Location: Kennedy Park
Time: 9 PM
Santee
Location: Town Center Community Park East
Time: 9 PM
SOUTH BAY SAN DIEGO
Chula Vista
Location: Elite Athlete Training Center
Time: 9 PM
Imperial Beach
Location: Imperial Beach Pier
Time: 9 PM
We imagine you want to share your secret Fourth of July vantage point, but if you do want to – we want to hear it!