A while back we ran into the cutest little mailbox shaped like a house. However, the mailbox was in the middle of San Elijo town square. My son and I were intrigued went over and noticed it was full of books. The plague on the mailbox said Free Little Library.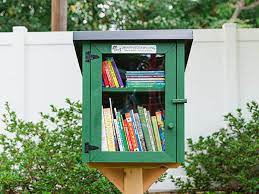 Give A Book, Get A Book
The Little Free Library's mission is to inspire readers and expand book access in communities. People in a community can share books without ever having to purchase the book. The idea is easy if you are done with a book and want to share it you put it in the little bookcase. There are no age limits or genre restrictions. The purpose is to share a book that you finished and are willing to give to someone.
For avid readers, you visit the Little Free Library and peek inside to see what treasures you can find. Hopefully, there will be a new book match for you.
Where Can I Find One?
Little Free Library collaborates with schools, public libraries, civic organizations, businesses, and other groups to bring Little Free Libraries to their communities. The one that I saw in San Elijo is in front of a local business and they sponsor it by giving it a home.
Online or in the app you can search for a Little Free Library near you. I searched all over San Diego County. There are so many little libraries in tons of neighborhoods.
Get Your Kids Involved
After we found the little library my son and I went home to donate some of our books. We have a lot that we love but do not read anymore. My son was excited at the thought of a younger kid loving his favorites too. He was also excited to see what older kids would leave in there. As a mom, I loved it one to clean out the shelves and also sharing with a kid who will be so excited to read it.
I am always encouraging reading over the summer. Thanks to the Little Free Library it makes it easy to find a new book and share one we love. Make it a monthly or weekly outing. I also have found and shared books!