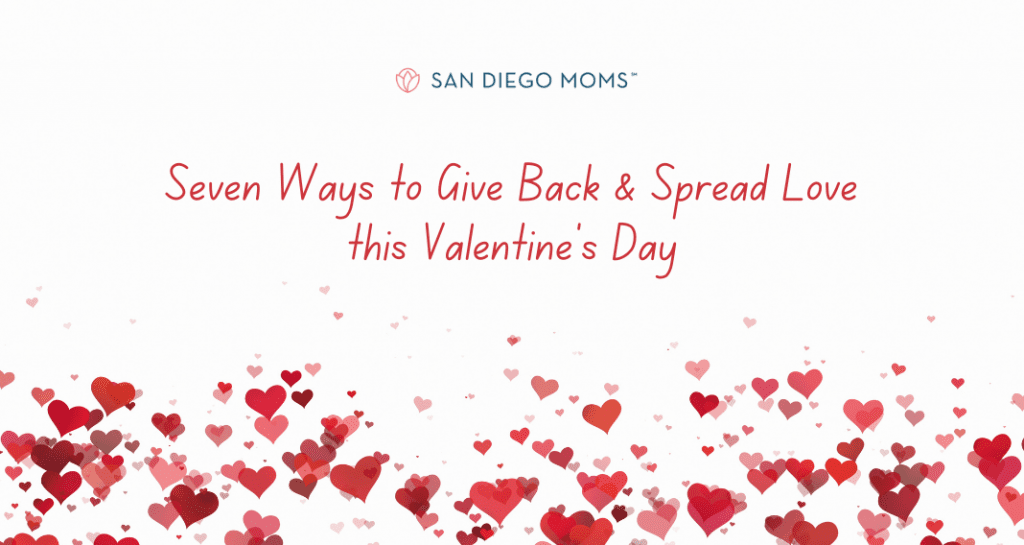 Giving makes you happy, period. I am so grateful my mom had such a giving heart, because it really instilled such a foundation of empathy, compassion and the desire to want to serve and give when and where I can.
Even research suggests that giving leads to greater happiness for the giver! Giving isn't just about giving money or physical things either, it is giving of your time, resources and LOVE! So this Valentine's Day, help us spread that love.
If you love beer & giving back, join us Tuesday (2/8) from 4-6pm and enjoy a beer and a beautiful view of Mission Beach on the Draft Patio, while the kids (& mamas) make V-Day cards for low-income seniors of St Paul's Pace.
What: San Diego Moms Care + Belmont Park Happy Hour
When: Tuesday, February 8th from 4-6pm
Where: Draft Mission Beach Patio
Register HERE
Bring the kids (and the hubby if you want!) we are just excited to get together and kick off our community events again for 2022!
Here are seven ways to Spread the Love and Give Back this Valentine's Day:
Give a gift that gives back.
As you're shopping for your gifts, consider buying from websites that donate a portion of your purchase to an area charity or pay it forward. Amazon Smile will donate a small portion of your bill to a charity of your choice or check out this Pinterest post with showcase top picks for Valentine's Day gifts that give back.
Send an unexpected Valentine to a neighbor.
Over the years the Valentine's Day Card tradition has dwindled and now you might rarely give or receive any surprise Valentine cards. So the unexpected surprise of receiving a simple Valentine's Day card could brighten someone's day!
Make Valentine's Day cards for Seniors or the Military.
You can drop off Valentines Day Cards to one of St. Paul's Pace FOUR Locations or check out Support Our Troops to find out where to mail your Valentine's Day cards to those serving our nation.
Make a care package for a neighbor, elderly or drop it at a homeless shelter.
Valentine's Day isn't sweet for everyone. However, you can make a difference by brightening someone's day with a care package. Check out San Diego Troops is a great resource that was made to help San Diego area military and their families easily find organizations that were here to help them. So that is a great place to start to see where the need is. It's all up to you, and it can all bring joy this Valentine's Day.
Donate.
But don't just write a check and not share this experience with your children. Have your child pull out $5 from his / her piggy bank and physically make a donation together, physically hand it to an organization or go purchase items to be donated. This process alone really allows children to understand what a donation is.
Engage in a Random Act of Kindness.
Valentine's Day isn't the only loving day of the year; in fact, there's a whole week devoted to it. February 13-19th is Random Acts of Kindness Week. Take time to say smile and say hello to someone on the street, pay for someone's coffee, or take your neighbors trash out. You can find more ideas at www.randomactsofkindness.org.
Sign up to Volunteer with an organization or group.
There's no shortage of ways for you to become involved. Volunteer at a local soup kitchen or animal shelter, or tutor a child. We love HandsOn San Diego or check out our non-profit initiative San Diego Moms Care, we are excited to get back to hosting events where you can volunteer with the whole family!
Our mission is to support and connect families to local non-profits through volunteering, fundraising and raising awareness. We are committed to giving back to our local San Diego community and teaching our children the importance of volunteering and community service.